Redeeming Motherhood (When Every Day is April Fool's Day)
This.
Right here.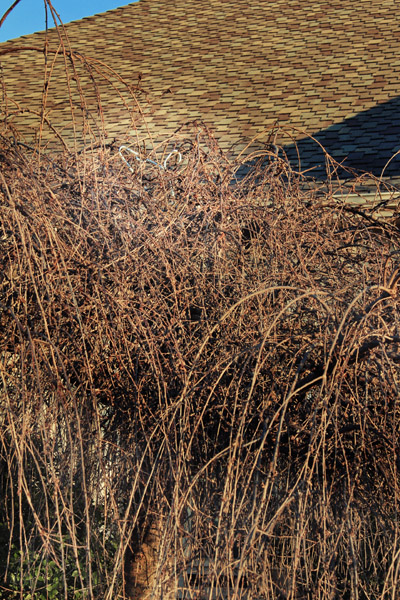 This random hanger, waving in the top of our weeping cherry at the front entry, like a banner of motherhood…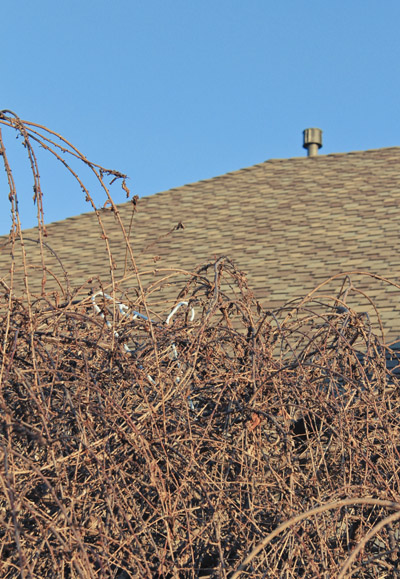 This is one of many reasons parenting is the most humbling thing that has ever happened to me.

I have no idea who put the hanger there. I have no idea how long it has been there. I am guessing one of the kids is responsible for it.
The hanger is too high for anyone to reach, and the tree branches are too thin and densely-packed for anyone to lean a ladder against the tree. If you come visit us, it may still be there.

"…pray for those who persecute you…" (Matthew 5:44)
"…be patient in affliction…" (Romans 12:12)

Did those verses refer to motherhood?
The Bible makes much more sense in light of actual suffering… 😉

"…from the one who has been entrusted with much, much more will be asked…" (Luke 12:48)

I know that unexpected surprises are part of life. They seem to be multiplied several times in the daily nonsensical randomness of raising young children.
Somehow God is supposed to use these random things as hangers to display His meaningful purpose for me.

"…we know that God causes all things to work together for good to those who love God, to those who are called according to His purpose." (Romans 8:28)

I've been entrusted with the challenge of redeeming motherhood — when every day is April Fool's Day — and leading my kids toward meaning and purpose, something beyond the immediate goal of getting things put away in the right places.

Last night we tried to make a list together, when the kids were contained to their beds… ways we could join God's purposes in caring for the poor…

The conversation fell to pieces, into wild shrieks and giggles from their pillows — more random hangers to hold meaning.

But we'll start with this:

– Write a note to a sponsored child
– Pray for someone imprisoned for faith
– Pray for children who long for forever families
– Find things on our shopping list that we can buy homegrown, fair trade, homemade, or second hand, to reduce strain on the land and people of other countries
– Check the web site of the local children's home for needed items we can add to our shopping list
– Invite a neighbor over
– Work in our own garden
It it occurred to me recently (ending with my own randomness)… It's strange that the process of searching for water causes roots to spread out deeply and broadly – and that is what forms a secure base. Whatever blows around in the upper branches, it's the searching and reaching that happens beneath the surface that tends toward stability.