My Cross Training Session
I've taken up running this past week – which you already know, if you're friends with me on Facebook. And you already know that my husband bought me some dedicated running shoes…

And that I completely shocked myself yesterday morning, by running the distance of a 5K!

I've been wondering what to do for cross training, on the lighter exercise days. This morning, Jack — my ornery Anatolian-Great Pyrenees mix — made sure I had a great "opportunity" for alternative strength-building exercise…

Since I run so slowly, Jack likes to amuse himself by routing out the peacocks that hide in the treeline along one stretch of the road. I don't mind very much. I like their piercing wails as they glide up into the tree branches, with their emerald tails streaming behind them.
But I was afraid some of them might be nesting, so I followed Jack up the ditch and through the brush.
I was met with this glorious scene, like it was God-ordained that I'd encounter it.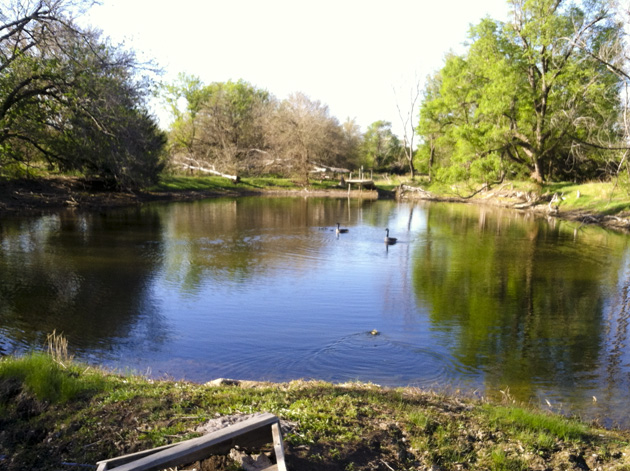 I don't know if the next thing that happened was God-ordained…
but the verse, "Pride goeth… before a fall" cometh to mind! (Proverbs 16:18)
In the picture above, I don't know if you can see the Canadian Geese on the water in the distance?? And the teeny little gosling, paddling toward its family?
So very sweet.
Enter Jack.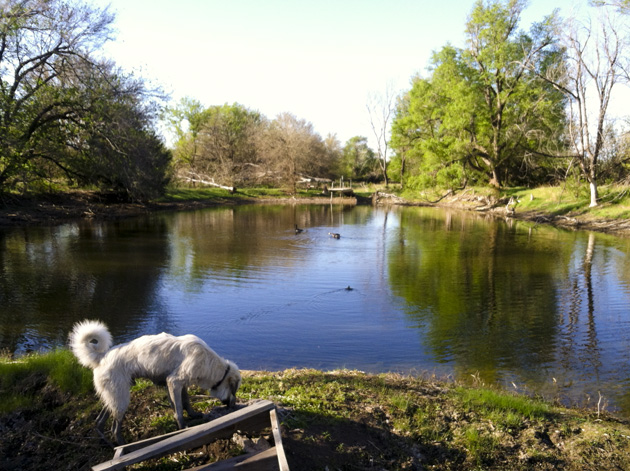 Jack tries to be a good dog. He wants to be a good dog.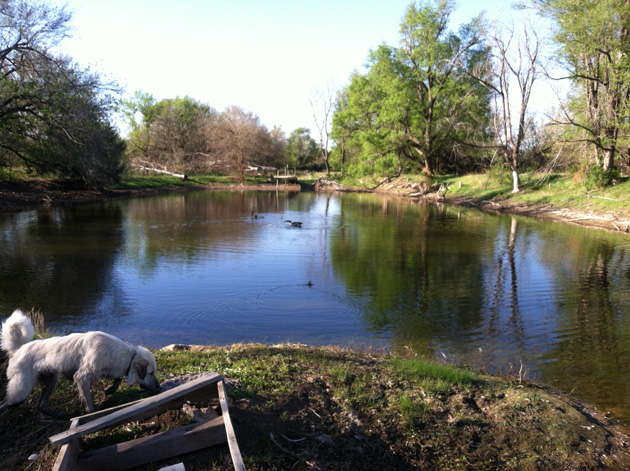 But he has a weakness. He needs a little help when it comes to poultry.
I really didn't foresee any trouble, since the goose family was out in the water.
But if you really squint, you'll see what I missed.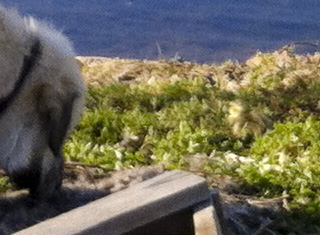 This little gosling must have just hatched…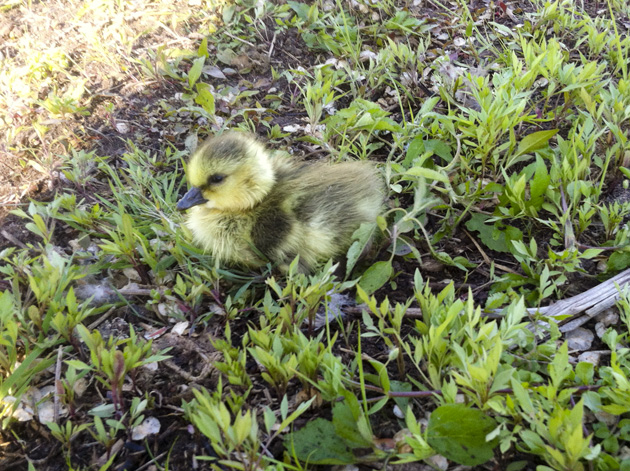 …which I realized, after spotting the nest: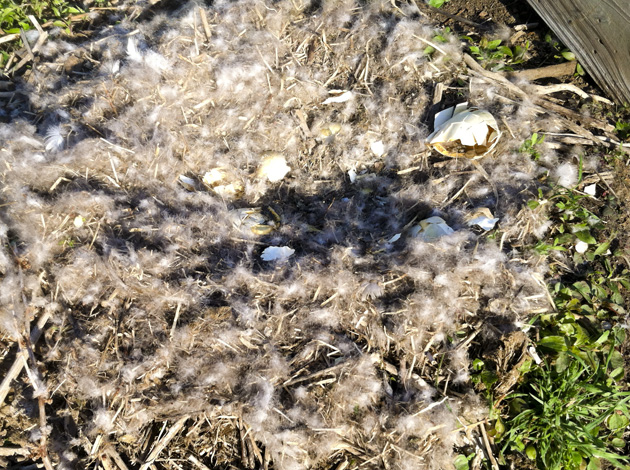 Its legs couldn't even support its body. It scooted itself along the dirt, straight toward its first "mom" — Jack!
Jack couldn't have been more thrilled with the mistake! At first I wondered if Jack had reformed enough to leave the poor thing alone. I wanted to believe it…
Jack sort of grabbed the cute little chicken nugget by its tail and tucked it close to him… and then opened his mouth a little wider…
I knew we were in trouble when I grabbed Jack by the collar, just in case, and he went wild. Meanwhile, the gosling was completely confused. His "mom" was pulling away from him, and there were loud, frantic honks from the water.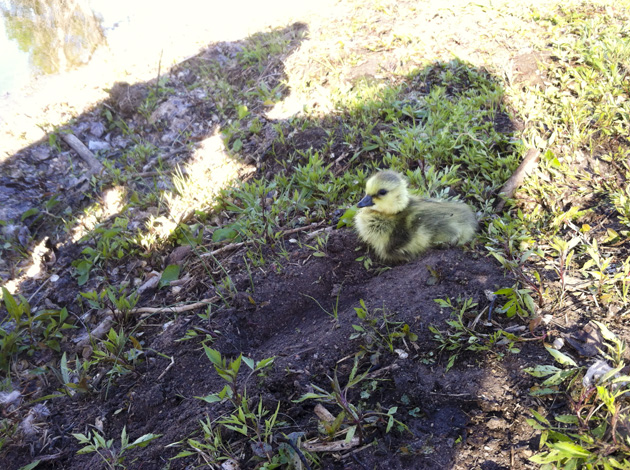 The hulking shadow above is Jack. And there's my distorted arm, restraining Jack with a death grip on his collar.

We were on a little island.
These were my options for dragging Jack off the island: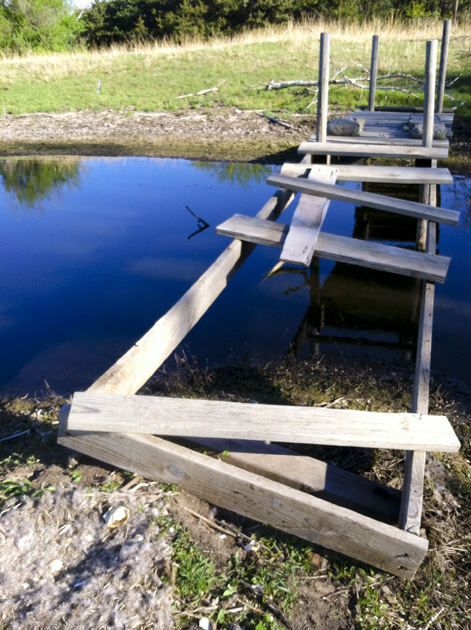 So… we waited.
As we backed off, the gosling finally responded to the cries of its parents, and he scooted himself into the water.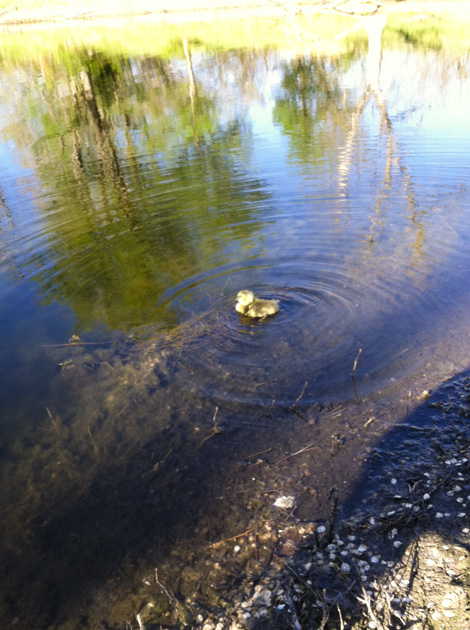 Once in the water, he zipped off like a mini-motorboat!
…much to Jack's dismay.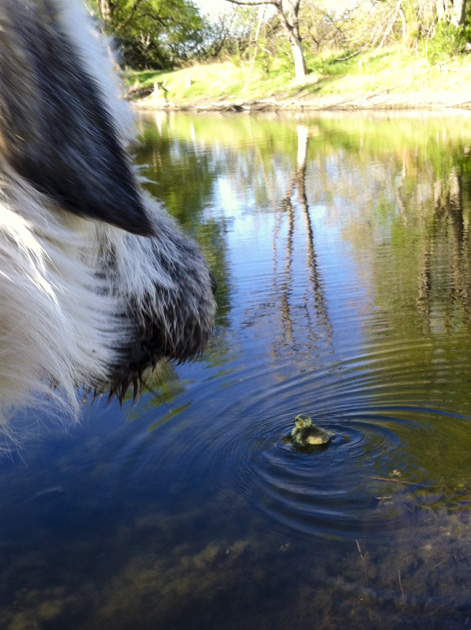 I'm not exactly sure what this picture is…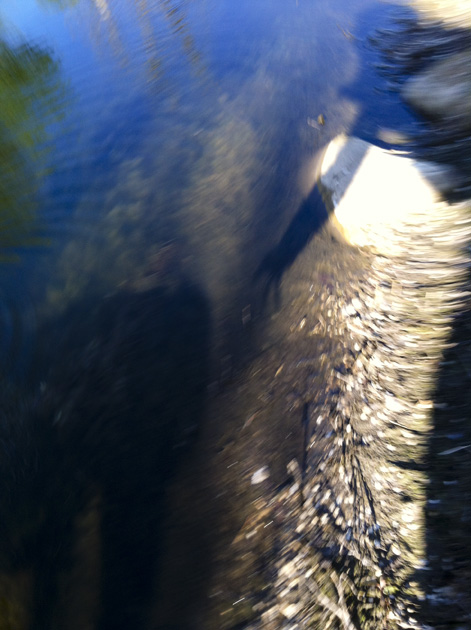 But I think that was the moment when I thought we were safe…
Which was right before the moment I let go of Jack's collar…

Which was right before I crammed my iPhone into my pocket (it immediately fell out, into the mud)…
And grabbed Jack by the fur…
And got my brand-new running shoes dragged INTO the pond, while I tried to pull Jack OUT of the pond…
…at least long enough to the give the gosling a chance.

I won. 🙂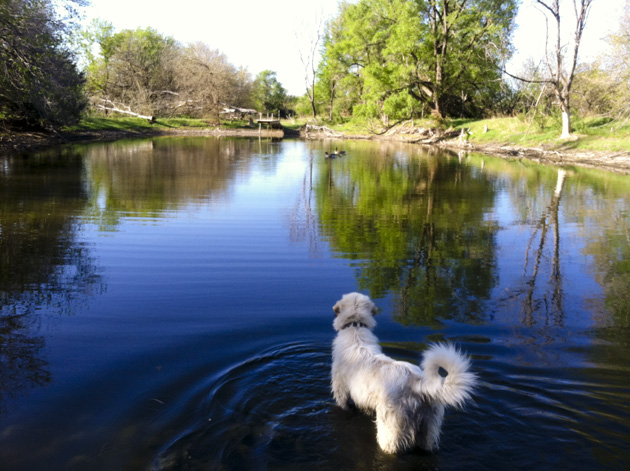 Thankfully, Jack hasn't learned that he can actually swim yet.
But I am learning that I'm stronger than I thought I was.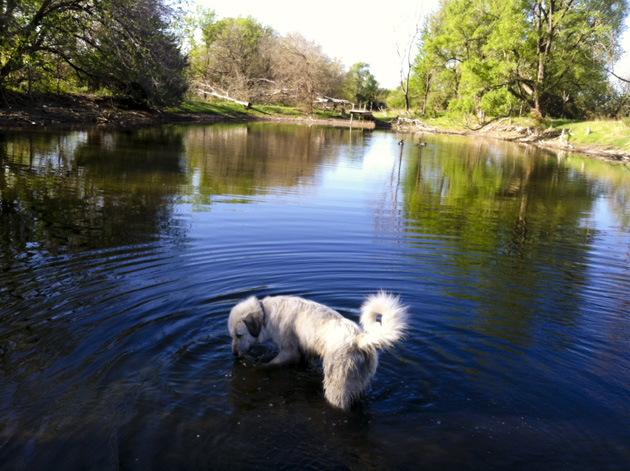 I did, however, cut my run quite a bit shorter this morning, since I had already worked up a sweat. But I got a nice sprint in, on the way back, when Jack was clearly tempted to head toward that ditch again!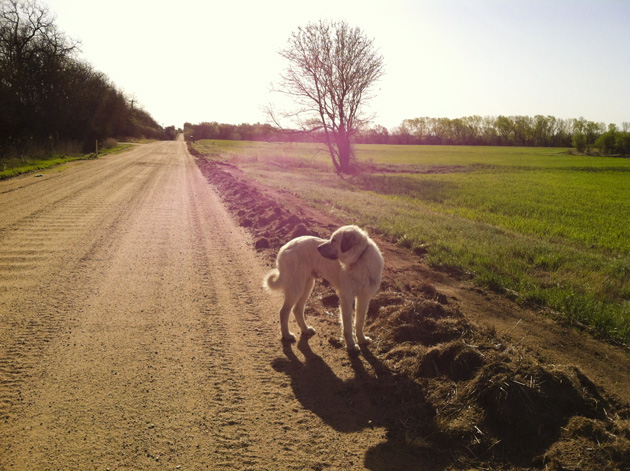 "It's better to have a partner than go it alone… if one falls down, the other helps…" (Ecclesiastes 4:9-10)

"She is clothed with strength and dignity;
She can laugh at the days to come." (Proverbs 31:25)