The Weeping Cherry Weeps: To Be a Bagworm or a Tree
She wanted me to take a picture of her and Sunny Bear — a stuffed animal she inherited from my childhood charades in which bear-and-cat couples were married off and settled into homes in quilt-canopied, cardboard box cities.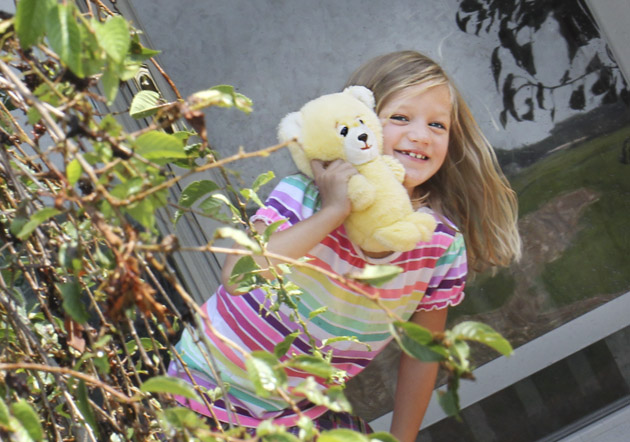 What you can't see — what I mostly cropped out of the shot — is the damage to the canopy in the foreground.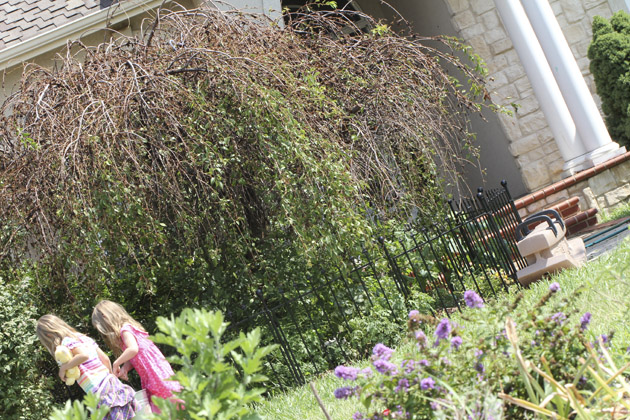 (If you look closely, you can still see that hanger from my April Fool's post. I'm thinking of offering a reward to anyone who can bring it down from there!)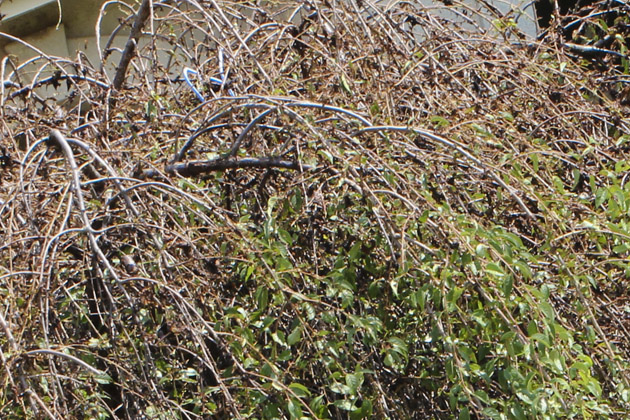 The poor weeping cherry got a bad case of bagworms this summer, possibly brought in with a batch of mulch.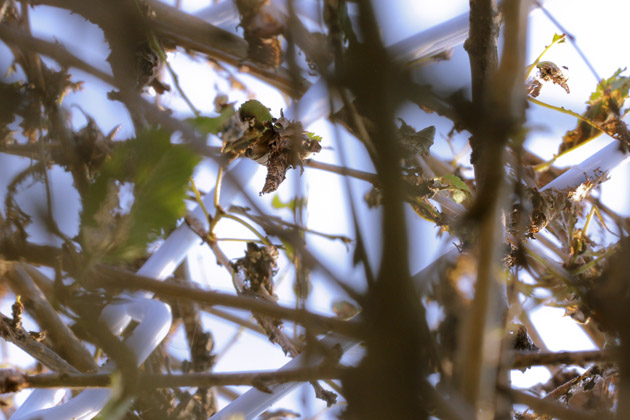 My brave oldest girl peeled a leafy "bag" away (not at my request) and begged me to take a picture of the naked bagworm.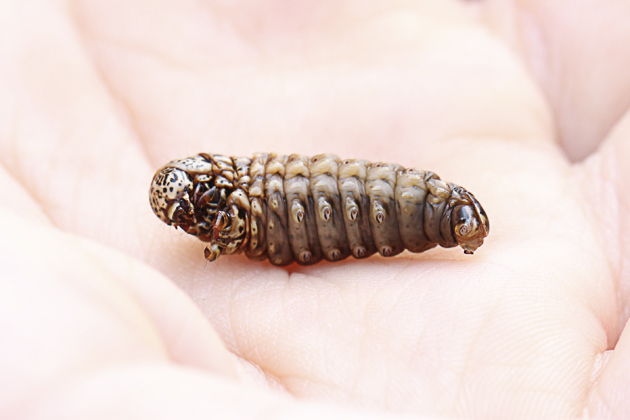 Eww.
What amazes me is that, as bad as it looks, the tree has a good chance of surviving.

One reason it may live is that it "dies" every winter. Its death will save its life, ironically.

During the spring and summer, a deciduous tree can energetically replenish leaves if they are stripped away. But it also knows the time for resting, shutting off production, and wintering down.
An evergreen can be doomed by a bad infestation of bagworms. It needs its semi-permanent "leaves" to provide energy all year. It has no framework for shutting down to rest.
Trees winter. Soil needs rest cycles. Seeds "die" before they sprout.
It's a code implanted in the DNA of Earth:
Rest, grieve, pray, sleep, heal.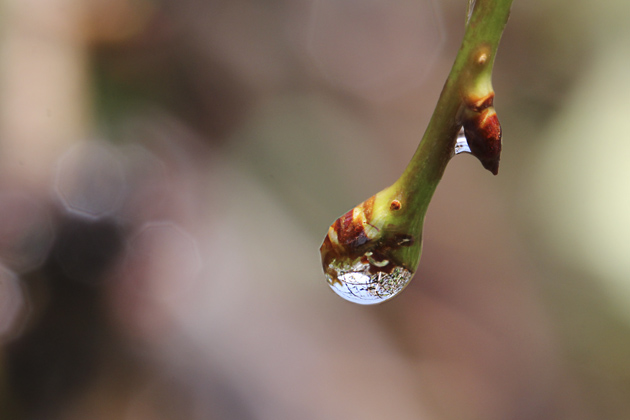 Even Jesus retreated, like His Father rested in Genesis 2:2.
"Jesus often withdrew to lonely places and prayed."
(Luke 5:16).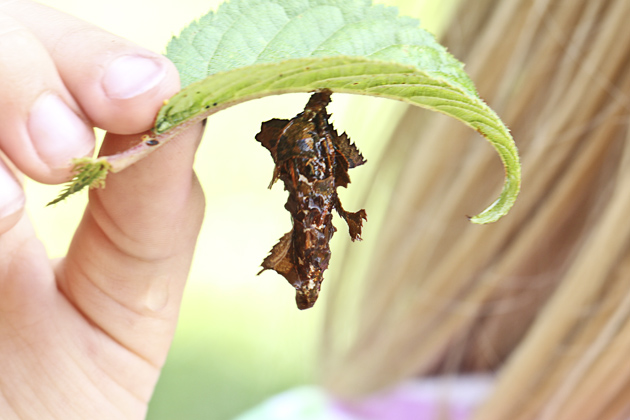 My tree trials are challenging me with spiritual choices:

Choice #1. I can be a bagworm or a tree.
I am not having any particular difficulty with this one.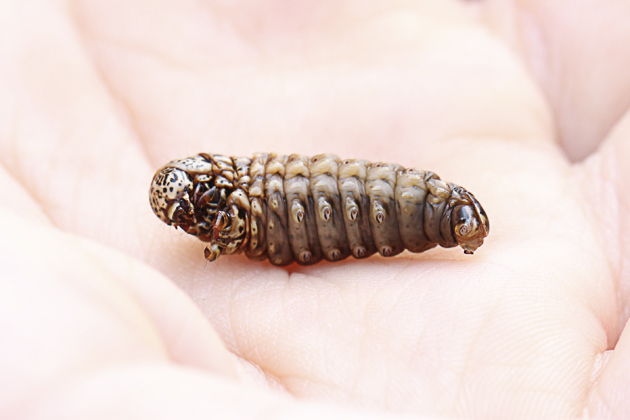 Every time I am tempted to leech off people — reassurance, validation, "likes" — those little bagworm leg stubs are going to flash through my mind.
People are meant to be like trees, not like leeches.
"Cursed is the one who trusts in man,
who draws strength from mere flesh…
But blessed is the one who trusts in the Lord,
whose confidence is in him.
They will be like a tree planted by the water
that sends out its roots by the stream.
It does not fear when heat comes;
its leaves are always green.
It has no worries in a year of drought
and never fails to bear fruit."
(Jeremiah 17:5, 7-8)

Choice #2. I can be deciduous or evergreen.
I have trouble with this choice every single day…
when to rest, when to push through and work harder.

I have four adorable "bagworms" whom I love with everything in me. Sometimes it takes everything in me to meet their overwhelming needs.
When they're not directly needing something, they may be off concocting some sort of mess…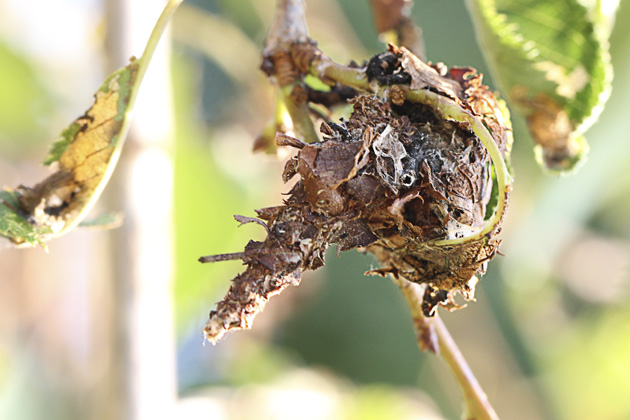 …and I won't even want to know what is inside that thing…
(which coincidentally reminds me that no one is allowed to look in the back seat of our van — just don't).

Psalm 1, like Jeremiah 17, speaks of fruit trees whose leaves never rest:
"Blessed is the one…
whose delight is in the law of the Lord,
and who meditates on his law day and night.
That person is like a tree planted by streams of water,
which yields its fruit in season
and whose leaf does not wither—
whatever they do prospers."
(Psalm 1:1-3)
These "trees" are continually connected to their source of energy.
– trusting in the LORD (Jer.17)
– being confident in the LORD (Jer. 17)
– delighting in the law of the LORD (Ps. 1)
– meditating on the law day and night (Ps. 1)

This is the deciding factor in whether I need to retreat or can keep pushing forward. Am I continuing to draw strength from the right source? Or have I started trying to leech off people for what I need?

Choice #3. I can lead others to be bagworms or trees.
The New Testament is full of commands to teach and learn from each other. The key is not to create dependence on each other, but to encourage each other to look to Jesus, the Source.
"So Christ himself gave the apostles, the prophets, the evangelists, the pastors and teachers, to equip his people for works of service, so that the body of Christ may be built up until we all reach unity…
…speaking the truth in love, we will grow to become in every respect the mature body of him who is the head, that is, Christ. From him the whole body, joined and held together by every supporting ligament, grows and builds itself up in love, as each part does its work."
(Ephesians 4:11-16)

Choice #4: I can try to struggle through on my own, or I can entrust myself to the care of the Gardener.
Even knowing that a winter respite may save our tree, I don't like watching it deteriorate. This tree falls under my care, and its health is my responsibility.
As soon as we could carve out some free space, the kids and I spent a couple hours removing as many bagworms as we could reach.

I love seeing the new growth now, pushing through the decay, through the silk bagworm threads.
The poor, confused tree is even producing flowers, like it's spring.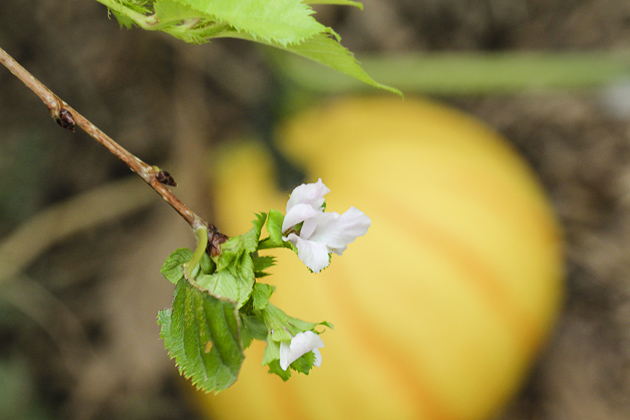 This is its season of work, regenerating its leaves so it can store energy for winter.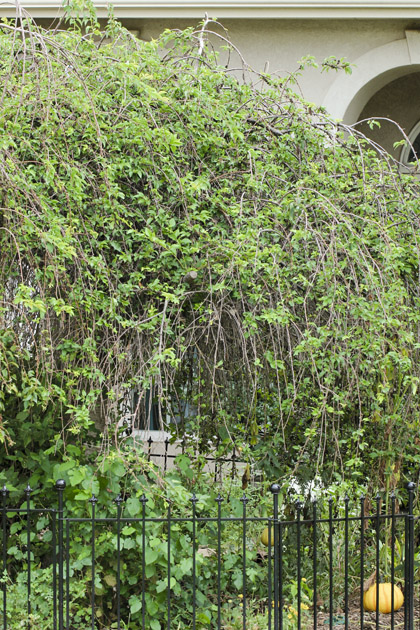 I'm not able to call Winter! right now and go on retreat. But I have to make sure I am drawing strength from the right source every day — trusting, gaining confidence, delighting, meditating. As the seasons shift, maybe I will have time for longer rest.
For now, it's my season of work, training my kids to tap into the Source that won't fail them.
"I am the true vine, and my Father is the gardener… I am the vine; you are the branches. If you remain in me and I in you, you will bear much fruit; apart from me you can do nothing." (John 15:1, 5)