The Best of Resolutions in the "Worst" of Times
Yesterday my husband and I woke, weak and bleary-eyed, to a dusting of snow that had settled over our house, like a halfheartedly apologetic attempt to cover the events of the day before.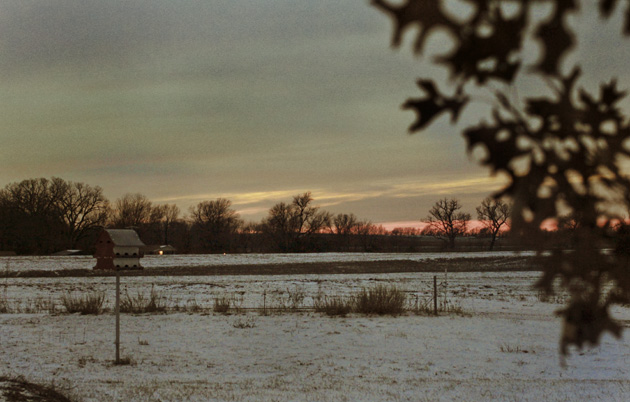 The day before, a virus from the underbelly of hell had knocked us on our backsides, wrenching our insides to the outside. I can't remember ever being so violently ill before.

When I ventured a few wobbly steps out of the bedroom many hours later, I was greeted with the kind of destruction that can only be wrought by four young kids who had enjoyed unbridled freedom in the house for a full day. (When they got sick, they maybe threw up once — on the carpet — and continued on their merry ways. This was a blessing, I know.)
How do you begin tackling chaos — any type of chaos — when you're so weak you can hardly stand on your own? And who even wants to think about making New Year's resolutions in the middle of that?!

Welcome to the book of Ezra… and to my new goal for a new year!

The little book of Ezra is about the return of God's people to their homeland after foreigners had knocked them on their backsides with far greater evil than I can begin to imagine. Beloved family members had been slaughtered. The capital city was destroyed. Their splendid, holy temple was reduced to rubble as if God had never visited there.
Now their exile has ended, and they are allowed to return. Their job is to put their home back together — and somehow, in the middle of the work, to resolve to be better than they had been before. Their efforts seem so small in light of the powerful forces that still rule over and threaten them. But they have no idea the incredible significance that their simple search for God will have in the Big Story.
It was the best of times, it was the worst of times… it was the season of Light, it was the season of Darkness, it was the spring of hope, it was the winter of despair, we had everything before us, we had nothing before us…"
– Charles Dickens, A Tale of Two Cities
So much potential… so many ways it could go wrong…
I've never done anything like this before — posting my way daily through a book of the Bible. Right now everything inside me is screaming that it won't work, and don't do it!

I hate pressure.
I hate programs.
I hate introducing that I'm about to do something.
My entire body hurts from being sick.
I want to curl up in a ball and bawl.

But I do feel like this is what God wants me to do right now, so I'm following, and we shall see what comes of it.
You are more than welcome to follow along with the study, too, if you don't mind a to-the-point, non-entertaining format! This is a daily exercise for me, but others might benefit from it. There is no better resolution than to seek God with the whole heart, and there is no better way to seek God than to get to know His Word, which is alive and active (Hebrews 4:12).

I'll be posting about Ezra on a different site:

Here is how I hope it will look:
– I plan to post every day.
– Posts will be short, probably can be read in less than 10 minutes – less than 5 if you're quick!
– I have never been quick… and since I'm using Ezra as a springboard for learning all kinds of fascinating things about the Bible, it could take a few months to check this book off the reading list. I am thinking of it like savoring a rich dessert, one glorious bite at a time… There are treasures in every verse!
– Comments are turned off over there, to keep it low maintenance.
– I might post some highlights every week or two here, on Letters from the Loft. Feel free to use these posts to leave questions, corrections, additions, benedictions, donations, cheesecake (plain, New York style… I'm just realizing I've hardly eaten in three days…)

I'm using the first couple days for introducing Ezra. I'll start by dusting off an ancient prophecy that brings us up to date with the events of the book. The first post today is especially for people who might be a little rusty on Old Testament history. Click here to go there!
Hope you have a happy, healthy New Year!

"…Though your sins are as scarlet, They will be as white as snow…"
– the prophet Isaiah, pleading with God's people to end their violent, oppressive ways and accept forgiveness before their city is destroyed (Isaiah 1:18)
"I see a beautiful city and a brilliant people rising from this abyss… I see the lives for which I lay down my life, peaceful, useful, prosperous…" – Charles Dickens, A Tale of Two Cities