Scripture Art Journaling: I Am With You
Scripture art journaling has become my most recent adventure.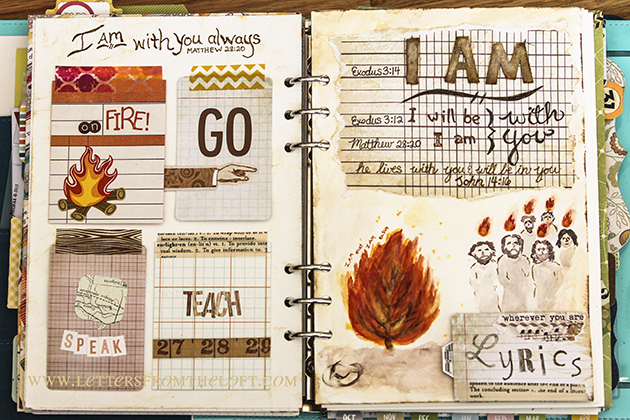 It intrigues me for its possibilities in mixing multiple art forms.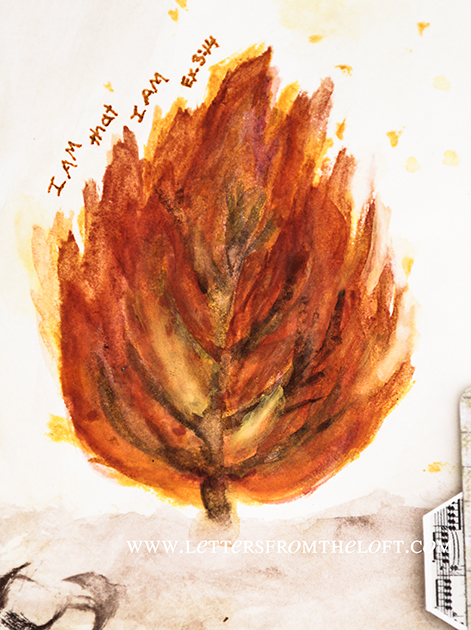 I've never been able to draw or paint well, but I still enjoy trying every once in a while…
even though at one point in this process, I was pretty sure I had just painted a maple leaf next to a group of ghost people with oversized gourds suspended above their heads.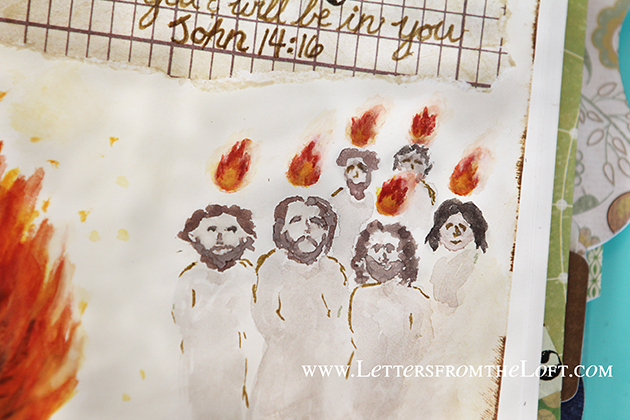 But as long as my youngest child can recognize what it is, that's good enough for me.

The kids like these journal pages; I suppose they have potential as a teaching tool.
What kid doesn't like lift-the-flaps?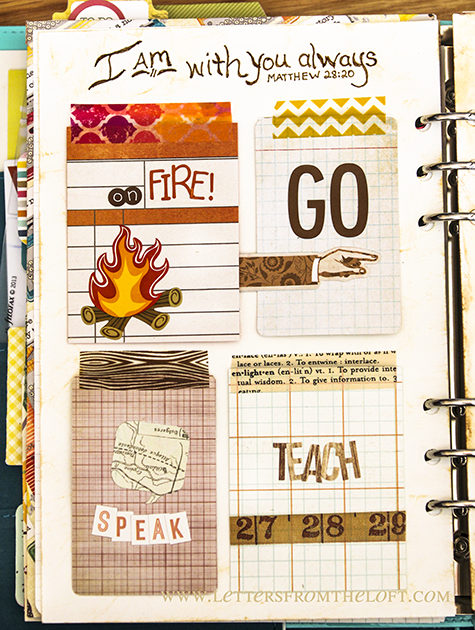 Each of the four cover cards on the left page has two sheets of note paper underneath, attached with washi tape.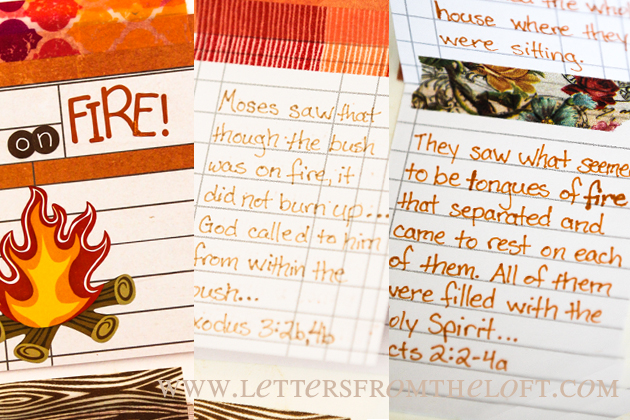 "Moses saw that though the bush was on fire it did not burn up." (Exodus 3:2b)

"[Jesus' disciples] saw what seemed to be tongues of fire that separated and came to rest on each of them." (Acts 2:3)

What gave me the idea to do these specific pages (comparing Moses and the burning bush with the tongues of fire on the disciples' heads) was…
that saying goodbye to people is sad…
but less so when they are leaving to pursue their passion for God and compassion for people, as effectively as possible.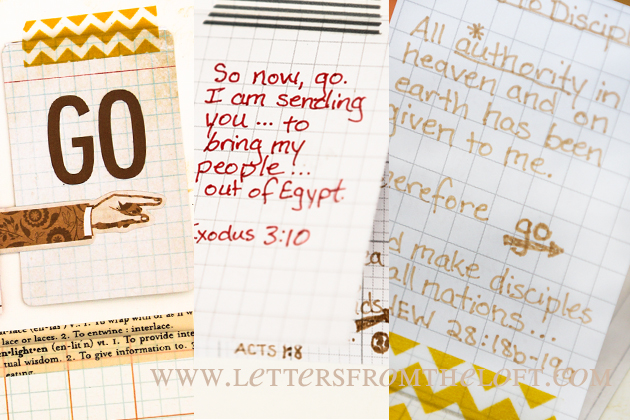 "So now, go. I am sending you to Pharaoh to bring my people the Israelites out of Egypt." (Exodus 3:10)

"Therefore go and make disciples of all nations" (Matthew 28:19a)

"you will be my witnesses … to the ends of the earth." (Acts 1:8b)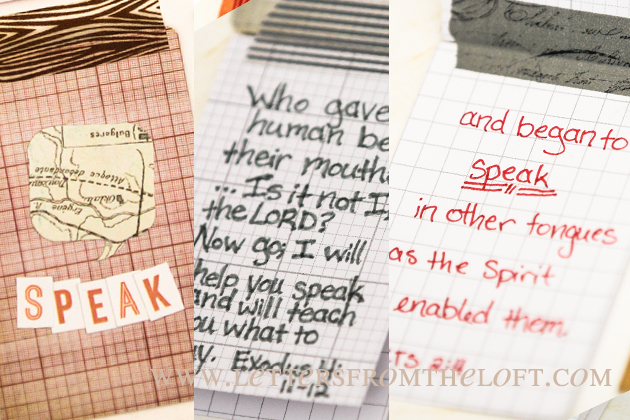 "Who gave human beings their mouths? … Is it not I, the LORD? Now go; I will help you speak and will teach you what to say." (Exodus 4:11b-12)

"[the disciples] began to speak in other tongues as the Spirit enabled them." (Acts 2:4)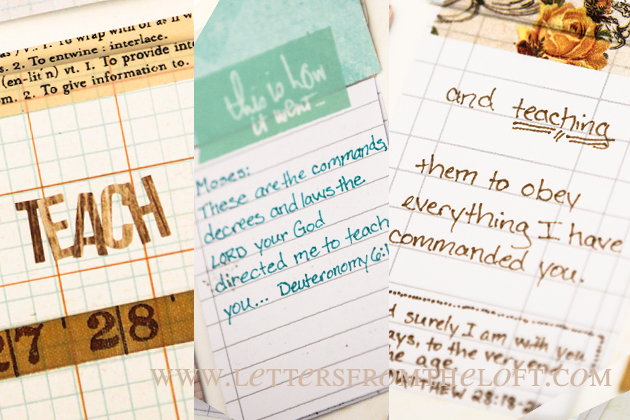 "These are the commands, decrees and laws the LORD your God directed me to teach you to observe" (Deuteronomy 6:1a)

"Therefore go and make disciples … teaching them to obey everything I have commanded you." (Matthew 28:19-20a)
I'm challenging myself to write song lyrics for each concept I record on these pages.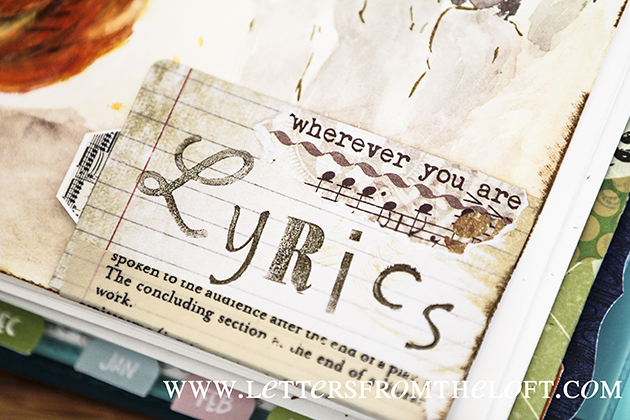 They don't need to be good, polished lyrics! Just something to keep the creativity flowing.
I wrote these pretty quickly, and they're not my favorite — which, ironically, makes me more willing to post them…
at least, tiny photos of them, chicken-scratched on note and staff paper under the "Lyrics" card.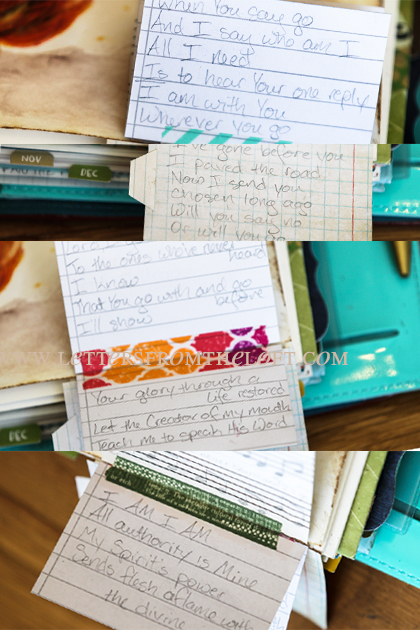 This whole study started with a search for the unchanging nature of God. He is always with us and never leaves, the way people do.

The thing I discovered was…
At some of the key moments when God promised His unchanging presence, the next thing He said was, "Go!" We aren't meant to stagnate comfortably.

But always, through every move and every change, voluntary or not, He is with us.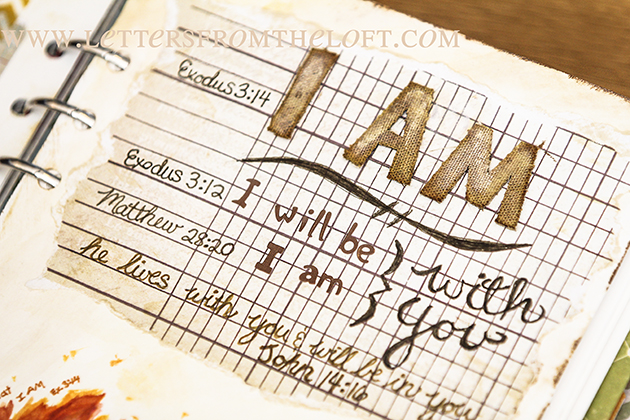 "God said to Moses, 'I AM who I AM. This is what you are to say to the Israelites: "I am has sent me to you."'" (Exodus 3:14)

"But Moses said to God, 'Who am I that I should go…?' And God said, 'I will be with you.'" (Exodus 3:11-12a)

"Therefore go and make disciples … And surely I am with you always, to the very end of the age." (Matthew 28:19-20)