Signs of Fruitfulness
I kissed my husband goodbye before he drove away to work a couple Mondays ago.

I've heard somewhere that this will prolong his life.
Or maybe it only prolongs his departure. Either way, he didn't seem to mind.

Before he reluctantly drove off, he asked, "Did you get pictures of the blueberry blossoms over the weekend?"
As much as photography consumes my time, he always seems to appreciate these pictures of farm life.

I did pull out the camera over the weekend, to record our first sign of hope that we'll have blueberries, after all our efforts to grow them since we've moved here.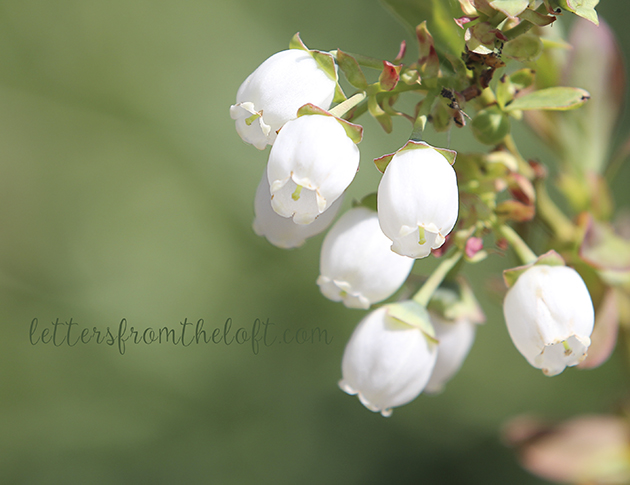 As far as plants go, I'm not sure when I've ever seen anything so radiant.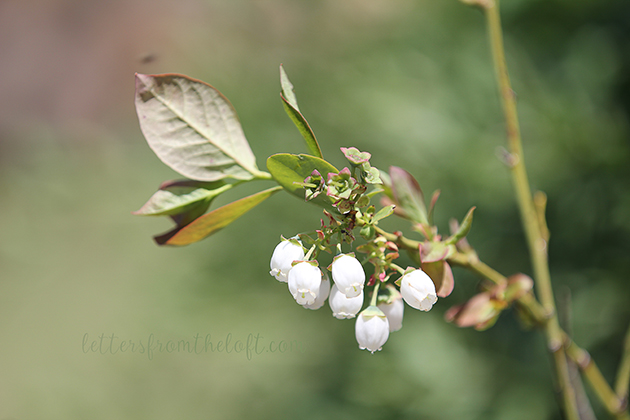 I saw these only because my husband had called me outside that Saturday afternoon to look at the raspberry plants.

If you were following my site a few years ago, you might remember the post where we planted our first raspberries as a family.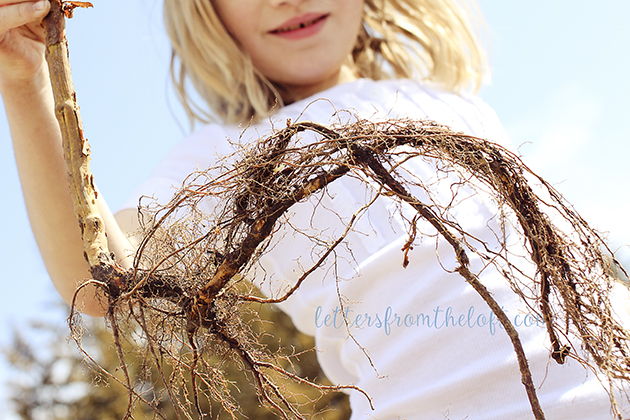 For me, the raspberries were a symbol of the culmination of all our years of moving and struggling and waiting.
We were burying our roots deep into the soil now, and our marriage would grow and thrive, just like those raspberries I had waited so long to plant at our first long-term home.

Except that all those raspberries died.

I tried to convince myself that we had wild raspberry bushes growing on the farm — a symbol of the natural growth that occurs in our lives when we rest and trust Jesus to do the work.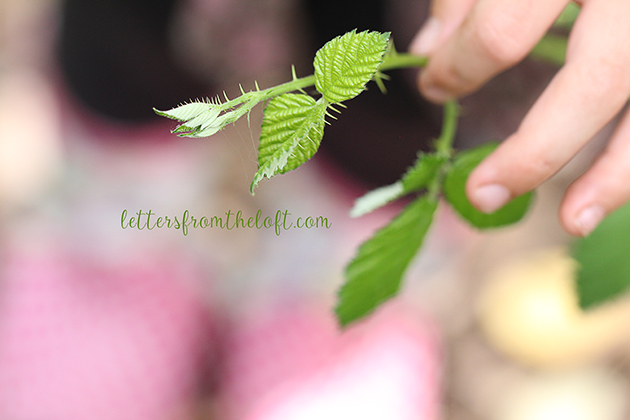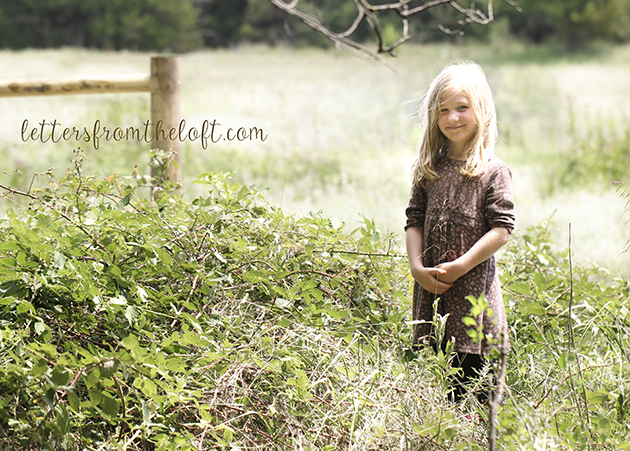 Except that all of those were wild blackberries.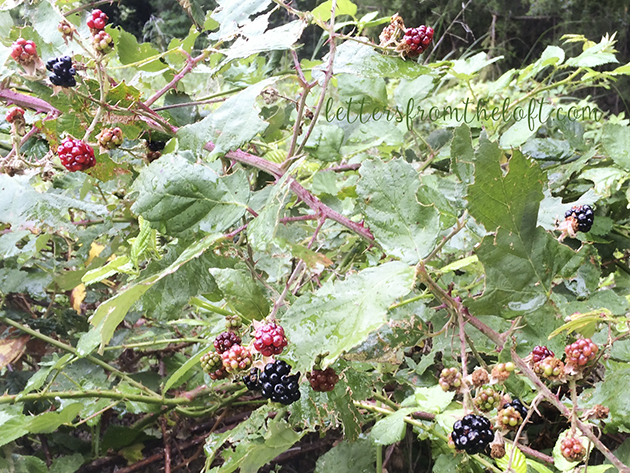 We didn't even plant the next set of raspberries together. My husband got some free replacement roots shipped to him from the company that had shipped us the first set. When they arrived, he planted them himself, just because the work needed to be done. I didn't find out we had new raspberries until later.

Saturday, he called my phone and said, "Come out and look at these raspberry plants!"
They've become nice-sized, established bushes now, with the first few blooms on them.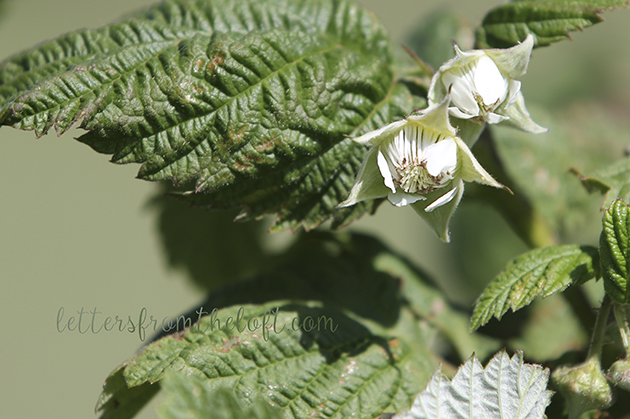 But what's even more fun are the incredible number of volunteer "runners" already shooting up from the ground around the original plants.
I take it as a symbol. 😉  When Jesus, the "husband" of the church, quietly took care of the work that needed to be done for us (perfectly following God's Law, then handing us His perfect record while taking our failure onto Himself) that's when the growth and fruitfulness appeared.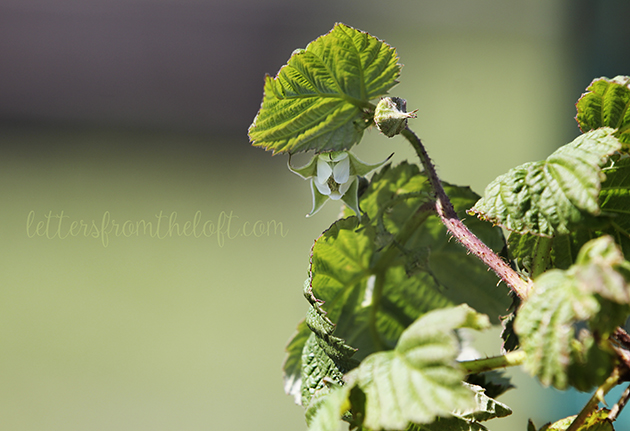 Volunteer runners are shooting out from the goji berry bushes, too, even outside the garden borders.
They look like weeds, and they're surrounded by weeds. But they're honest-to-goodness goji berry plants. If we leave them be, they'll produce honest-to-goodness goji berries that the kids will eat straight off the plant.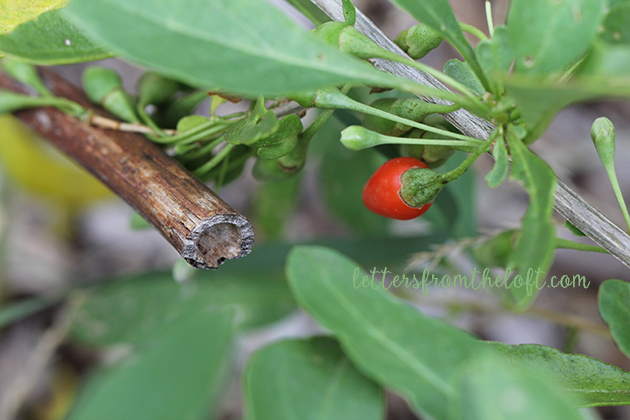 I took pictures of more green things…
like the heartbreaking condition of our weeping cherry, which nearly had its life sucked away by bagworms. Here's how it used to look, in its former glory (my oldest has grown in his two front teeth since then):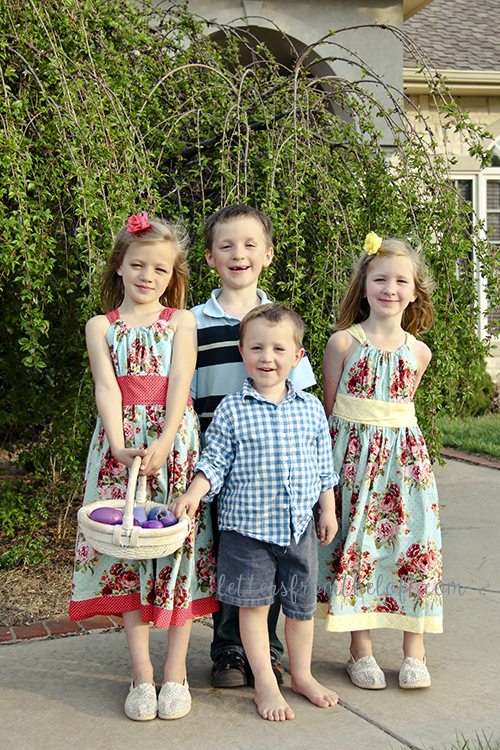 My husband started to cut the entire thing down last year, after the attack of bagworms, but I couldn't let him.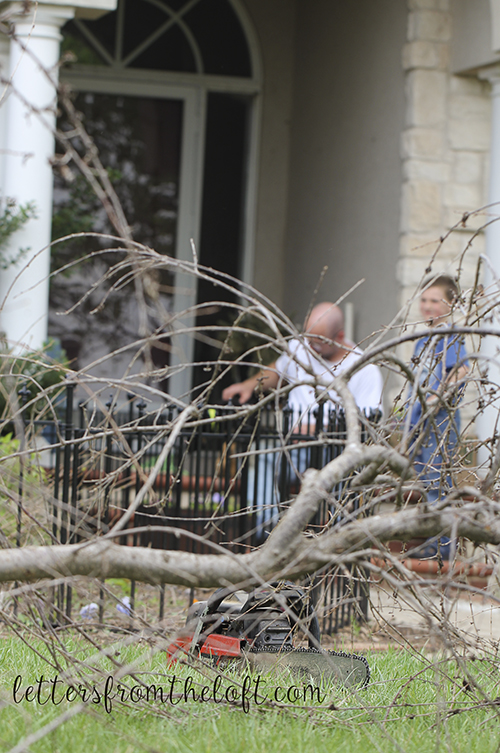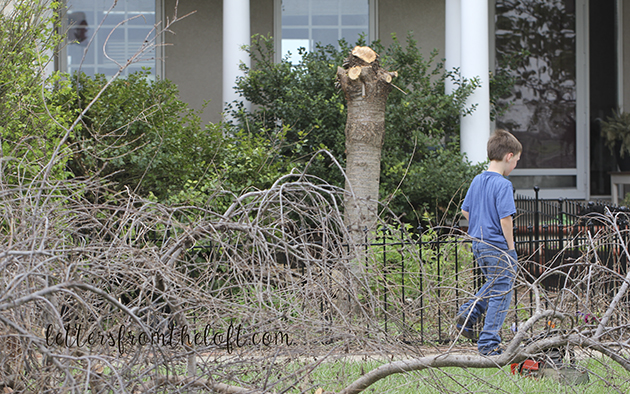 He left the tall, sad-looking stump for my sake. Then he planted a new weeping cherry next to it.
But my heart is still with the old one. It has a teensy new branch growing. I'm watching it like a hawk this time and will demolish any bagworm that dares touch that little burst of life.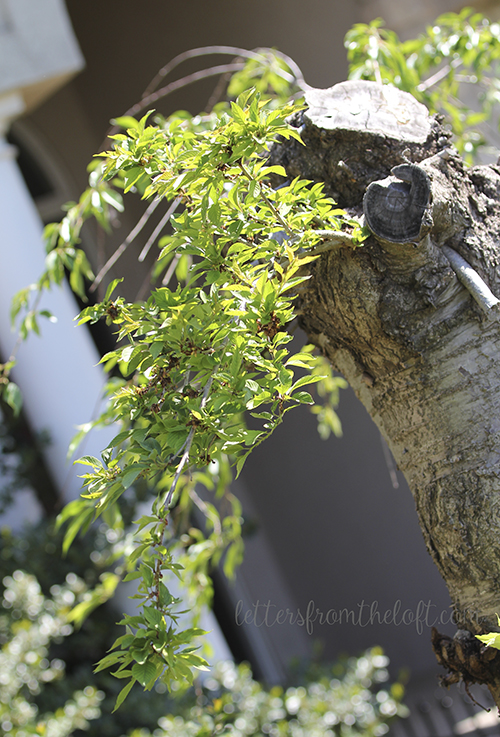 My husband sent me to look at a peach tree that had blossomed late, and I found this little one.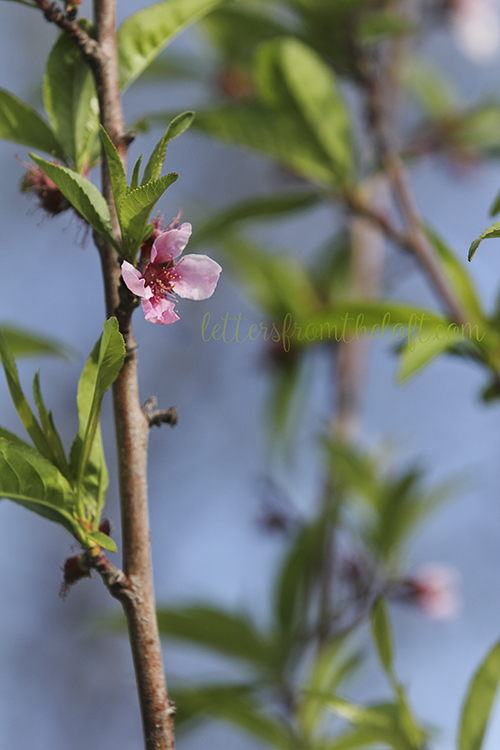 Most of the other trees produced beautiful, showy blooms at the first sign of spring. All those blossoms were ruined by the late frost — no fruit for them this year.
But for whatever reason, this little tree's blossoms were delayed until the frost was well past.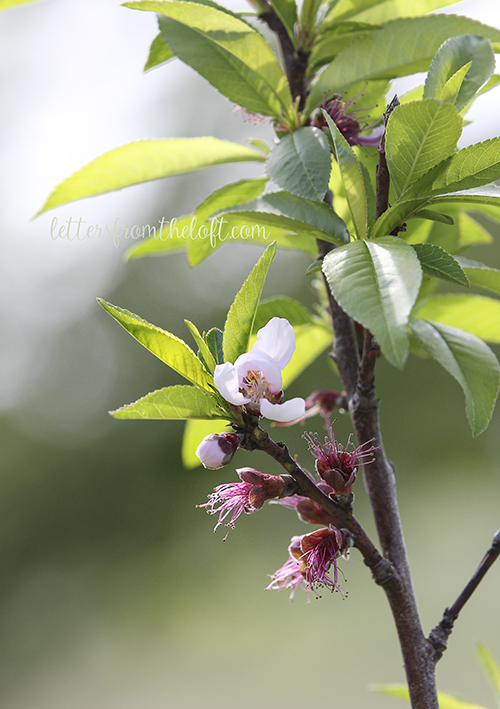 But my husband actually had meant this bigger tree: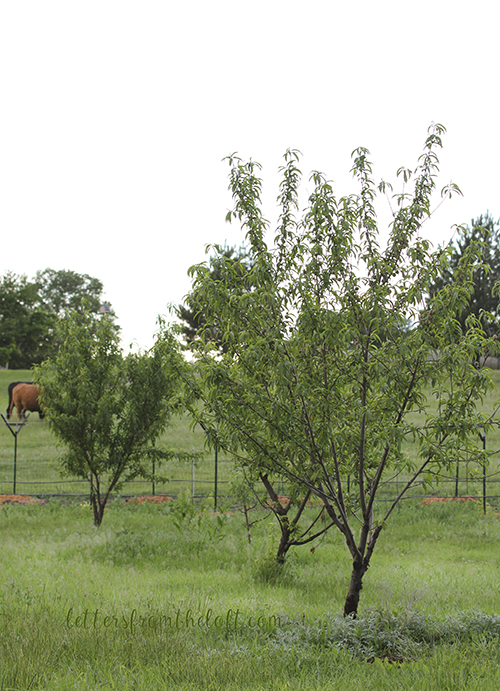 And he had seen these on it!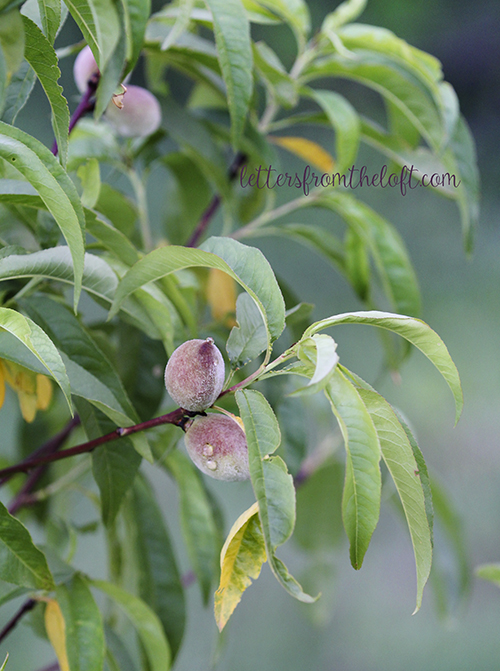 The farm is overflowing with hopeful growth right now.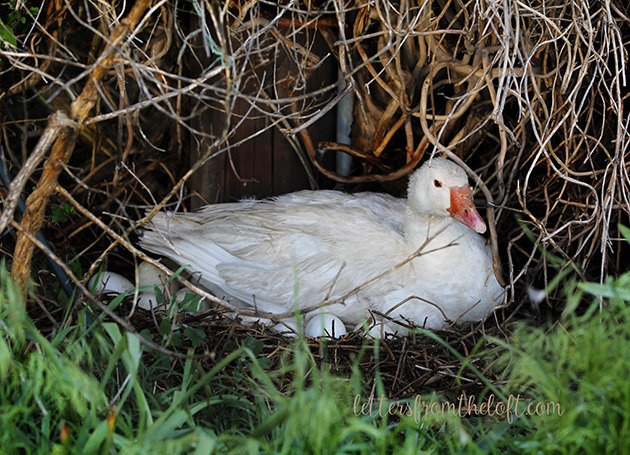 With everything else there is to enjoy out here, I'm also grateful for this:
that my own growth and fruitfulness are not dictated by signs and conditions of plants on our farm.

They're determined by things like this:
"For you, the Eternal's Word is your happiness.
It is your focus—from dusk to dawn.
You are like a tree,
planted by flowing, cool streams of water that never run dry.
Your fruit ripens in its time;
your leaves never fade or curl in the summer sun.
No matter what you do, you prosper." (Psalm 1:2-3 VOICE)
"blessed is the one who trusts in Me alone;
the Eternal will be his confidence.
He is like a tree planted by water,
sending out its roots beside the stream.
It does not fear the heat or even drought.
Its leaves stay green and its fruit is dependable, no matter what it faces." (Jeremiah 17:7-8 VOICE)
"Jesus: I am the true vine, and My Father is the keeper of the vineyard . . . A branch cannot bear fruit if it is disconnected from the vine, and neither will you if you are not connected to Me.

"I am the vine, and you are the branches. If you abide in Me and I in you, you will bear great fruit. Without Me, you will accomplish nothing …

"Your abundant growth and your faithfulness as My followers will bring glory to the Father." (John 15: 1-8 VOICE)