A Hike Through Sonoran Desert Flowers
Missed you all the last couple of weeks! Our family has been on vacation, and away from cell phones and computers, so I've had no contact at all with the blog.
We live right by a mountain park in Phoenix, and I regularly hike the trails there. This is supposed to be wildflower season for us, and I thought I'd take my camera out and get a bunch of pictures. But with very little rainfall this winter–even by our desert standards–only the most faithful plants produced blooms. Still, they were lovely, and I thought I'd share this most precious place, where I go to think and to pray and to "see" God.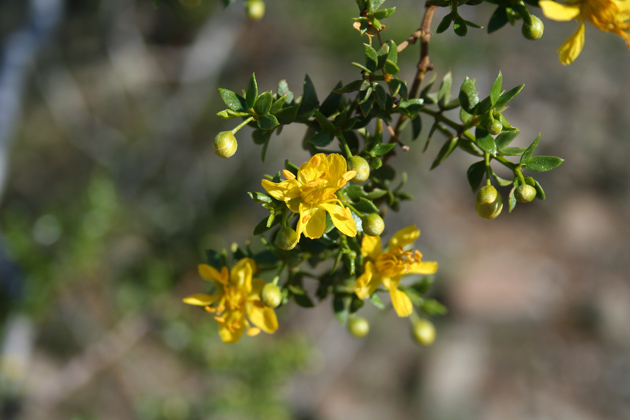 Flower from the creosote bush: Probably the most ubiquitous plant in the Sonoran Desert. It has a distinctive smell, especially noticeable in a rainstorm, and it always smells like "home" to me after we've been away.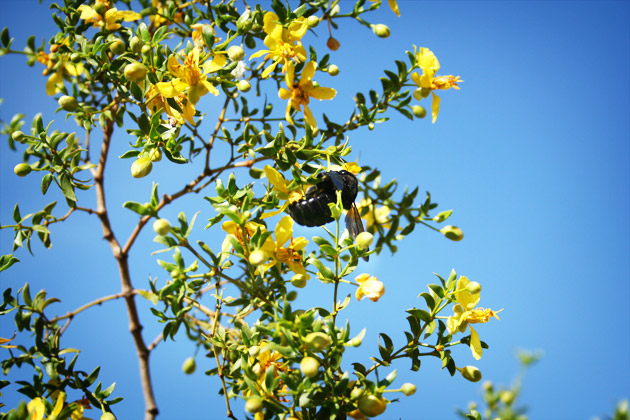 As you can see, the bees love it. This huge old bumblebee scared me with his loud buzzing and erratic flight. I was delighted to have captured him in the photo at all.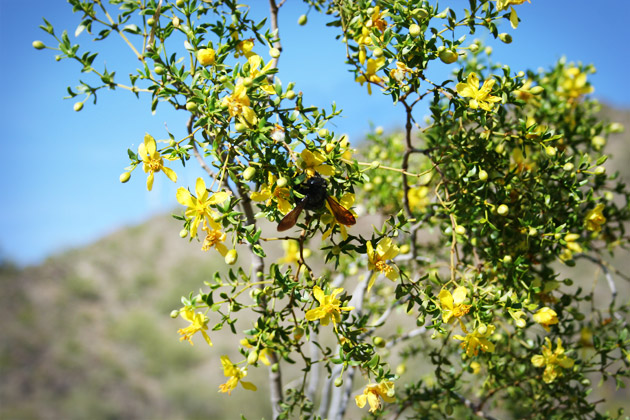 This is a common sight on my walks: Certain types of cacti seem to "buddy up" with a shrub, or a small tree, and the two of them grow together. In this case, a desert wolfberry (I think) is paired with a young saguaro.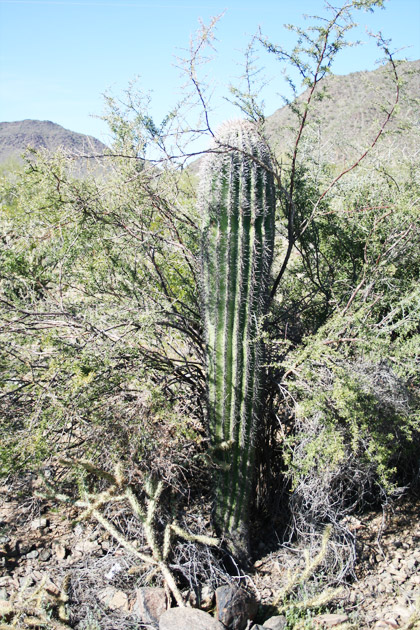 Kind of like a marriage: They start their life together, protecting and complementing one another as they grow, and they cannot be separated without severe damage to both of them. But left to grow together, they both just might reach their full glory: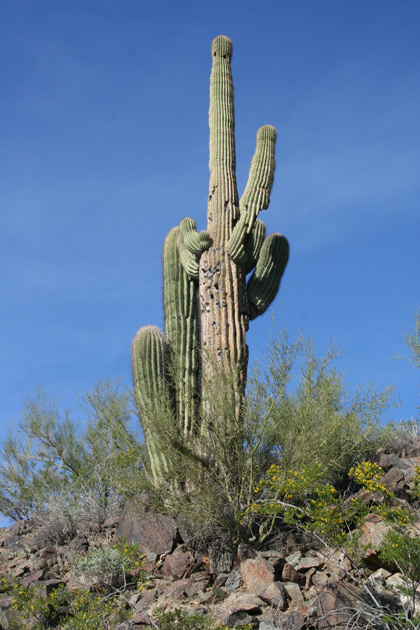 This is a saguaro cactus, almost certainly more than a hundred years old, married to a palo verde tree.
The next one is scorpion weed. In good, rainy years it turns whole hillsides a hazy purple. I think it's so named because the buds are inside a curled-up stem (and open as the stem uncurls) like a scorpion's tail. Kind of makes you feel all cozy inside, doesn't it? Scorpions are nasty, creepy things that hide in my laundry baskets, just waiting to give me goose bumps; they're nothing like this pretty blossom. I hereby re-name it "fiddle-neck flower."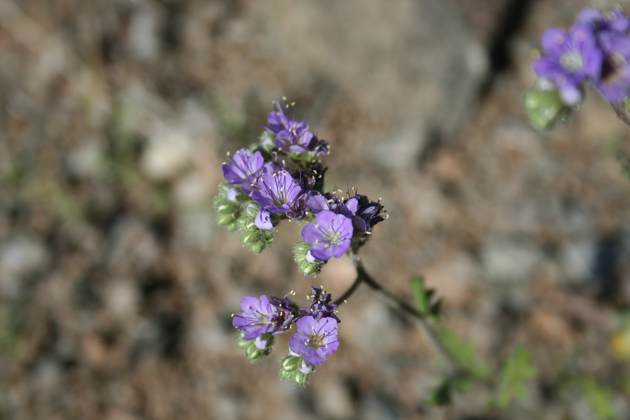 I wish I could stick your noses in this brittlebush flower; it smells like…like…a spicy cookie, maybe. The shrub secretes a resin that we pick off and chew, like gum, and collect at Christmastime in place of frankincense and myrrh: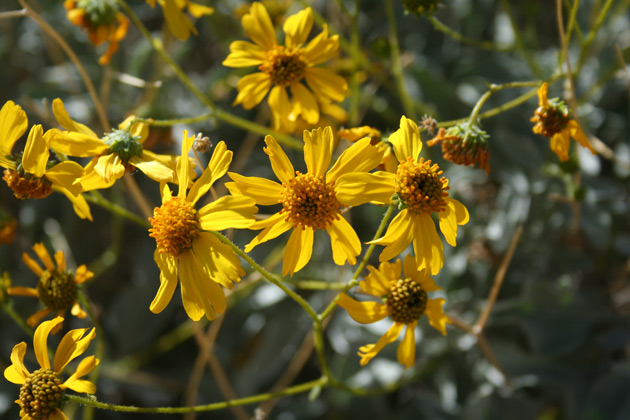 All my growing-up years, I kept cacti in pots in my bedroom. I loved them, loved their showy blossoms, and loved how they thrived under considerable neglect. They still grow in my parents' greenhouse; Mom will call once in a while to tell me when they're flowering.
Now I live in a cactus wonderland. I found this barrel cactus well off the trail…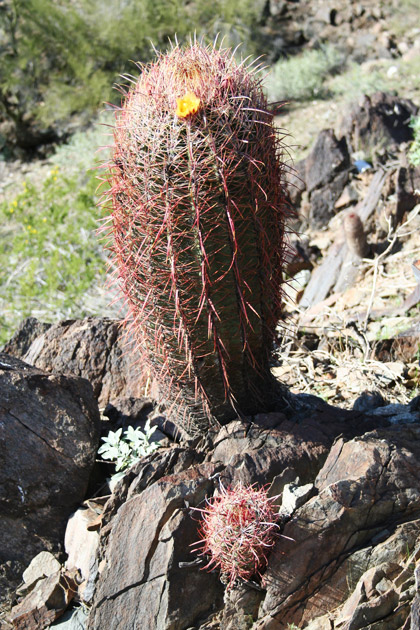 …and slid down an embankment (not by choice) to get a close-up: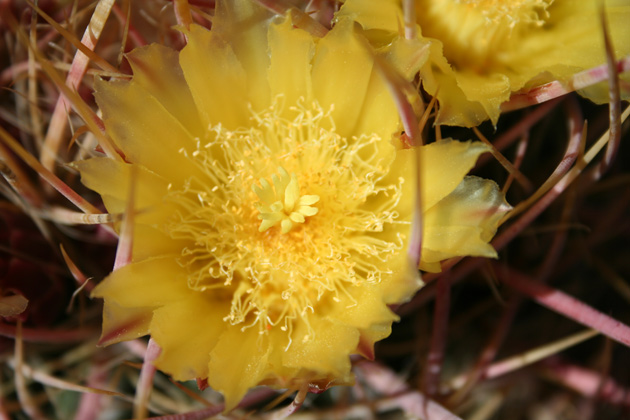 I think it was worth it. I could have stayed all day, just admiring its beauty.
I think this is a pincushion cactus. They're everywhere, and always-faithful bloomers. I've seen squirrels eat the bright-red fruit.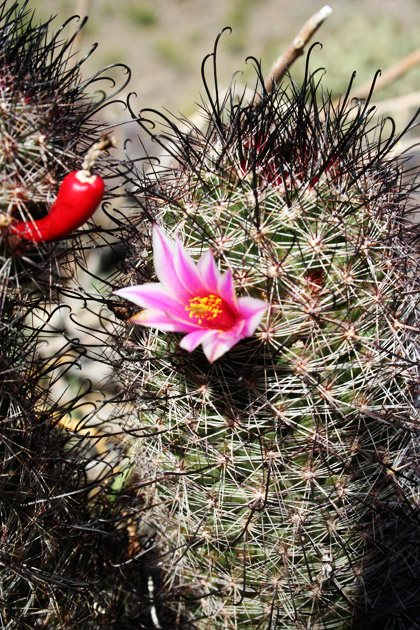 Shortly after I began regularly hiking in the Sonoran Desert, I discovered a pretty orange flower, the desert mallow, a relative of the sweet little poppy mallow that grew all over our farm in Kansas. I loved it for its beauty, and picked some to put in a vase, just like I had done as a child in Kansas…and found I'd tangled with The Meanest Pollen in the West. So when I saw it in bloom as I neared home, I tried to take a very-careful-from-a-safe-distance photo…and ended up with an accidental self-portrait instead.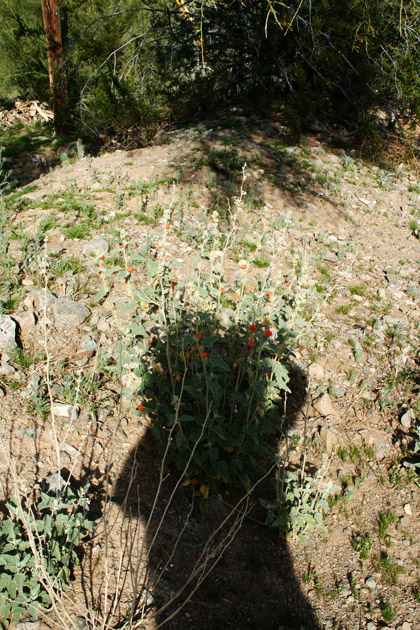 Hope you enjoyed our short hike. When you ask for prayer from me, (and some of you have) this is what you're getting: me out here, in this harsh and aching beauty, freely pouring out my heart to a God who hears. And I've seen sweet, good, cactus-flower-in-the-spines sorts of answers to those prayers. Have you?
Next week: I hope to have a few vacation pictures, and a book review.