Bucket Lists and Checklists: Our Vacation
As promised, I have vacation pictures for you! I blew it on the book review, though. I'm slowly learning never to promise anything to anyone in April and May; they're by far the busiest months of the year for my family.
This vacation could be called "Checklists and Bucket Lists." My husband's parents have had, "Take the Family on a Cruise" on their bucket list, and this spring they got to check it off. And my husband had spring break the week before the cruise, so we left home early with our own checklist in hand.
First thing: Go see my brother and his family.
We got to their house in the afternoon, and we only stayed overnight. While my sister-in-law made dinner, the kids rode bikes, scooters, and electric cars, over the ramp my brother built, up and down their otherwise-quiet street, racing, teasing, wrecking, crying, laughing, meandering, jumping. I wandered outside to see their antics, started chatting with the guys, and then it slowly dawned on me that my brother was Up to Something…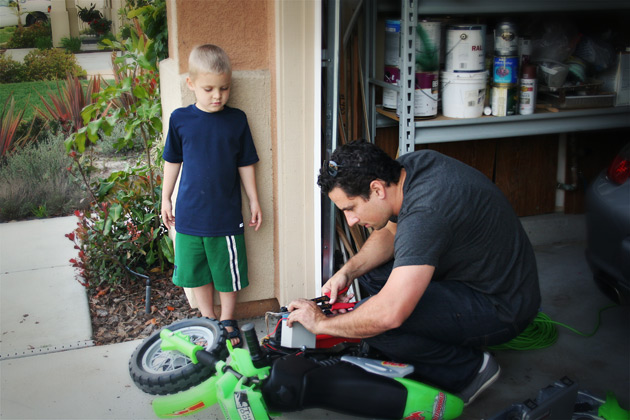 He had taken the battery out of a little motor-scooter that he'd just bought, and was sawing a bigger hole where the battery goes. He'd had his son try it out, and decided that it didn't go fast enough…so he was putting in a bigger battery! MORE POWER!! And then, since it was MY son that was standing there watching him, it was MY son–my YOUNGEST son–that he used as a guinea-pig once he got it set up!
So here's my little soap-box for moms with boys: Sometimes (a lot of times) a mom's just got to shut up and let 'em try. Get your cell phone ready to dial 911 if it makes you feel better, but let 'em try.
So he started at the top of the driveway (read: new battery PLUS gravity) and he rode to the bottom, turned, and went down the street, and I was SO proud of him, and so grateful to my brother, and so glad I shut up and let him try.
Next thing: Take the family to Disneyland.
We're only going to do this once, so we wanted to time our trip for when the youngest one would remember it, and the oldest one would still enjoy it. I think we would all say that we're glad we went, and we're glad we are only doing it once. We can now officially check it off the list of things we want to do with our kids before they grow up.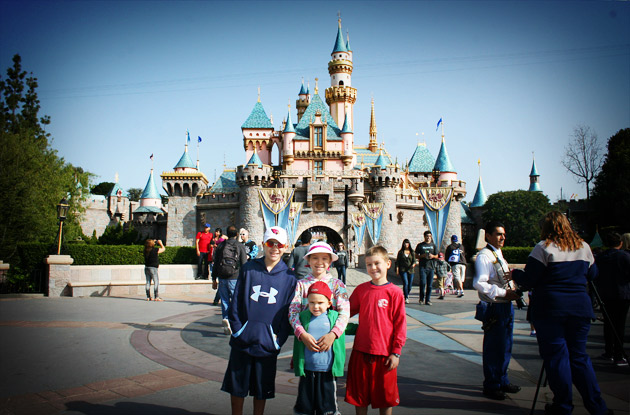 Next: Take the kids to see Hollywood. We just drove through, let them take in Hollywood Blvd from the car windows, and stopped to get this picture.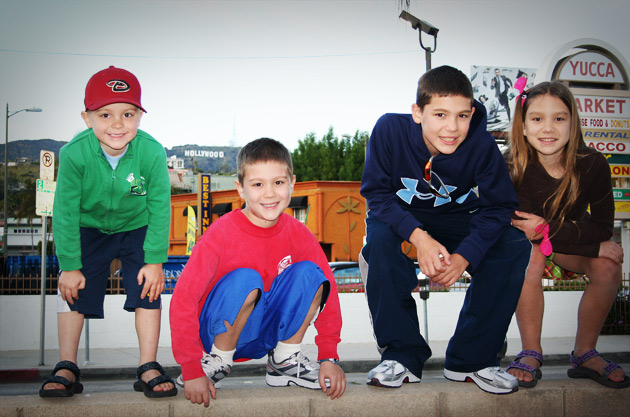 And we fulfilled one of my daughter's dreams: To see the American Girl store in Los Angeles. Oh my goodness: We loved it! So many beautiful things to see. While the boys disappeared, the three of us (mom, daughter, and doll) splurged and had afternoon tea at their cafe. Seriously–they have high chairs and teacups for the dolls! Our favorite thing: the little pink box in the picture contains conversation-starter questions on slips of paper, and we took turns picking questions to ask each other. This was so good for our relationship that I'd like to do a tea-with-pink-box with her once a week.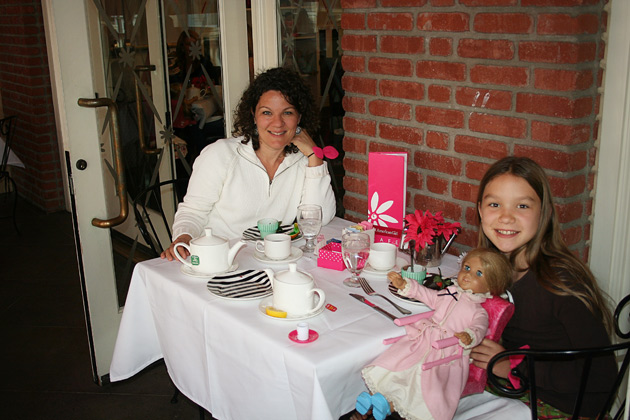 We boarded our ship the next day. This was an amazing trip: seven days of cruising the Mexican Riviera with beloved family. We spent one day (my favorite) snorkeling and playing at the beach in Cabo San Lucas, and another day (not my favorite) riding dune buggies on trails outside of Puerto Vallarta.
We celebrated a cousin's birthday with Mickey Mouse,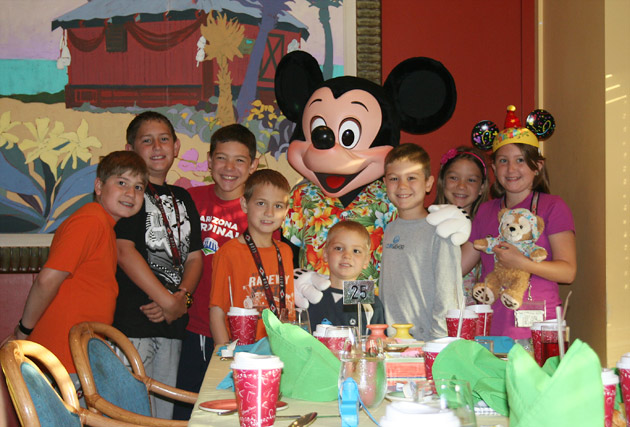 and a mother-daughter tea party.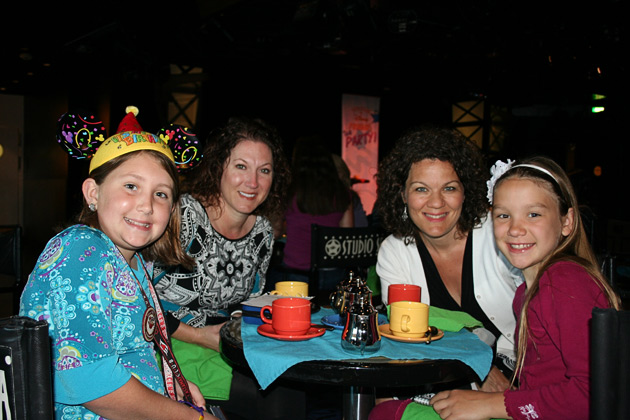 Every day, we'd get up, throw some clothes on, and go spend a day doing whatever we liked. The kids' goal: get connected with cousins as quickly as possible and spend the day roaming the ship. There were plenty of planned activities, if they ran out of ideas. Our youngest loved the play area made just for his age.
I spent a good part of my days reading the stack of books you see here, in our cabin, all by myself, taking breaks to mess with my camera. A little piece of Heaven-on-Earth. One of these books is the one I said I'd write a review for. It's coming–soon–I promise.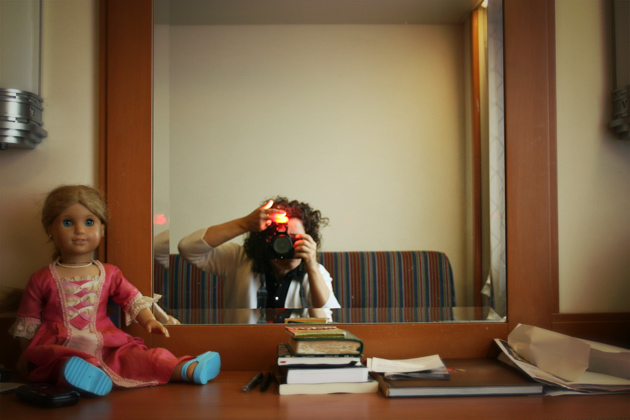 And then, every evening, we'd all get dressed up and have dinner together. We all loved this time of gathering, chatting, and eating wonderful, delicious food. And we got another thing checked off our list:
Teach the boys to wear a tie. My husband tied the two younger boys' ties, but the oldest one got lessons. Watching this was precious to me: a rite-of-passage, a father-son bonding.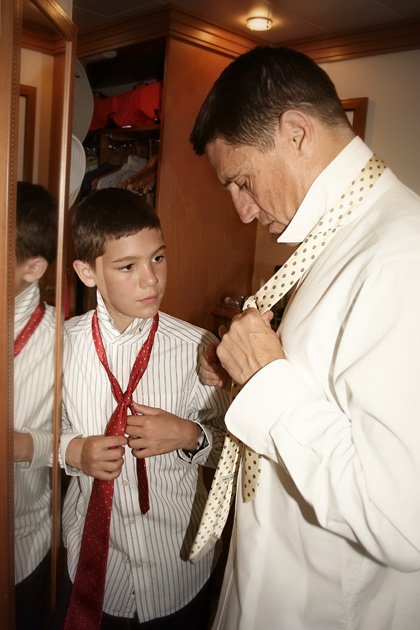 And the happy result: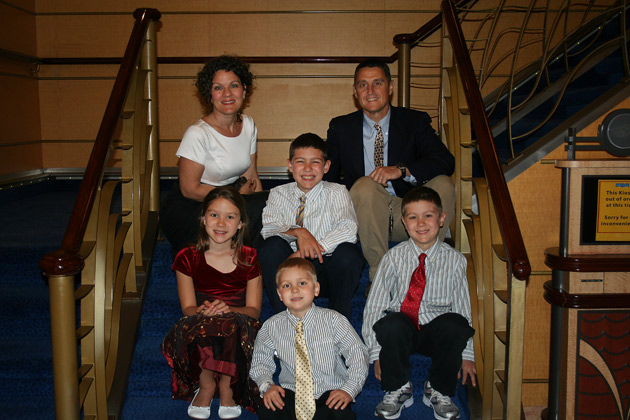 Another thing checked off: Get a good family photo.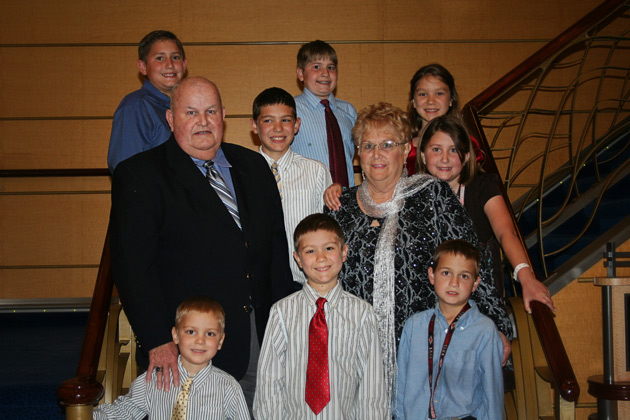 What a wonderful gift Grammy and Granddad gave to all the grandkids. I'm sure they'll treasure this memory for a lifetime.