Spring Garden Tour, Tools, and Tips
Happy National Day of Prayer today! Also, Mother's Day is this Sunday. Our family has many beloved traditions, one of which is Mother's Day. Every year, Dad would take us to the local greenhouse and let us each pick out whichever four-packs of annuals we fancied. Then, we would all go home and spend the day planting with Mom. It was a wonderful time of togetherness and loving on our mama.
Anyway, on to the garden… I have had a busy week, getting tomatoes in, planting basil, transplanting marigolds, and planting berries (thanks to my wonderful might-as-well-be-my-little-brother, who dug the holes that I just couldn't manage). The motivation, however, to put together a gardening "lesson" escaped me, so I thought I would just go out with the camera and give you a slightly disorganized and lazy tour of my this-year's garden, if that's okay.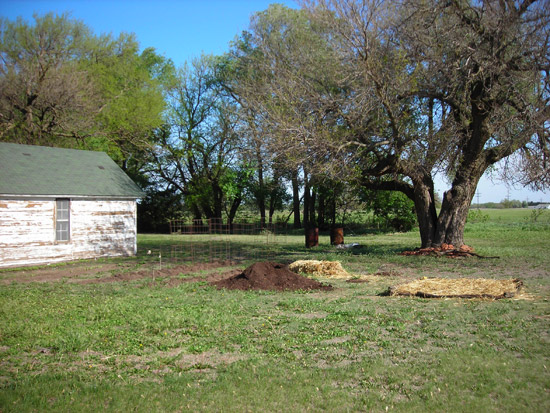 This is definitely a first-year garden. The layout is new and coming, composed of four tilled beds, with grass in between. Expanding on to the right (East), I have squash hills and the strawberry bed. The only lesson here is to think about lighting. I went North/South with my beds, but it doesn't really matter, as long as you make sure that each plant gets the correct amount of light.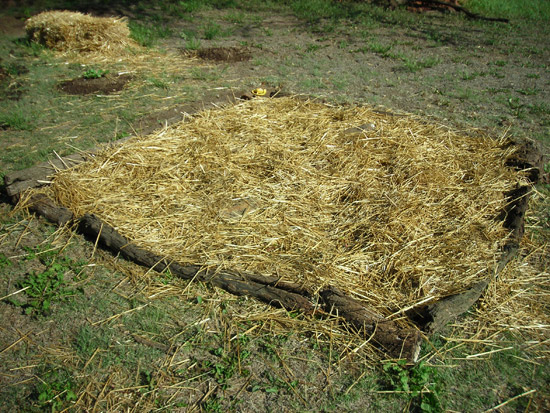 Strawberry bed. It is really important to set a strawberry bed up right, since it will most likely be there for 2-3 years. I dug it up deeply (12-18 inches), tilled in compost, set in 4 stepping stones (you can't really see them) so that I will not compact the soil, planted the strawberries, fertilized them, and covered them with straw.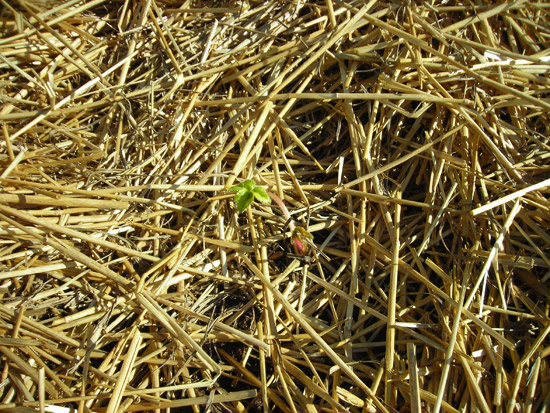 I did make sure that each strawberry plant could peek out!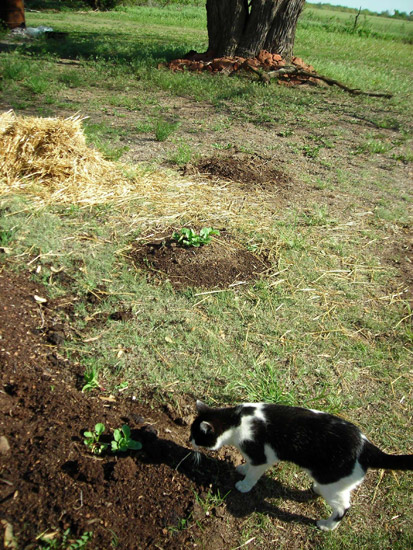 Three squash hills. I planted watermelon in one, and buttercup squash in the others. (Miss Daisy was feeling very photogenic today!)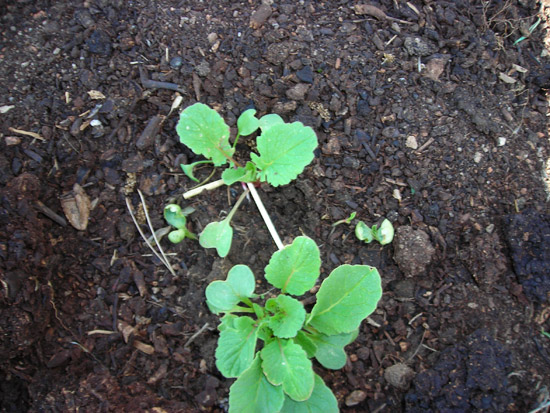 On the right and left are the watermelon plants. The bigger plants are radishes. Mom always taught us to plant radishes with squash because the radishes come up first, keeping the rabbits and bugs busy so that squash get a good head start.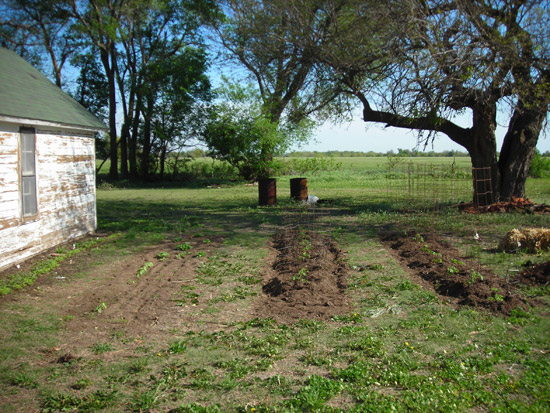 The four tilled beds. Two beds of tomatoes on the right, and then two veggie rows.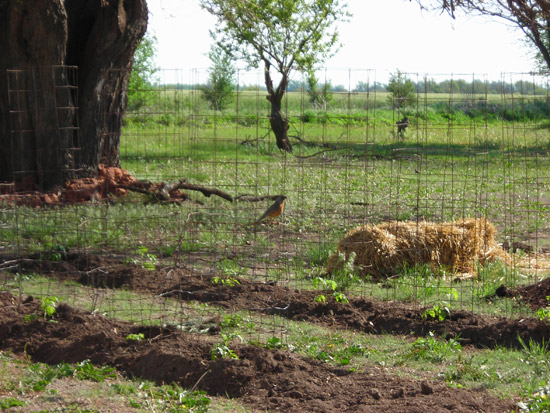 While I was taking pictures, a robin with a worm in his mouth hopped along my tomato cages. It's May in Kansas, and this bird and I shared a silent thought of "Now, isn't the world a lovely place, my dear?"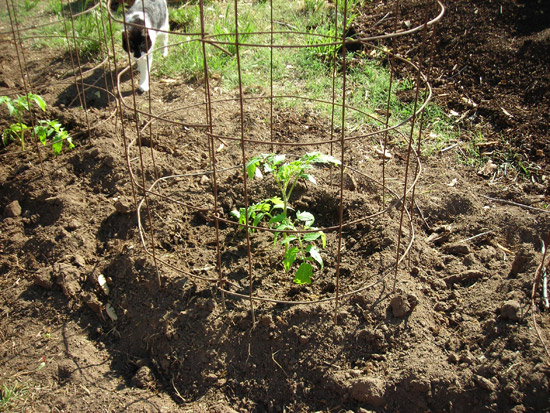 Mom came down and helped me get the tomatoes transplanted. We planted the tomatoes, fertilized them, set the cages, and then dug "wells" that double as water-holders and anchors for the cages.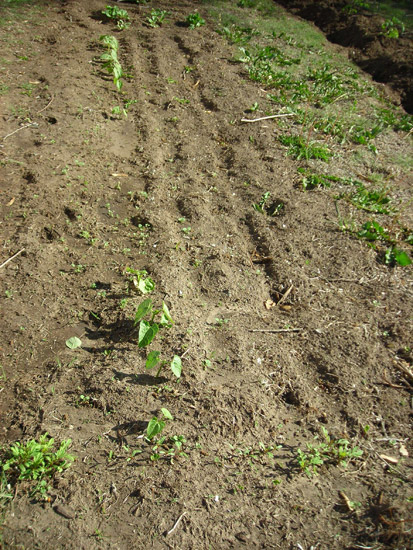 One of the veggie beds. Because I used old bean seeds, the germination was about 1/2, which is okay, because I just filled in the middle with more seeds (which haven't come up yet). On the right is another row that is ready for beans, but I will wait about a week before I plant it. It's called succession planting, where you plant a little of each crop a few weeks apart, so you have fresh veggies all season, instead of a "harvest time" for each crop.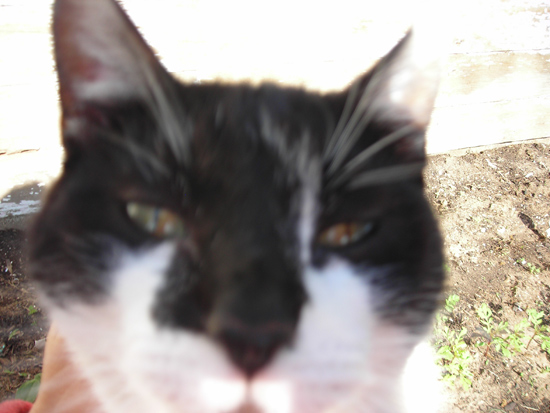 Sorry, but Miss Daisy was insistent that she be in the blog!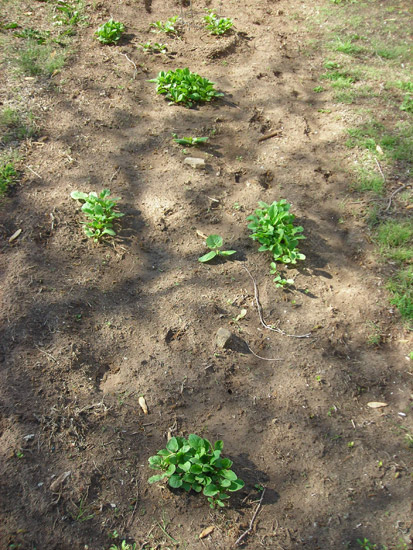 This is the other half of the "bean bed." Here, I have cucumbers planted in the cage, and 2 yellow summer squash plants coming up, again, surrounded by patches of radishes. My poor mom… she just told me that she planted 3 plants EACH of yellow squash and zucchini. Her friends are going to have to start locking their car doors, so she can't "share" excessively!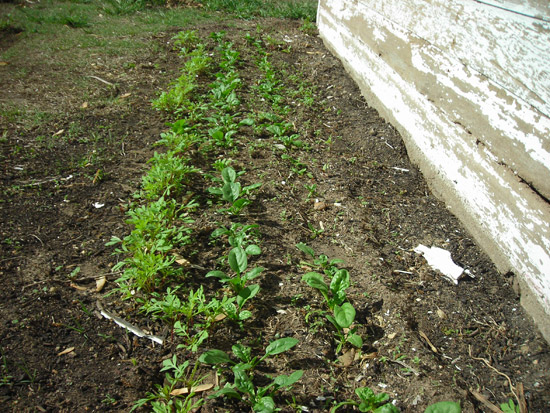 Spinach bed, with a marigold border. Rodents and bugs hate the smell of marigolds, so I have heard to plant them as a fence around the garden. They work!…. or maybe it's Jack, who half-insanely chases everything on the property, including moths! Oh, also, I planted spinach right against the east side of the wash house, because greens can get less light than fruiting plants – especially because I planted the spinach a little late, and they don't like heat.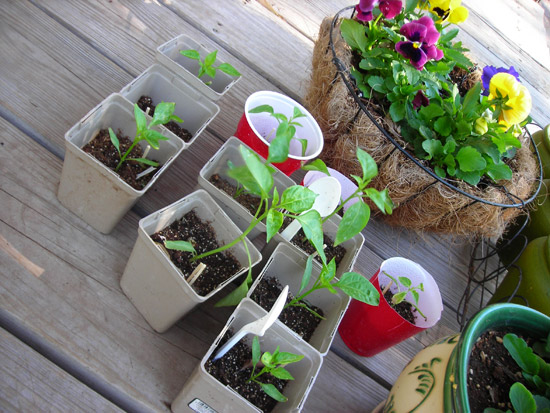 The only other members of the family that have yet to be "put into 'bed'" are the peppers. They are still in pots because 1) I need to find and make a bed for them, and 2) they hate, hate, HATE cold weather, so I'm keeping them inside at nights still for a couple weeks.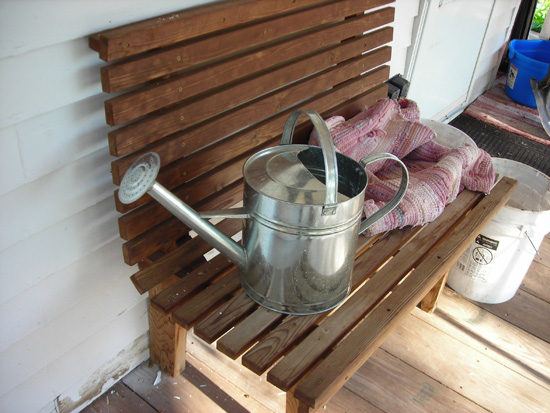 Random favorite garden tools. This was my Easter present from my mother-in-law! Doesn't she know me? It holds a lot of water, is really sturdy, and I use it at least twice a day! You really don't know how much you'd use a good watering can until you have one. I would have a hard time going without one now.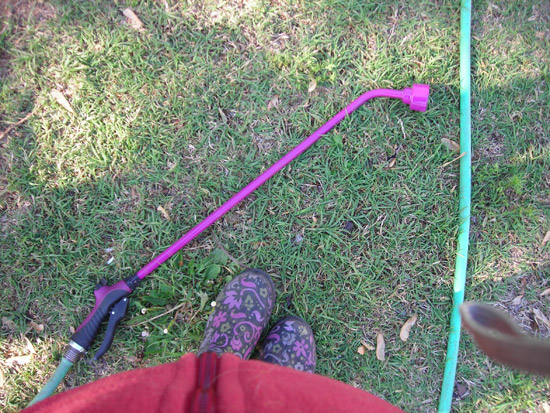 Watering wand. My other Easter present from my mother-in-law. And my other new use-at-least-twice-a-day-can't-live-without tool! They spray is so gentle! They are the best on the market, in my opinion. Also, my boots (pronounced beeoots!), which was my Valentine's Day present from Drew! … and my belly…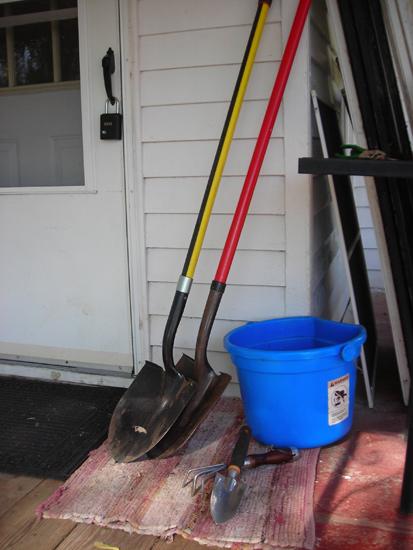 Finally, my shovels, large and small, and my bucket, which has a million uses on a small farm!
Well, thus ends my tour. I think it will be fun to take the same tour in a month or so and see the differences.
As an aside, I was curious to see what your Mother's Day or just favorite family traditions are? I'd love to hear them!