The Things Kids Say: Bible Memory Verses
Scroll to the bottom of this post to view the list of verses, or click here for a printable PDF.


One of the joys of being a mom, amid diapers and spit-up, is getting to be the one who hears the things my kids say as they learn to navigate the world!
This is a typical set of exchanges at our house lately:

"Mom, can I have some jewwy beans, cuz… um…" (thinking of something that deserves a reward… running to grab the nearest toy…) "I picked up my tape measure?"
Humoring him – and underestimating him – I hand over three jelly beans.
"No, Mom! I need FIVE jewwy beans 'cause… this tape measure is SO heavy!"

My older daughter lagged behind in some of her pronunciations, so we we worked hard with her on adding beginning sounds to her words (like "c" at the beginning of "cat"). She's caught up now…
But the younger daughter has taken the lessons to heart. She was sorting through the picnic tableware in the pantry the other day and asked:
"Mom, can I have a white 'poon?"
"Sure, here's your white poon."
"NO, Mom! That's not how you say it. It's k-k-k-white poon!"

My younger son is just beginning to talk. He frequently crawls up to me begging, "Huuuug!" and I love that this was his first word.

Sometimes our exchanges are challenging, like when my daughters ask (already?!) how the baby came out of my belly. "Uh… just fine…"
My older son announced the other day, "I want us to have FIVE babies."
"Hmmm… But I just like having four."
"Weeelll, but four is almost to five!"
Sometimes I find it handy to borrow from the baby's vocabulary… "Pthbbbt!"

Building on my younger daughter's interest in pronunciation, I told her, "It's not oors, it's y-y-y-yours."
She replied, "Y-y-y-mine!"

And I've posted a couple on my facebook page recently…
From a week or so ago: "Mom, some patterpillows turn into butterflies. Some turn into mops!"

My older son, ever hopeful, said, after his baby brother cut his finger:
"Weeellll… I guess we'll have to get a new baby now. Ours is broken!"

Little kids are capable of expressing big ideas. Their thoughts and words begin to be molded from the time they utter their first syllables, if not before.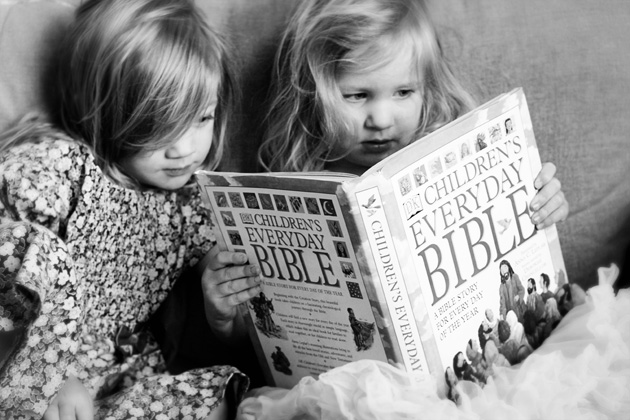 Julie has encouraged me not to underestimate young children's ability to memorize big ideas. We're working on classic poems this year, but we've also added short scripture memory verses to go along with their weekly Bible lessons.
When I was a growing up, I didn't develop an understanding of the overall story of the Bible until my teens. I'm not sure it's necessary or even possible for younger kids to understand how the biblical generations are related, or how one event led to another. I'm going to give it a try, though, and at the very least they will have learned the basic stories!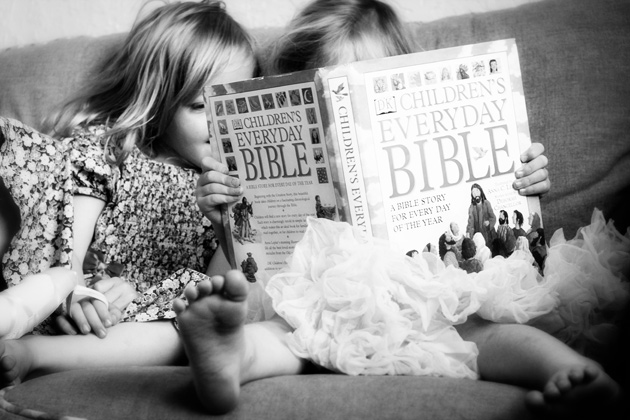 For this year, I've chosen stories that emphasize the journey to the Promised Land – both the Old Testament journey to Canaan and the New Testament journey to the New Jerusalem.
We'll read the stories mostly in chronological order, but we switch things up a bit here and there. For example, in the Fall, we cover a section on Unlikely Helpers (The Lion and the Mouse, the Good Samaritan, Ruth and Naomi, feeding the multitudes with a few loaves and fish, Squanto, and others). This section falls right between the Old Testament and New Testament, and some stories from both Testaments are included.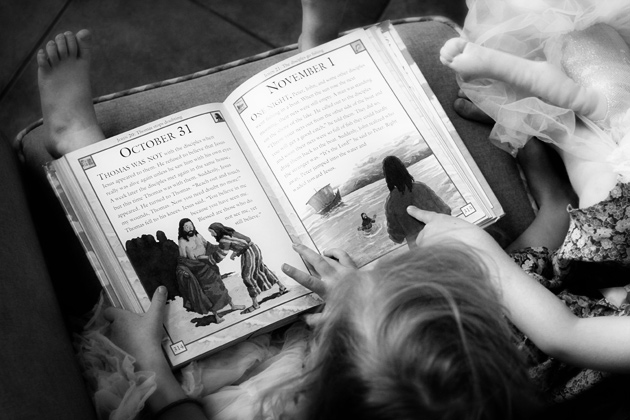 The following list of memory verses is correlated with the sequence of Bible stories, sometimes taken directly from the story, other times just reflecting a key concept.
I'll leave you with the verses now… and I hope you have an inspired Wednesday!
The Verses
For a printable PDF of the verses we're using (plus how they fit with our school topics), click here. If you do use these, please double-check the verses for accuracy, in the Bible version you like to use. Some of the verses are only partial; older children could memorize the entire Bible verse. Also, several verses are repeated through the year. I'd rather they really understand one verse than try to cram in three that they'll forget.
Week 1 – April – Jesus' death and resurrection
Memory Verse: "Christ is Risen" "He is Risen Indeed" (traditional Easter greeting)
Week 2 – April – Jesus ascends, Holy Spirit is given
Memory Verse: "He is coming with the clouds, and every eye will see him." (Revelations 1:7)
Week 3 – April – Creation
Memory Verse: "In the beginning, God created the heavens and the earth." (Genesis 1:1)
Week 4 – April – First sin (Adam & Eve, Cain & Abel)
Memory Verse: "All have sinned and fall short of the glory of God." (Romans 3:23)
Week 5 – April/May – Noah's Ark
Memory Verse: "Obey the Lord your God." (Deuteronomy 27:10)
Week 6 – May – Noah's Ark
Memory Verse: "The Lord is faithful to all his promises." (Psalm 145:13)
Week 7 – May – God tells Abraham he'll have land and descendents
Memory Verse: "I know the plans I have for you." (Jeremiah 29:11)
Week 8 – May – Sarah has a baby, preview father/son line (Abraham, Isaac, Jacob)
Memory Verse: "Nothing is impossible with God." (Luke 1:37)
Week 9 – May – Review father/son line
Memory Verse: "…that we should be called children of God." (I John 3:1)
Week 10 – May/June – A wife for Isaac (doing a little extra)
Memory Verse: "Let us not become weary in doing good." (Galatians 6:9)
Week 11 – June – Jacob and Esau (forgiveness for taking a gift that wasn't his)
Memory Verse: "Be patient, bearing with one another in love." (Ephesians 4:2)
Week 12 – June – Joseph's coat, selling into slavery, reunion with brothers
Memory Verse: "And we know that in all things God works for the good…" (Romans 8:28, to be continued)
Week 13 – June – Review fathers, promises (to Abraham), how they got to Egypt
Memory Verse: "They Word is a lamp unto my feet and a light unto my path." (Psalm 119:105)
Week 14 – June/July – Baby Moses
Memory Verse: "And we know that in all things God works for the good of those who love him…" (Romans 8:28, review, and to be continued)
Week 15 – July – Moses and the burning bush
Memory Verse: "And we know that in all things God works for the good of those who love him and who have been called according to his purpose." (Romans 8:28)
Week 16 – July – Moses and the plagues
Memory Verse: "Let my people go." (Exodus 9:1)
Week 17 – July – The Israelites cross the Red Sea
Memory Verse: "How awesome is the Lord Most High." (Psalm 47:2)
Week 18 – July – Life in the desert: Manna and water from the rock
Memory Verse: "God will meet all your needs according to his glorious riches in Christ Jesus." (Philippians 4:18-20)
Week 19 – August – Ten commandments
Memory Verse: "Love the Lord your God with all your heart and with all your soul and with all your strength." (Deuteronomy 6:5)
Week 20 – August – Israelites are afraid of giants in Canaan
Memory Verse: "Do not be afraid, for I am with you." (Genesis 26:24)
Week 21 – August – Crossing Jordan, who are Moses & Joshua, promised land
Memory Verse: "Let everything that has breath praise the Lord." (Psalm 150:6)
Week 22 – August – In the Promised Land: Fall of Jericho
Memory Verse: "The name of the Lord is a strong tower." (Proverbs 18:10)
Week 23 – August/September – In the Promised Land: David and Goliath
Memory Verse: "I can do all things through Him who gives me strength." (Philippians 4:13)
Week 24 – September – We want kings: David and Solomon
Memory Verse: "Worship the Lord your God, and serve Him only." (Luke 4:8)
Week 25 – September – Solomon builds the temple
Memory Verse: "True worshippers will worship the Father in spirit and in truth." (John 4:23)
Week 26 – September – Jonah
Memory Verse: "Where can I go from your Spirit?" (Psalm 139:7)
Week 27 – September/October – Captivity: Fiery furnace
Memory Verse: "Because he loves me, says the Lord, I will rescue him; I will protect him." (Psalm 91:14)
Week 28 – October – Captivity: Daniel in the lion's den
Memory Verse: "Because he loves me, says the Lord, I will rescue him; I will protect him." (Psalm 91:14)
Week 29 – October – Esther
Memory Verse: "Trust in the Lord with all your heart." (Proverbs 3:5)
Week 30 – October – Nehemiah rebuilds the wall
Memory Verse: "The joy of the Lord is your strength." (Nehemiah 8:10)
Week 31 – October – OT versus NT: review fathers/kings; Intro Jesus, true stories versus parables that teach
Memory Verse: "Jesus spoke all these things to the crowd in parables." (Matthew 13:34)
Week 32 – October/November – Offering loaves and fish to feed the multitude
Memory Verse: "And my God will meet all your needs according to his glorious riches in Christ Jesus." (Philippians 4:18-20)
Week 33 – November – David and Goliath
Memory Verse: "Do not be afraid, for I am with you." (Genesis 26:24)
Week 34 – November – Naomi, Ruth, and Boaz
Memory Verse: "Let us not become weary in doing good." (Galatians 6:9)
Week 35 – November – Parable of the Good Samaritan
Memory Verse: "Give thanks to the Lord, for He is good." (I Chronicles 16:34)
Week 36 – November/December – OT vs. NT: fathers/kings; review Jesus and parables
Memory Verse: "You are the Christ, the Son of the living God." (Matthew 16:16)
Week 37 – December – Jesus' birth
Memory Verse: "I will bring you good news of great joy that will be for all the people." (Luke 2:10)
Week 38 – December – Jesus' birth
Memory Verse: "God so loved the world that he gave his one and only Son." (John 3:16)
Week 39 – January – Jesus' growing up years
Memory Verse: "Children, obey your parents in the Lord, for this is right." (Ephesians 6:1)
Week 40 – January – Jesus' followers (Peter's net of fish, sinner Matthew)
Memory Verse: "'Come, follow me,' Jesus said, 'and I will make you fishers of men.'" (Matthew 4:19)
Week 41 – January – Miracles: Water into wine, or other feeding of multitudes
Memory Verse: "I am the living bread that came down from heaven." (John 6:15)
Week 42 – Janary – Miracles: Healing the blind man
Memory Verse: "I am the light of the world." (John 8:12)
Week 43 – January/February – Miracles: Raising Lazarus from the dead
Memory Verse: "I am the resurrection and the life." (John 11:25)
Week 44 – February – Parables: The good shepherd
Memory Verse: "I am the good shepherd; I know my sheep, and my sheep know me." (John 10:14)
Week 45 – February – Parables: The lost sheep, the lost coin
Memory Verse: "Your Father in Heaven is not willing that any of these little ones should be lost." (Matthew 18:14)
Week 46 – February – Parables: The prodigal son
Memory Verse: "Whoever comes to me I will never drive away." (John 6:37)
Week 47 – February/March – Blessing the children
Memory Verse: "Let the little children come to me." (Matthew 19:14)
Week 48 – March – Jesus talks about his return and about the New Jerusalem
Memory Verse: "He is coming with the clouds, and every eye will see him." (Revelations 1:7)
Week 49 – March – Jesus enters Jerusalem
Memory Verse: "Blessed is the King who comes in the name of the Lord." (Luke 19:38)
Week 50 – March – Passover Meal
Memory Verse: "Do this in remembrance of Me." (I Corinthians 11:24)
Week 51/1 – April – Resurrection
Memory Verse: "Christ is Risen" "He is Risen Indeed." (traditional Easter greeting)