Making Fresh-Squeezed Lemonade with Kids
This year my kids will be old enough for some of the activities that summertime allows. The thought of having soft green grass as a backdrop – in just a few more weeks! – makes me want even more to start blowing bubbles and collecting sand castle forms.
This past week we had a little free time, plus eight lemons that had been sitting in my crisper drawer. The lemons were perfectly "cured" (in other words, we had been planning this for several days before we finally had a free day), so we set out to make fresh-squeezed lemonade.
Bring on the summer!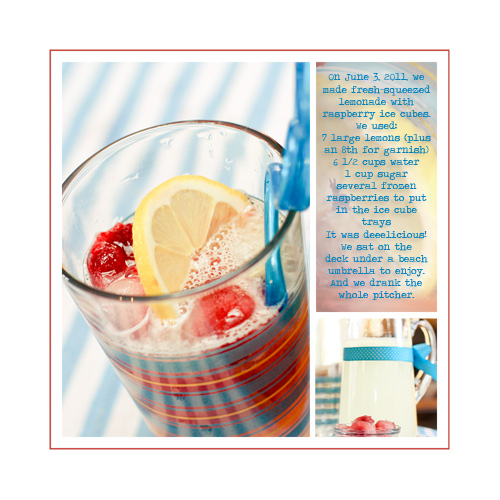 In keeping with my new resolve to catch up on my scrapbook pages, all pictures in this post are arranged for our scrapbook.
I started with a fresh-squeezed pink lemonade recipe out of The Kid's Cookbook from Williams Sonoma. We left out the "pink" part of their recipe (involving mashing strawberries through a sieve). A new friend had posted something on pinterest about raspberry ice cubes, so that was the "pink" part in our lemonade.
Early in the morning, my younger daughter helped me put frozen raspberries (we keep some on hand in the freezer) into our fruit-shaped ice cube trays. I bought those trays long before my kids were born. Some of my husband's younger siblings used to like helping me make lemon juice ice cubes with them when they'd come to visit.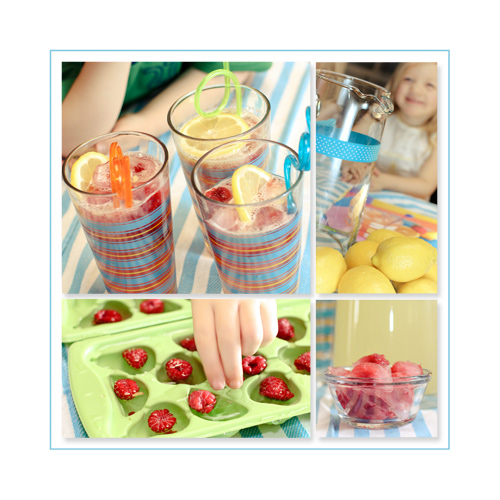 After reserving some lemon slices for garnish, we had about seven large lemons left. The kids LOVED squeezing the lemon halves on the juicer.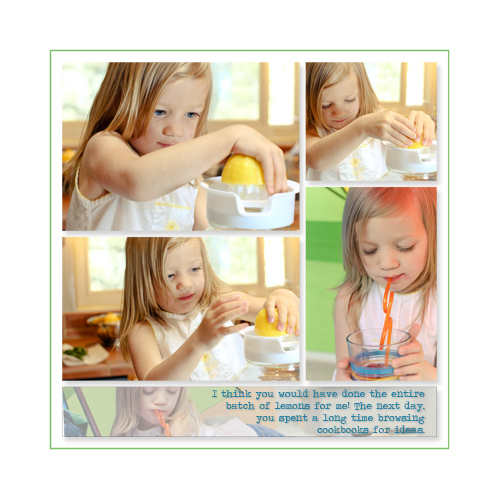 Seven large lemons makes almost 2 cups of lemon juice.
To that, we added 6 1/2 cups of water, and
1 cup of sugar.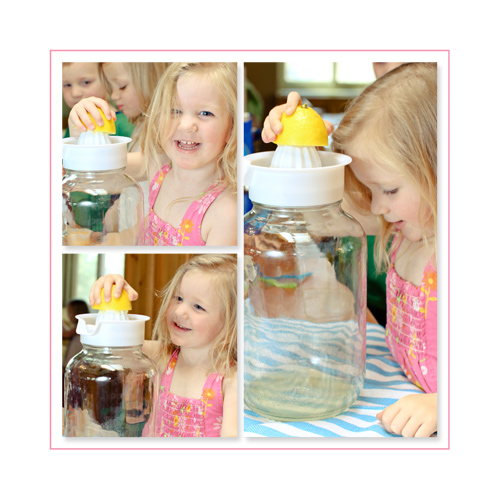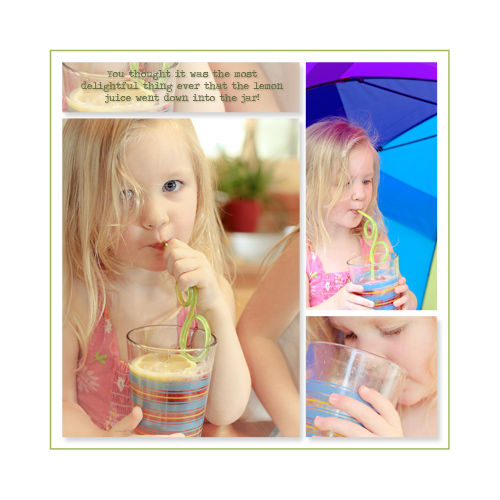 A beach umbrella made the kids very happy with our summer picnic. And being out on the deck made ME happy! The kids were allowed to use real glasses instead of sippy cups with lids, which of course meant we'd have a couple spills.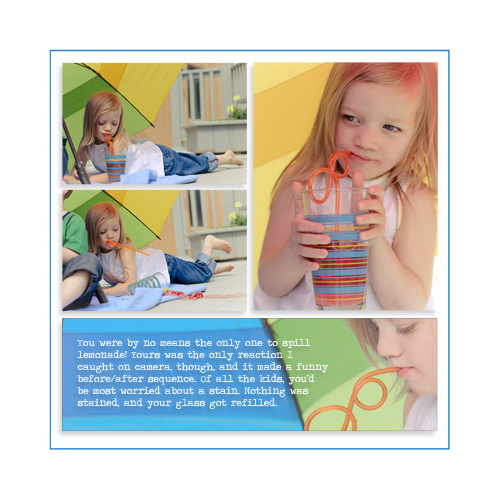 Fresh-squeezed lemonade is deeelicious! I wasn't expecting it to be SO refreshing. This made enough that each of us had about two glasses, although I think any of us would have been happy to drink the whole pitcher.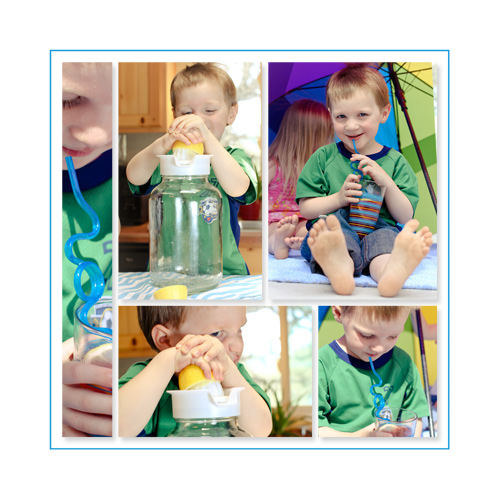 It was high time my son learned to make lemon rind smiley faces. He thought it was a little goofy.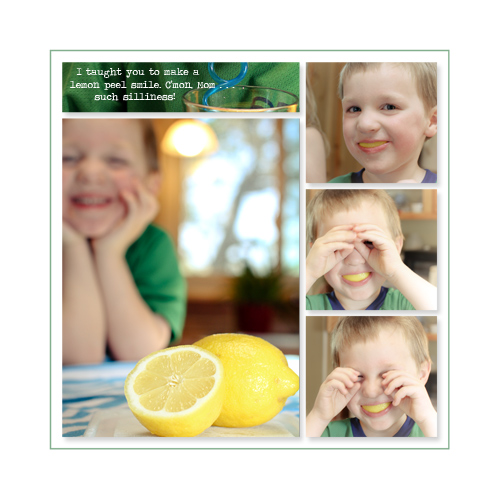 And of course, the baby wanted to get in on the fun. I'm not sure he knew what he was getting himself into! He liked it… kind of… I think!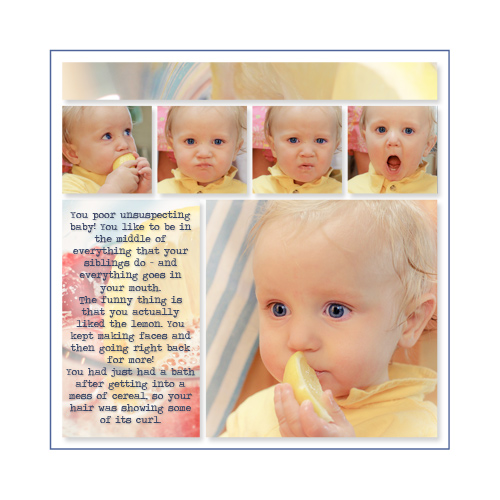 The kids have asked several times if they could do this again. They like helping in the kitchen, and this was right at their level of ability.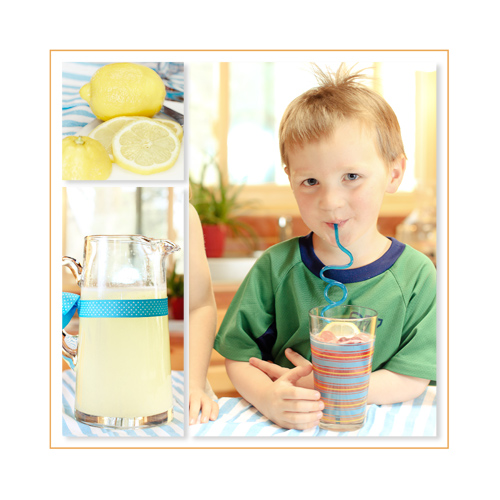 And yes – we'll definitely repeat it!


Page templates by Biografitti.