Infertility Post #10: Happy Ending
Here we are at the end! This is where it gets a little crazy. As in… were these events just a coincidence, or…?? If you're up for finding meaning in "coincidence" (with a couple of goats thrown in), please read on.
Almost-seven years is a long time to go through infertility. By the time I neared the end, I was becoming confused and frustrated by stories with happy endings – probably because I had no way of knowing whether my ending would be happy.
Instead, the stories I liked to hear best were from people who were living in the middle of loss, but still – somehow, mysteriously – they were content to follow God.
Then, when my ending turned out so well, I had no idea what to do with it! "My" story was out of my control, from the first miscarriage to the way it was all resolved.
(Of course, I also would never have chosen goats to be part of the story I'd tell someday. Nope, not at all.)
****************
IVF involves lots of needles. Lots of needles. Months and months of needles. The treatment starts a few months before the actual procedure, and it goes on for months afterward.
During the big week of IVF, there are two important procedures: oocyte (egg) retrieval and embryo transfer. (There are variations on this, but our case was fairly straightforward.) Oocyte retrieval involves getting the eggs out of the mama-to-be's body. Then they go into a sort of petri dish, where hopefully they mix with the other half of the equation and become embryos. Embryo transfer usually takes place three to five days later. It involves placing one or two (or more) embryos back into the mother.
In the second post, I described how I asked for a rainbow as a sign that God was involved in this journey. I saw nothing, and this marked the beginning of a long, awful silence from God.
It seems that God was just holding out for the right time.
The days between oocyte retrieval and embryo transfer, I didn't just see a rainbow. No – I saw double rainbows – so many that I lost count! Our embryos developed for five days. Most of those days I saw double rainbows, sometimes more than one per day. Two of my embryos made it, two were transferred, and eight months later, I delivered – you guessed it: twins.
This may have been just a coincidence. 😉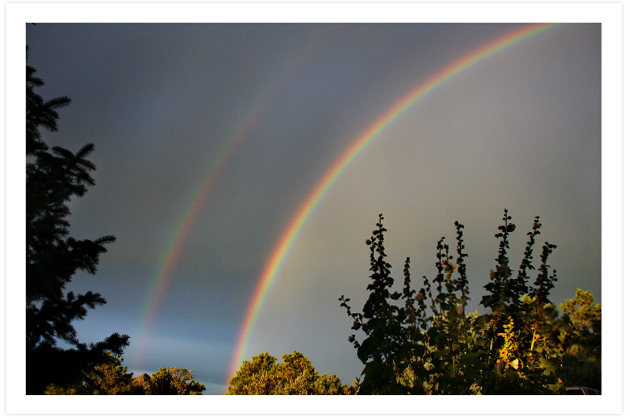 After so many years of infertility, we never expected to have more than the twins. So when our next daughter was conceived, it was a delightful and very unexpected surprise. I honestly can't remember whether I saw a double rainbow when I was expecting her. And it doesn't matter. Every child is precious, whether there are fireworks and trumpets or a mother's joyful tears to announce a new little person in the world.
We were overwhelmed, though, and we didn't intend to have any more children.
Then our fourth child was conceived (oops). Within an hour of the, uh, blessed event, guess what was stretched, neon-bright, across the horizon? God knew I needed to see that double rainbow. There were many times in the next couple years when it reminded me to be grateful for the overwhelming blessing of having four children in a 38 month span. I could never have imagined how difficult it would be – but it doesn't remotely begin to touch the pain of longing for children. I imagine it's like stubbing a toe versus losing a leg.
Still, I was really hoping I'd never see another double rainbow again, and I was wondering how God would manage that feat, since they do appear now and then. Would I always have a new baby cooking, every time I saw a double rainbow?!
Enter the goats.
A few months after our youngest was born, we sent one of our horses to stay with a trainer. To keep the other horse company, we brought in a couple of miniature goats. They were baby goats, or "kids."
So… glancing up at the sky on the way home from picking up our new "twin kids," yes, there was a double rainbow. Who ever said God has no sense of humor? He was just "kidding" with me, I guess… (oh dear – sorry!).
I've seen several double rainbows since then, and I've had a few pregnancy scares, but I think God effectively closed the door on the rainbow as a sign of pregnancy for me. And I think I'm done with pregnancy, too.
I've struggled with whether to close this story by trying to find a "moral." Mostly, I simply learned that it's ok to trust God when I can't understand what's happening.
If I tried to extract more morals, they would be these:
– God knows what he's doing. He really, truly does.
– The longings we have aren't inherently bad. God placed in us those longings!
– Prayer makes a difference – ask faithful people to pray. Sometimes answers take a really long time. Waiting doesn't mean that nothing is happening.
– God doesn't work how we expect, and no human can predict exactly what God's plan will be for each person.
Our family's continuing story is in the posts on this blog. These posts read a lot differently than they would have if my husband and I had proceeded with our original plan to have "as many children as God gives us." Are things better than they would have been if all had gone as planned? Are they worse? Have I been helped or hurt by the years of disappointment? I have no idea, but I still trust.
The story is God's alone, and it isn't over yet.

[P.S. Wow, was I ever right when I said our story wasn't over yet! What joy, to know that God continues His good work in our lives! The silent years are definitely over, and God is leading me into a deeper understanding of Him – a much deeper understanding of what Jesus did for us on the cross – and into ministries that I wouldn't have imagined for myself. Please, if you are in the middle of dark, silent years, hold onto God. He's holding tight to you, and His plans for your life will prevail. Trust yourself to Him. The dark times do not last forever. There is great hope.]


This post is part of a series on our journey through unexplained infertility. To read the other parts of the story, please click here to see the index of posts.