"Favorite Things" Salad
Today marks Day One of a race with family to see who can lose ten pounds first! I've been pulling salad ideas out of the recipe box.
For Christmas Eve dinner on my side of the family (where we made bets on who could lose the weight first) we ate a salad that was full of my favorite things. I went home and created my own version: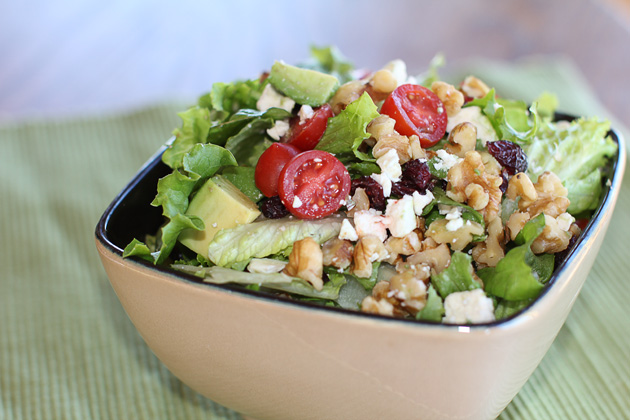 I call it "Cranberry Walnut Feta Green Salad with Avocados and Tomatoes." I couldn't decide which ingredients should go in the title – it was like picking favorites – so I just put them all in.
As an added bonus, if you can remember the name, you have the recipe memorized!
I started with some mixed chopped greens and added:
coarsely chopped walnuts
dried cranberries
avocado chunks (slightly firm)
sliced grape tomatoes (I like the small tomatoes because they leave less juice everywhere)
Then I crumbled a block of feta cheese over the salad and tossed it.
The salad dressing was another favorite of mine: Whisk raspberry balsamic together with olive oil and pepper and drizzle over the salad. Yum!
This salad is very tasty – so much that I stuffed myself. I'm well on my way to better self-control and winning the weight-loss race.
We seem to have skipped one important detail of the challenge though. What's the prize??! I mean, besides the intrinsic reward of a smaller waistline… and better health… and more energy… But how motivating is that ever, really? 🙂