Green Juice Fast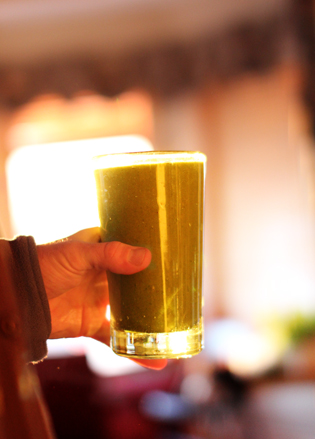 My husband is on a 15-day juice fast. Last week we watched the first half of "Fat, Sick, and Nearly Dead." It's a documentary about a man who juice-fasted his way across the U.S.A. to save his own life, interviewing people about their diets as he went.
It affected my husband so much that he is feeding green juice to our kids (who are very excited about this) and to me (not so excited).
I am trying to do the juice fast with him.
So far, this is not fun. I am as up and down as a roller coaster. I woke up yesterday morning feeling more energetic than I have in a long time. Then I was shivering with cold all day, and I randomly burst into tears in the evening. I think my husband's enthusiasm for the juice wavered slightly at that point.
I can't remember where I heard this, but the first few days are supposed to be the hardest, while the body detoxifies. That thought is what is making me stick with it a few days longer.
In case anyone thinks this might be noble, you know, fasting and all… if you put a doughnut in front of me right now, I would eat it, no apologies.

(…please??!)