Ruffling Feathers
It has been a fairly quiet few months around this blog, hasn't it?! I've been fighting a deep exhaustion. I suppose that shouldn't be surprising, considering all the changes we've made in the past year.
While I've been buried in a dark cocoon lately, a few other metamorphoses have been brewing…
When I was young, someone described me as "complacent" – in a good way, I think. Peaceful. Eager to please. Not wanting to ruffle feathers.
Lately, though, I've been Forming Opinions, and there has been no place for them to come out. Here are a few that have been collecting… exploding here in an untidy, splattery list:
– I'm grateful for evidence-based medicine. It saves lives, and if more doctors paid attention to good research, more lives could be saved.
– I'm grateful for the right and ability to raise my own organic food. If more people grew gardens, we wouldn't need so much medicine. (Sometimes health is not a choice at all; sometimes it is.)
– Many forms of evangelism feel more like an attempt to justify the evangelist, rather than actually loving people as they are, as God does.
– Confession: I didn't want to live on a farm. But I'm finding plenty of reasons to love it.
– I'm not a bit sure the earth was created in exactly seven 24-hour days, and I'm still convinced I'm saved.
Why does having an opinion feel like a grumpy thing to do? To me, none of these statements should be a shocker, but lots of people get really heated up over them. Michael and I continue to settle into our farm – our first long-term home – and our new, rapidly forming paradigms keep popping up like asparagus in the unwieldy patch in our yard. It seems like a shock to the blog to start posting these things here. I considered starting a new blog – The Grumpy Blog – but I don't have time for the setup, so here they are.
And now for something that's not a bit grumpy (except maybe the oldest boy, who was freezing cold on that first day of spring, and who wanted my keys so he could load everyone in the van):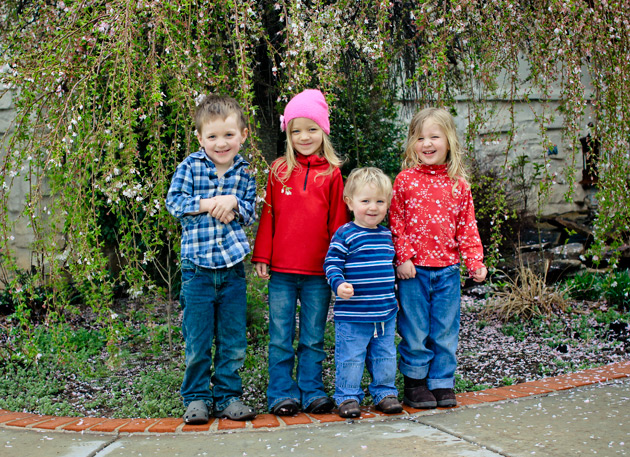 With much love from your curmudgeonly, sporadic blogger friend.