Posts
I kissed my husband goodbye before he drove away to work a couple Mondays ago.
I've heard somewhere that this will prolong his life.
Or maybe it only prolongs his departure. Either way, he didn't seem to mind.
Before he reluctantly drove off, he asked, "Did you get pictures of the blueberry blossoms over the weekend?"
As much as photography consumes my time, he always seems to appreciate these pictures of farm life.
I did pull out the camera over the weekend, to record our first sign of hope that we'll have blueberries, after all our efforts to grow them since we've moved here.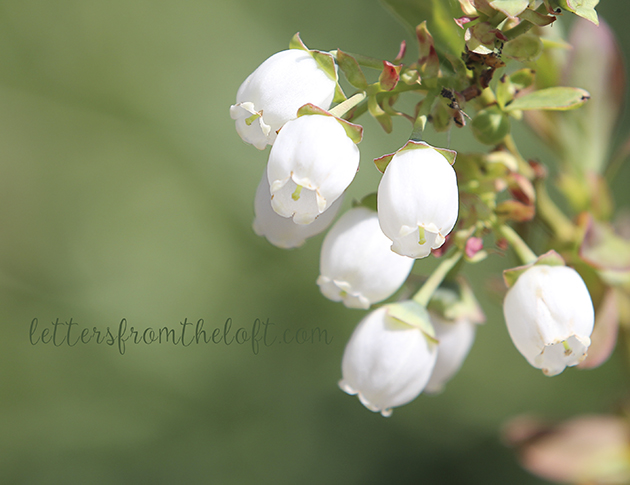 As far as plants go, I'm not sure when I've ever seen anything so radiant.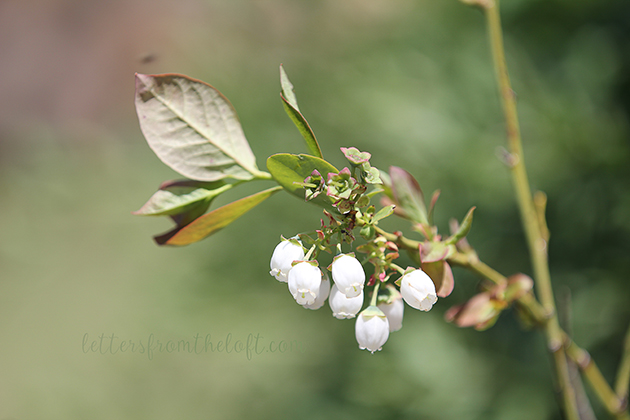 I saw these only because my husband had called me outside that Saturday afternoon to look at the raspberry plants.
If you were following my site a few years ago, you might remember the post where we planted our first raspberries as a family.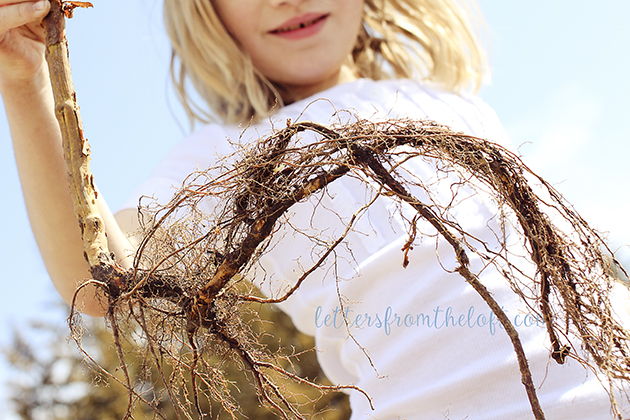 For me, the raspberries were a symbol of the culmination of all our years of moving and struggling and waiting.
We were burying our roots deep into the soil now, and our marriage would grow and thrive, just like those raspberries I had waited so long to plant at our first long-term home.
Except that all those raspberries died.
I tried to convince myself that we had wild raspberry bushes growing on the farm — a symbol of the natural growth that occurs in our lives when we rest and trust Jesus to do the work.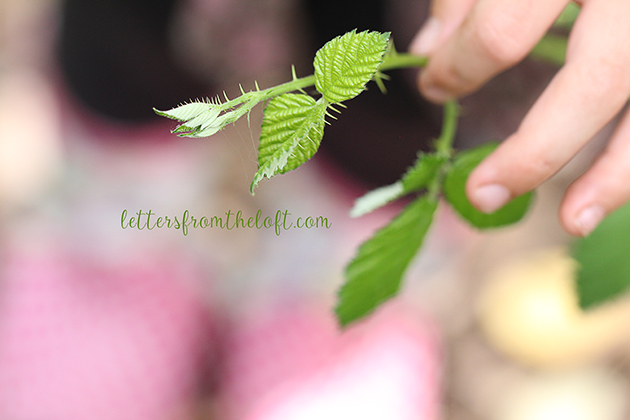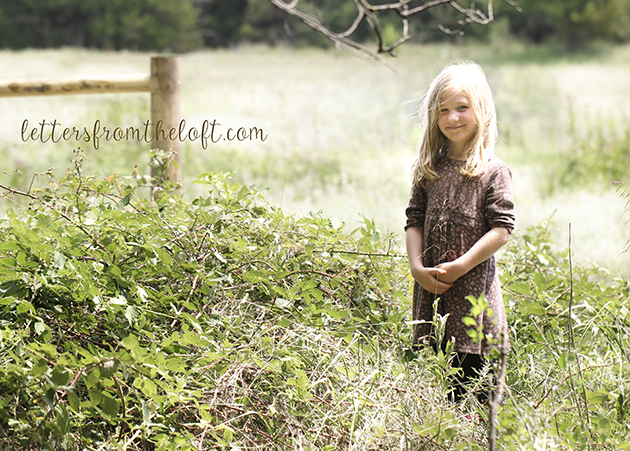 Except that all of those were wild blackberries.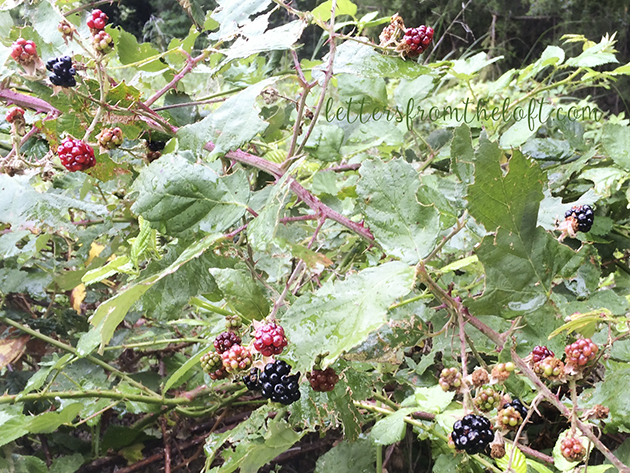 We didn't even plant the next set of raspberries together. My husband got some free replacement roots shipped to him from the company that had shipped us the first set. When they arrived, he planted them himself, just because the work needed to be done. I didn't find out we had new raspberries until later.
Saturday, he called my phone and said, "Come out and look at these raspberry plants!"
They've become nice-sized, established bushes now, with the first few blooms on them.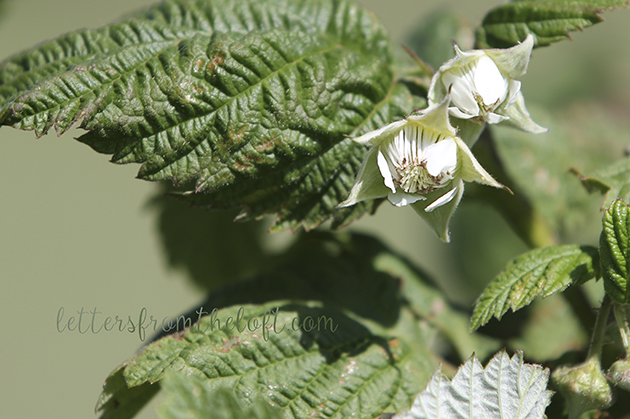 But what's even more fun are the incredible number of volunteer "runners" already shooting up from the ground around the original plants.
I take it as a symbol. 😉  When Jesus, the "husband" of the church, quietly took care of the work that needed to be done for us (perfectly following God's Law, then handing us His perfect record while taking our failure onto Himself) that's when the growth and fruitfulness appeared.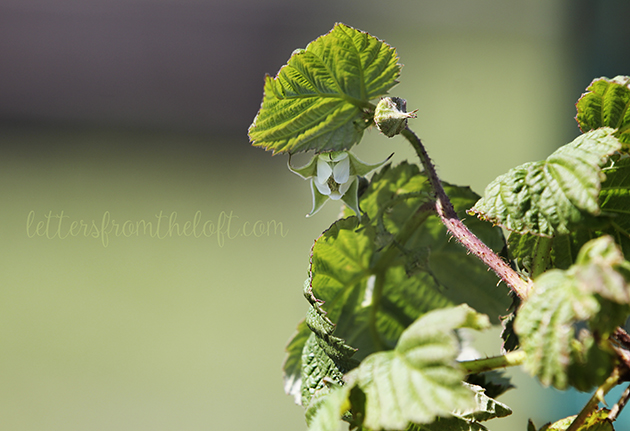 Volunteer runners are shooting out from the goji berry bushes, too, even outside the garden borders.
They look like weeds, and they're surrounded by weeds. But they're honest-to-goodness goji berry plants. If we leave them be, they'll produce honest-to-goodness goji berries that the kids will eat straight off the plant.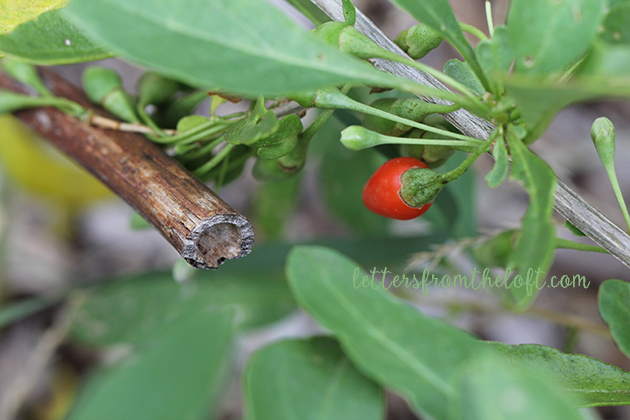 I took pictures of more green things…
like the heartbreaking condition of our weeping cherry, which nearly had its life sucked away by bagworms. Here's how it used to look, in its former glory (my oldest has grown in his two front teeth since then):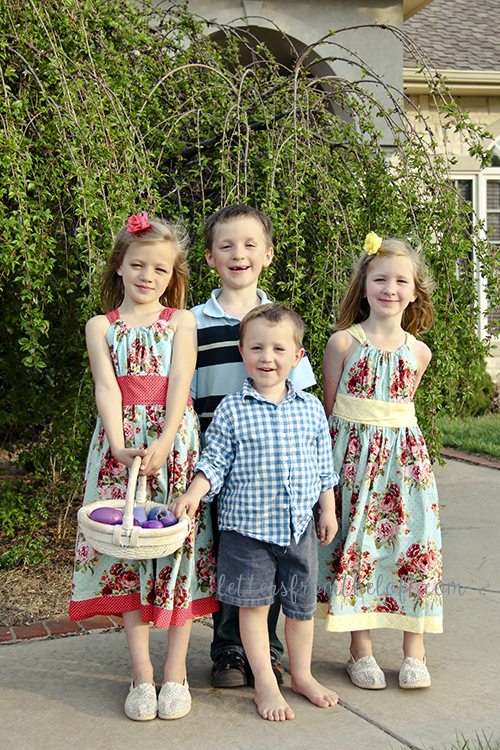 My husband started to cut the entire thing down last year, after the attack of bagworms, but I couldn't let him.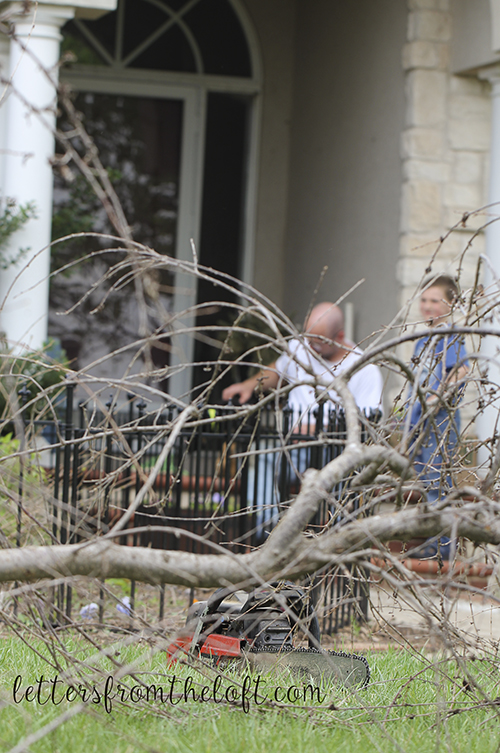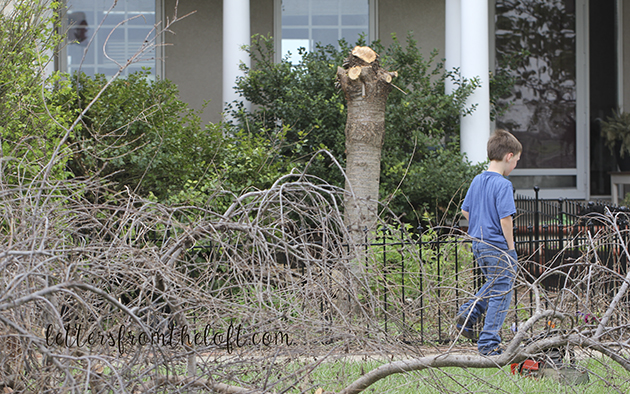 He left the tall, sad-looking stump for my sake. Then he planted a new weeping cherry next to it.
But my heart is still with the old one. It has a teensy new branch growing. I'm watching it like a hawk this time and will demolish any bagworm that dares touch that little burst of life.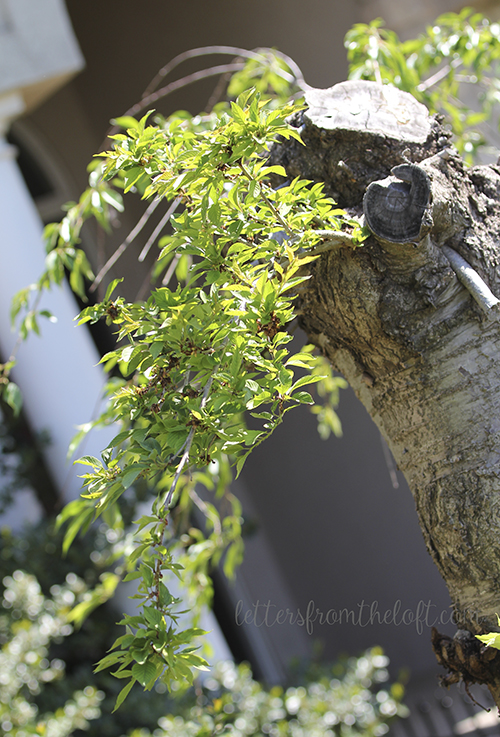 My husband sent me to look at a peach tree that had blossomed late, and I found this little one.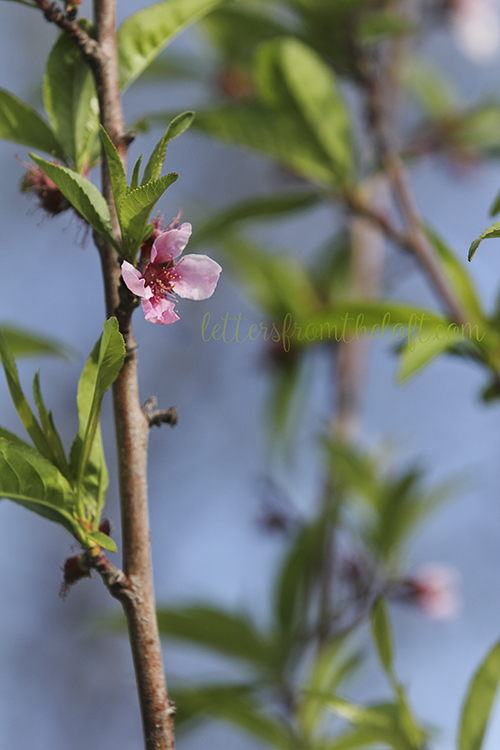 Most of the other trees produced beautiful, showy blooms at the first sign of spring. All those blossoms were ruined by the late frost — no fruit for them this year.
But for whatever reason, this little tree's blossoms were delayed until the frost was well past.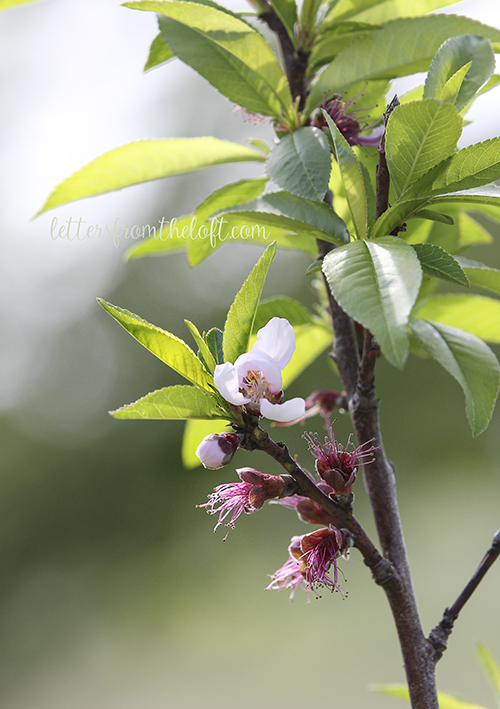 But my husband actually had meant this bigger tree: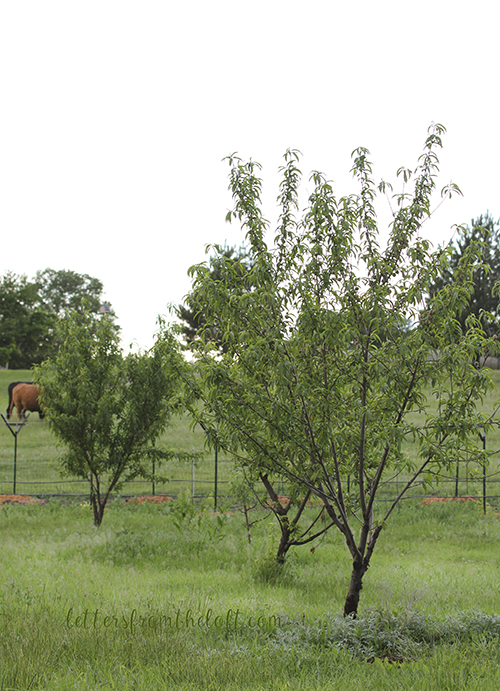 And he had seen these on it!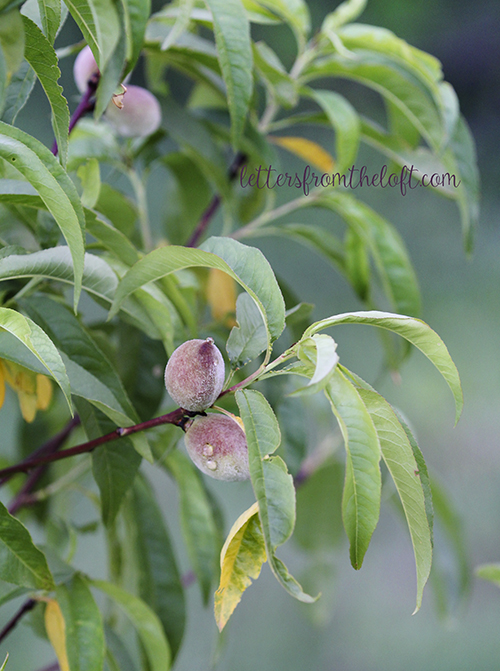 The farm is overflowing with hopeful growth right now.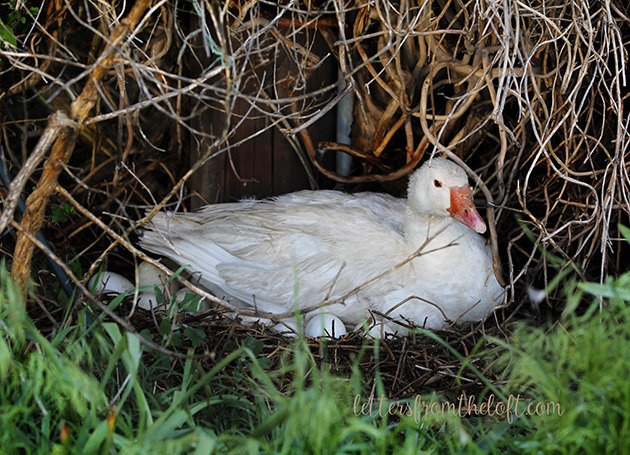 With everything else there is to enjoy out here, I'm also grateful for this:
that my own growth and fruitfulness are not dictated by signs and conditions of plants on our farm.
They're determined by things like this:
"For you, the Eternal's Word is your happiness.
It is your focus—from dusk to dawn.
You are like a tree,
planted by flowing, cool streams of water that never run dry.
Your fruit ripens in its time;
your leaves never fade or curl in the summer sun.
No matter what you do, you prosper." (Psalm 1:2-3 VOICE)
"blessed is the one who trusts in Me alone;
the Eternal will be his confidence.
He is like a tree planted by water,
sending out its roots beside the stream.
It does not fear the heat or even drought.
Its leaves stay green and its fruit is dependable, no matter what it faces." (Jeremiah 17:7-8 VOICE)
"Jesus: I am the true vine, and My Father is the keeper of the vineyard . . . A branch cannot bear fruit if it is disconnected from the vine, and neither will you if you are not connected to Me.

"I am the vine, and you are the branches. If you abide in Me and I in you, you will bear great fruit. Without Me, you will accomplish nothing …

"Your abundant growth and your faithfulness as My followers will bring glory to the Father." (John 15: 1-8 VOICE)
I don't always spend a Saturday with my husband at home and the sun shining warm…
but when I do, it involves something like planting a hundred gladiolas, lilies, hibiscus, and bleeding hearts…
and, of course, a walk around the farm to see how everything is doing.

We found a newborn calf this morning.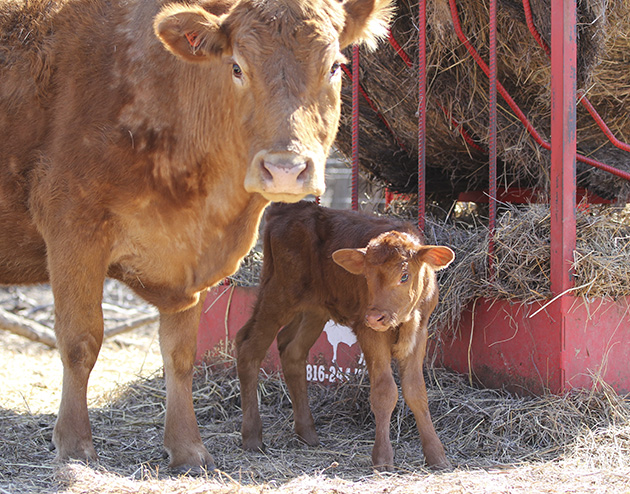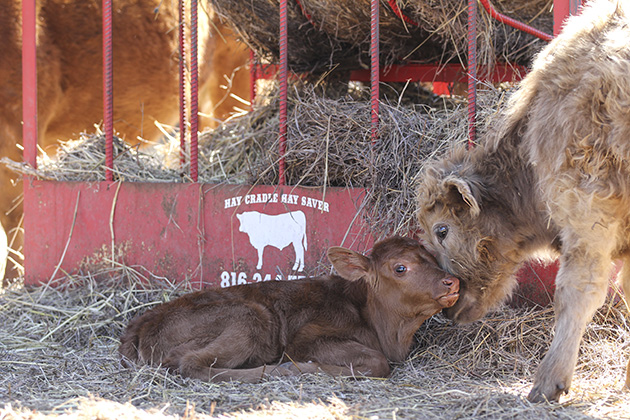 While we were out there, my husband dropped off three lick buckets of a protein-molasses mix with the skid steer. The cattle rushed to them "like kids in a candy store," as he described it.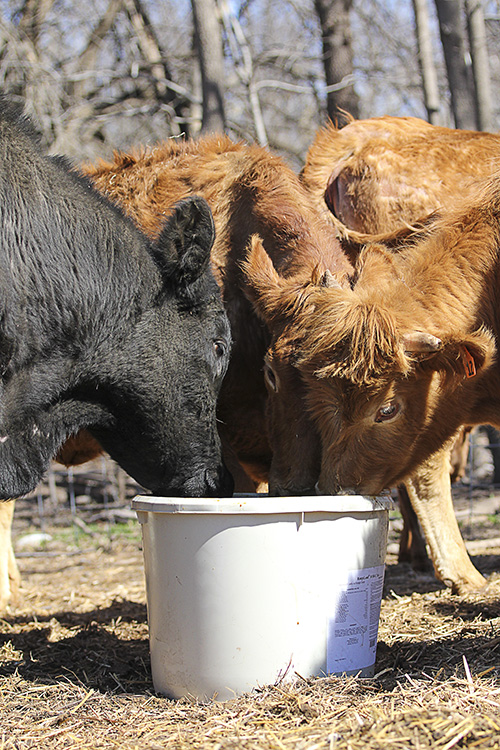 My youngest son spotted yellow crocuses pushing through the ground. Mom & I planted these last fall.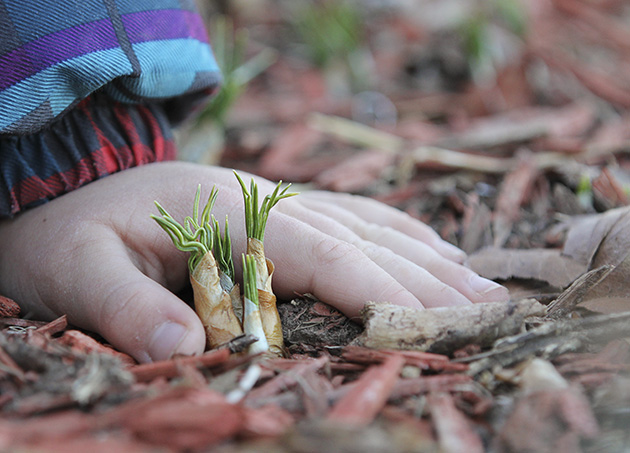 They're the first flowers to bloom — harbingers of spring — which makes them my favorite.

Bees were happily stealing crushed corn from the cows and carrying it to the hives for food.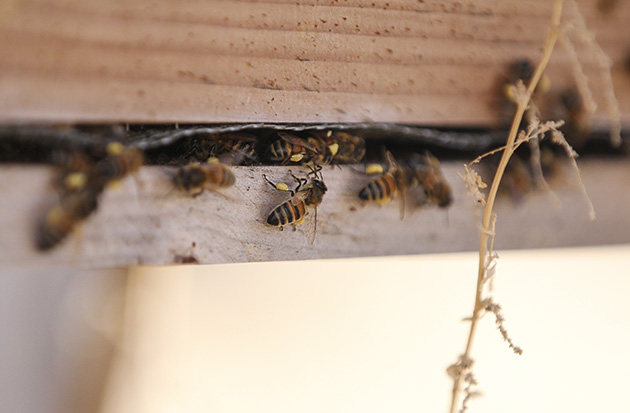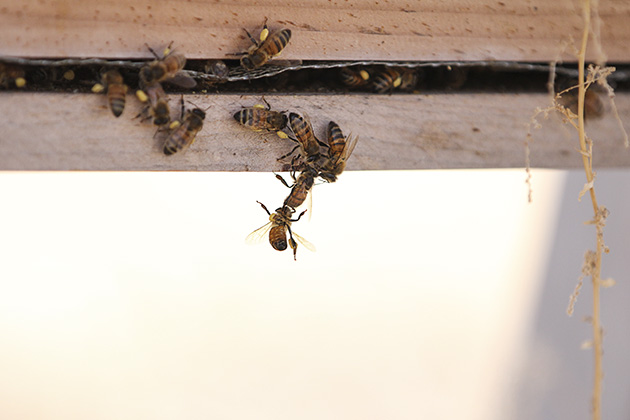 My husband was disappointed to see that some of the fruit trees are budding already. This one is a "Pineapple" Pear: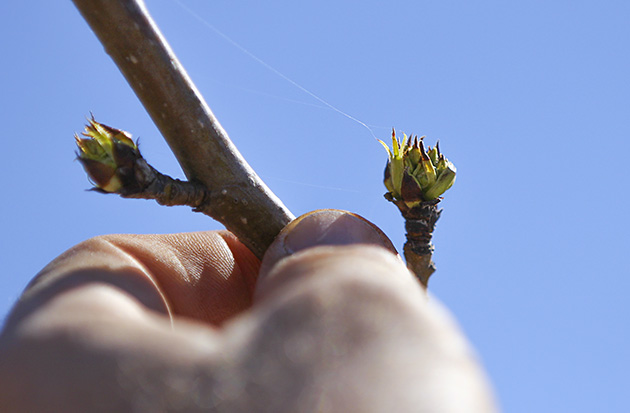 The buds don't look like much, but they turn into fruit later. When buds appear too soon, the next freeze kills them, and then the tree won't produce any fruit for the whole season.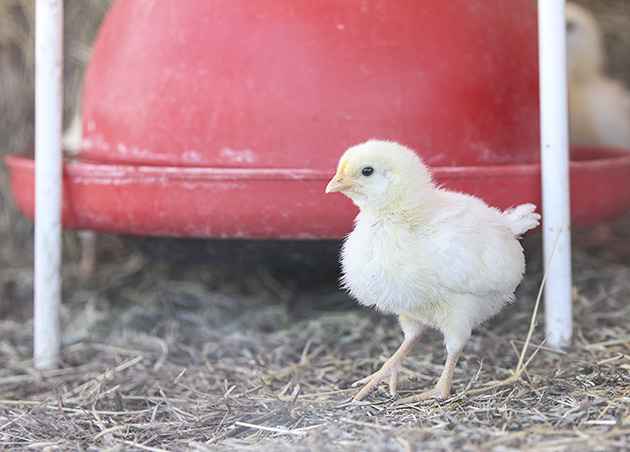 We got our chicks too early, too. A good percentage of them couldn't stand the cold. These ones will make it, though. They're getting their feathers in, and they have the system down:
– run and get a drink
– run back to the heat lamp under the brood box
– run out to forage for bugs & starter chick feed
– run back & huddle under the brood box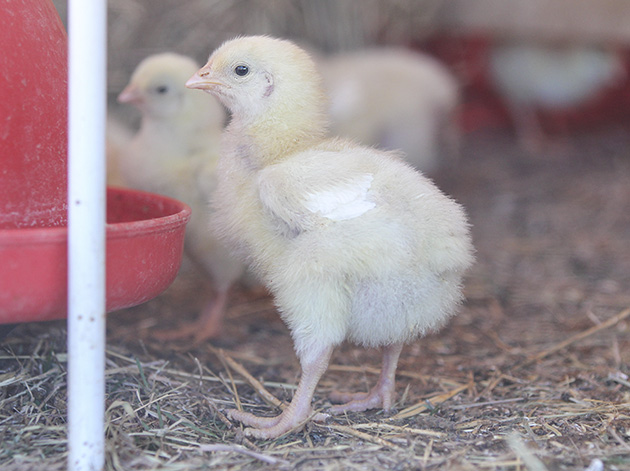 My daughters spent most of today with the horses. They've learned to harness them by themselves, lead them to a rain barrel or fence, climb on, and ride bareback.
Not that this makes me nervous at all or anything…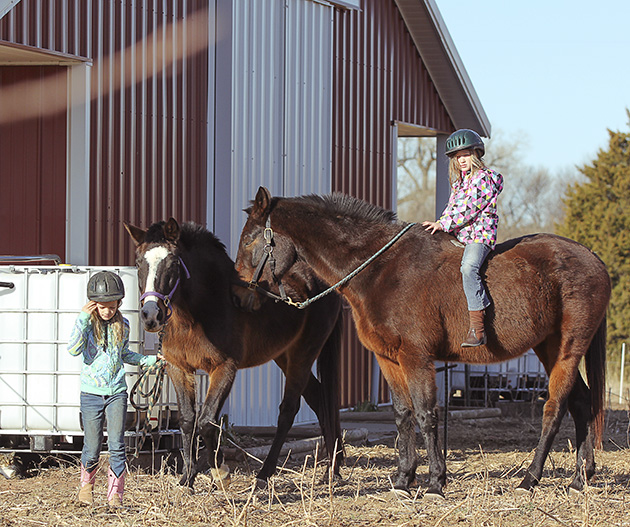 They're not old enough to be so old & capable yet.

You all have told me this a hundred times, and it's true: The years I have with them go by too fast.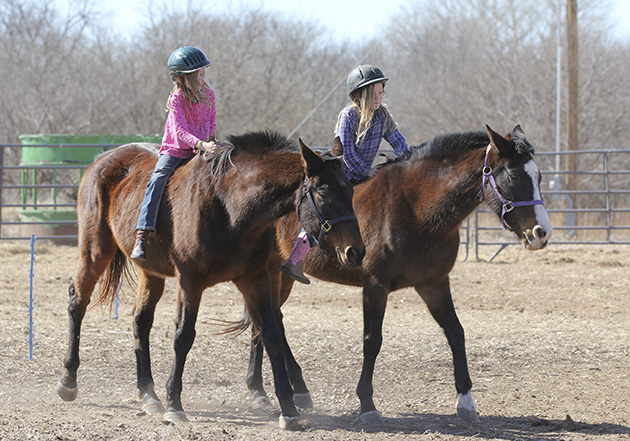 I feel like I'm constantly juggling my investment in the kids, my support of my husband, and my development of my own interests and goals.
Just like all worries & struggles, these belong in God's hands, where they get traded for peace.
"Don't be anxious … Pray about everything … the peace of God … will stand watch over your hearts and minds in Jesus, the Anointed One." (Philippians 4:6-7 VOICE)

"I am confident that the Creator, who has begun such a great work among you, will not stop in mid-design but will keep perfecting you until the day Jesus the Anointed, our Liberating King, returns to redeem the world." (Philippians 1:6 VOICE)

"There is a time for everything,
and a season for every activity under the heavens …

"He has made everything beautiful in its time. He has also set eternity in the human heart … everything God does will endure forever; nothing can be added to it and nothing taken from it."
(Ecclesiastes 3:1, 11-14a NIV)

"For we are God's handiwork, created in Christ Jesus to do good works, which God prepared in advance for us to do." (Ephesians 4:10 NIV)

"To him who is able to keep you from stumbling and to present you before his glorious presence without fault and with great joy … be glory, majesty, power and authority, through Jesus Christ our Lord, before all ages, now and forevermore! Amen." (Jude 1:24-25 NIV)
I took a series of photos this morning…
Post-Thanksgiving unwinding…
I'm naming it: "Justifying Skipping Church"
The number of photos is directly proportional to the level of guilt. 😉
"Hello Winter"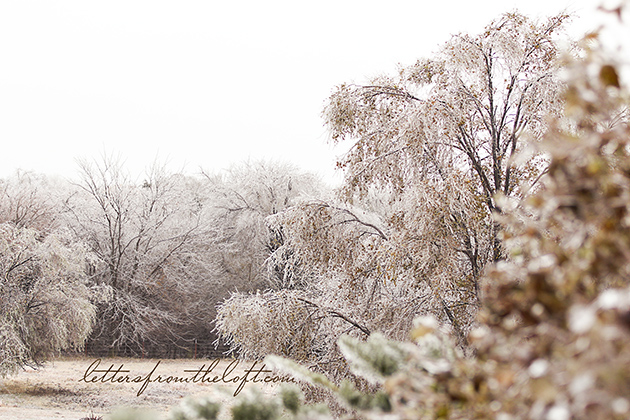 "With a Bow on Top"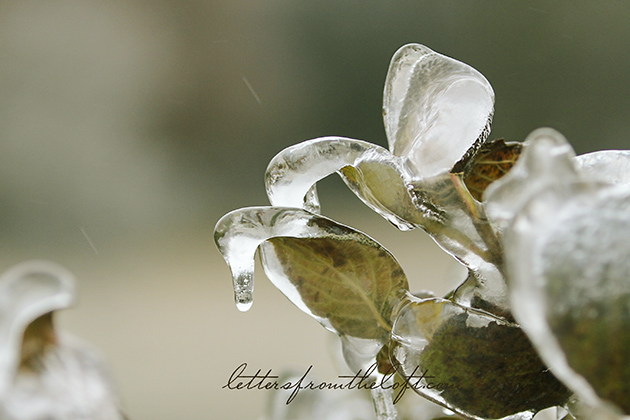 "Tinsel"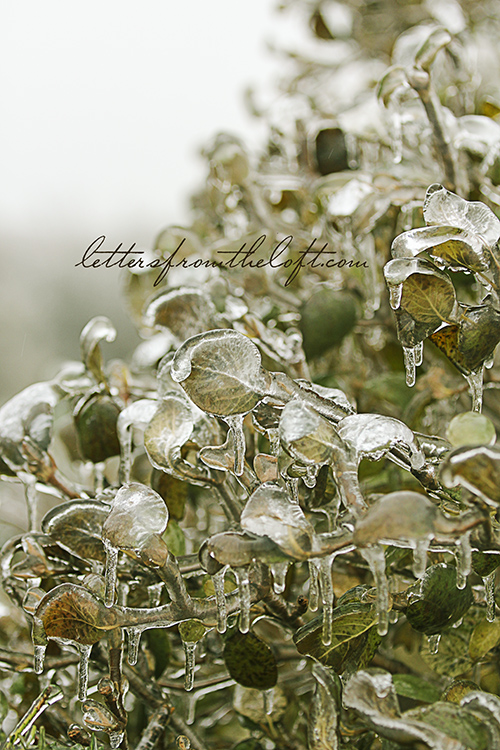 "Sideways Tree in a Gale Storm"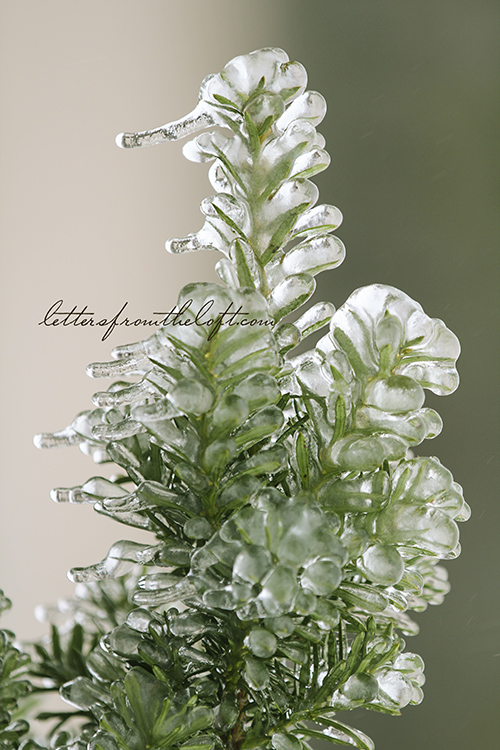 "Tree with Hay Bales"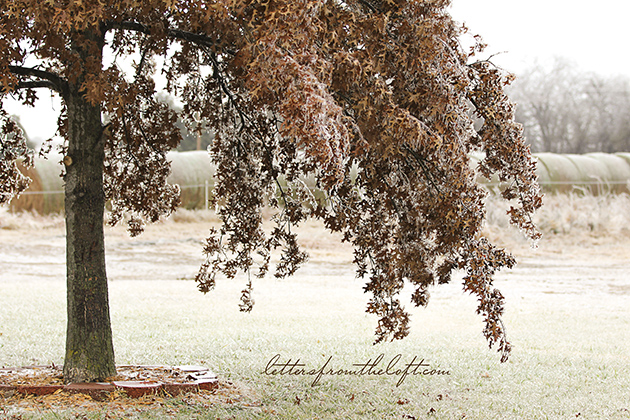 "You First"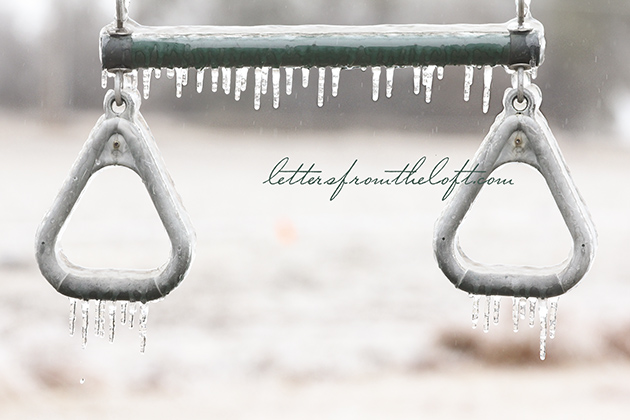 "No Really, I've Been Sitting All Day"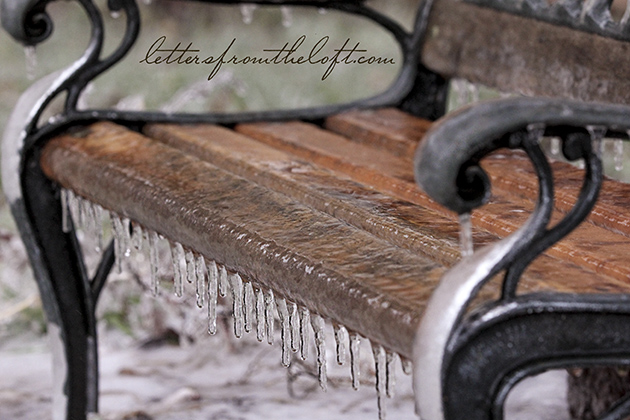 "Warm Welcome"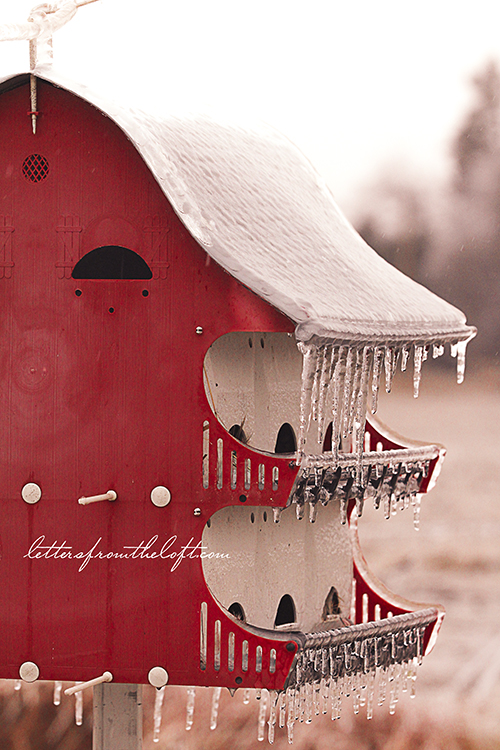 "An Act of True Love Will Thaw A Frozen Heart"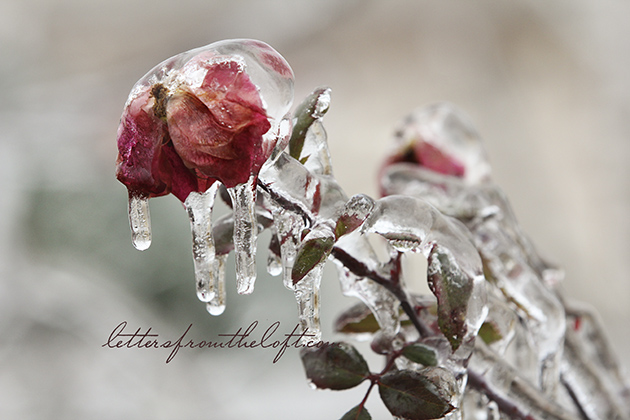 "True Love 2"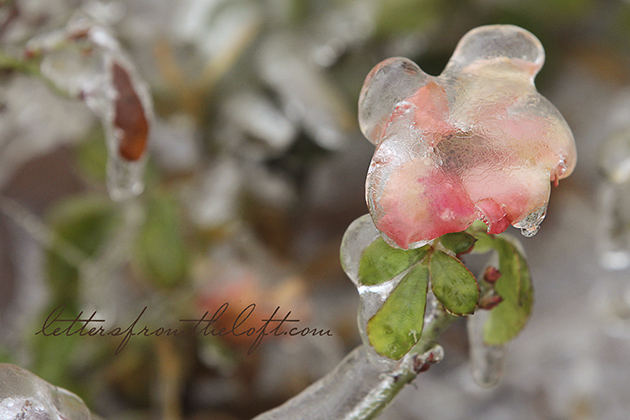 "Elsa, Please Thaw Us"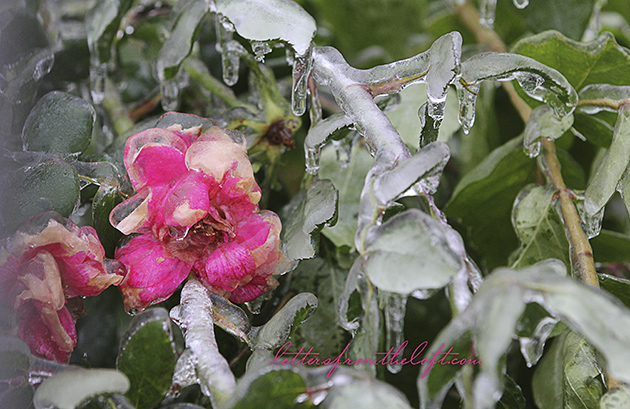 "Standing Tall"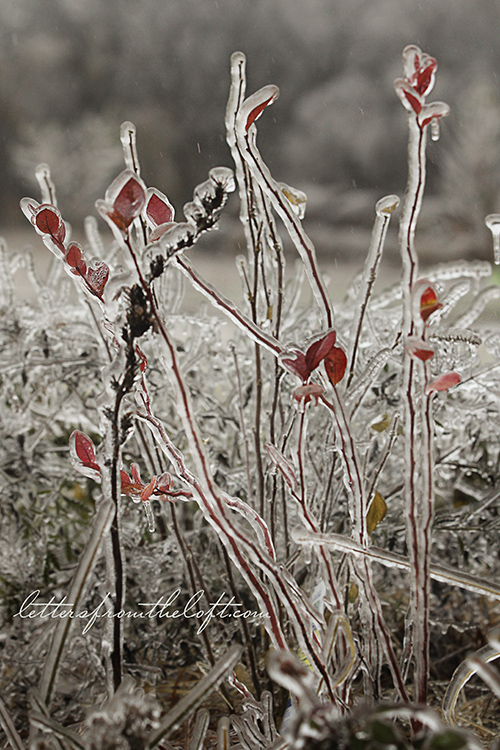 "Girls in White Dresses"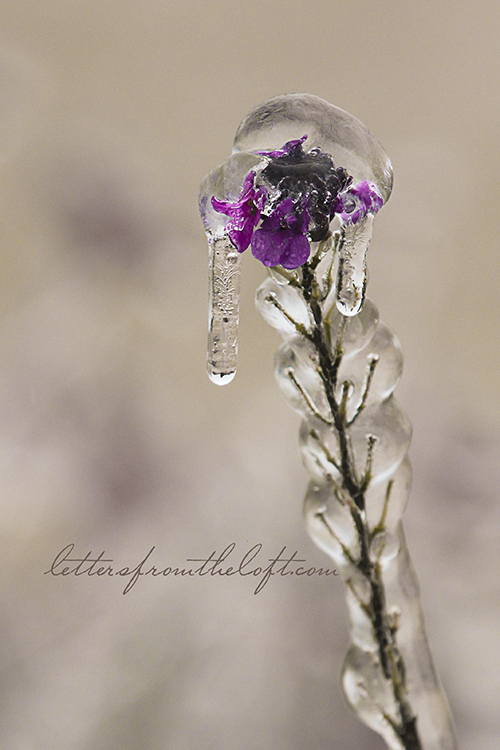 "Overexposed"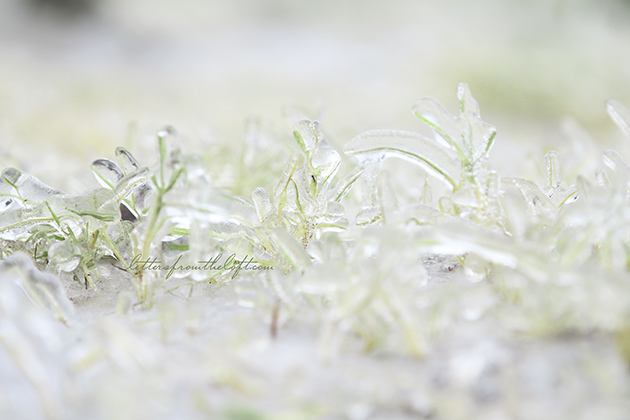 "Hanging On"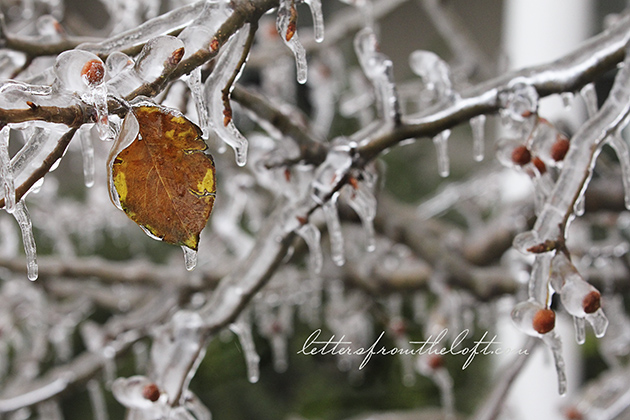 "Bet My Camera is Getting Wet"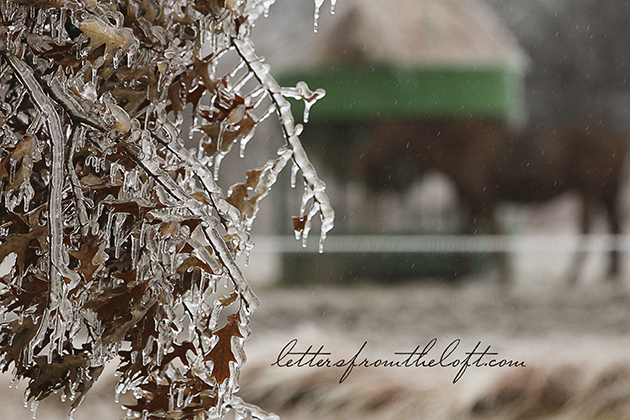 "Wishing for a Wood-Burning Fireplace"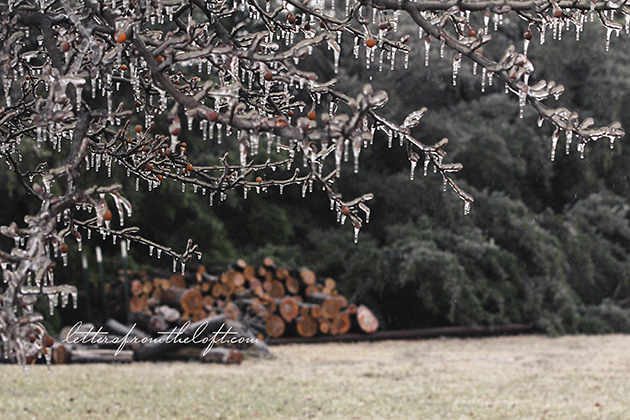 "Pointed to the Barn"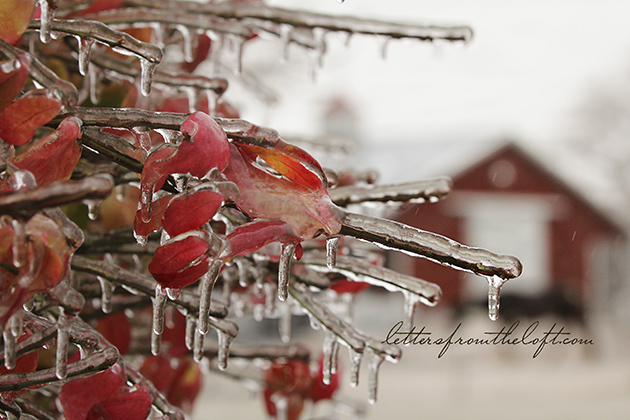 "Or to a Narnian Lamp Post"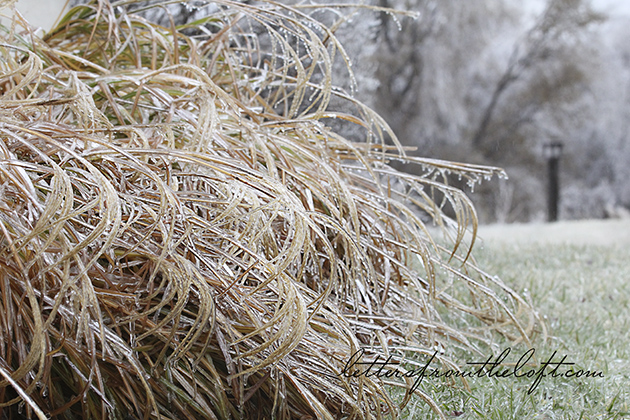 "Cold, Wet Knees: Hot Chocolate Time"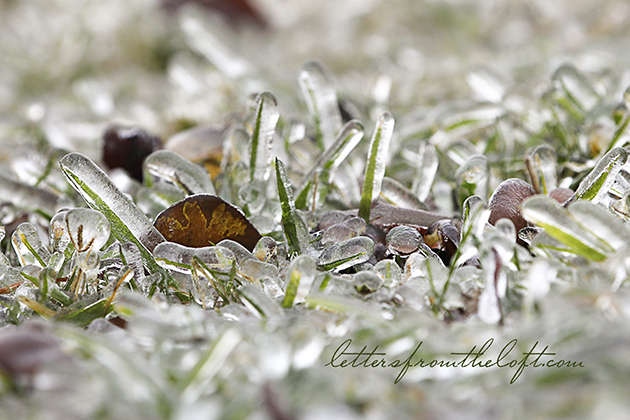 "let us consider how we may spur one another on toward love and good deeds, not giving up meeting together, as some are in the habit of doing, but encouraging one another … do not throw away your confidence; it will be richly rewarded … we do not belong to those who shrink back … but to those who have faith and are saved." (Hebrews 10:24-25, 35, 39)
"Hey, you have to come outside and see this!" my husband burst through the phone from 30 yards away.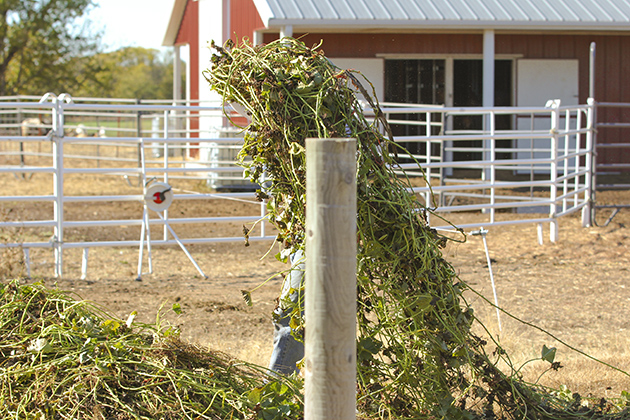 Last spring, he happened to see sweet potato slips at a feed store. He planted 20 of them (roots with a little bit of leaf), right next to the tiny, spring version of the annual fall tomato jungle.
Sixteen of the 20 plants came up. We ignored them until after the first hard frost.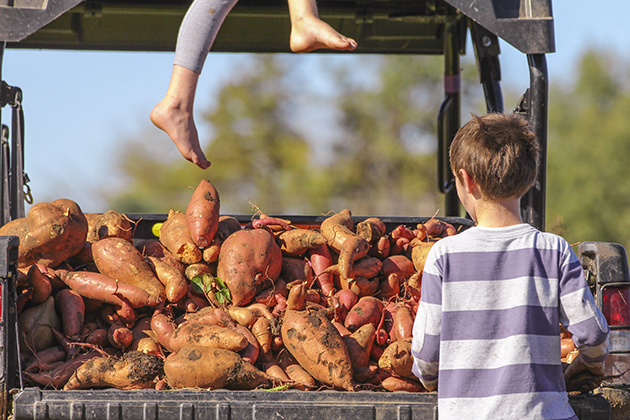 Our "negligence" was rewarded with abundance!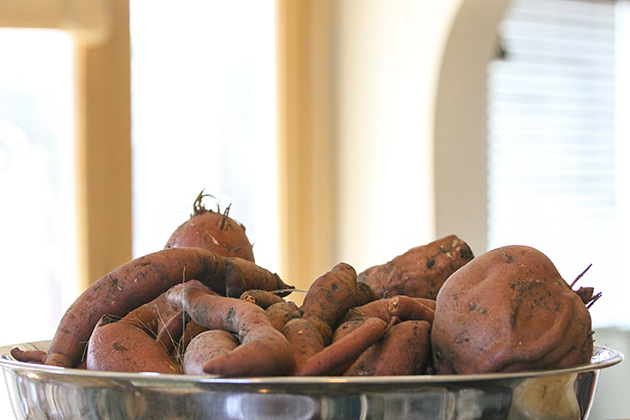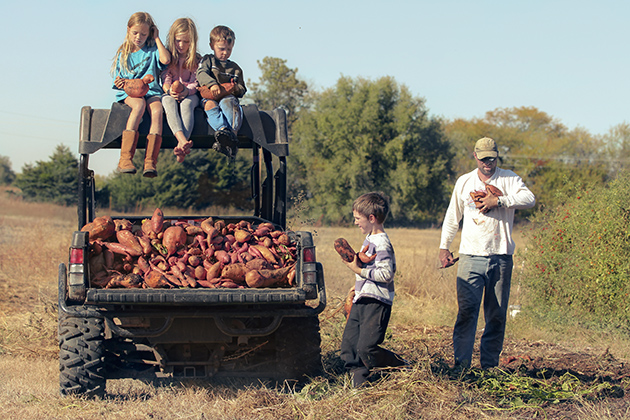 All this because he said yes to a few tiny shoots, spending an hour one afternoon covering them with mulch.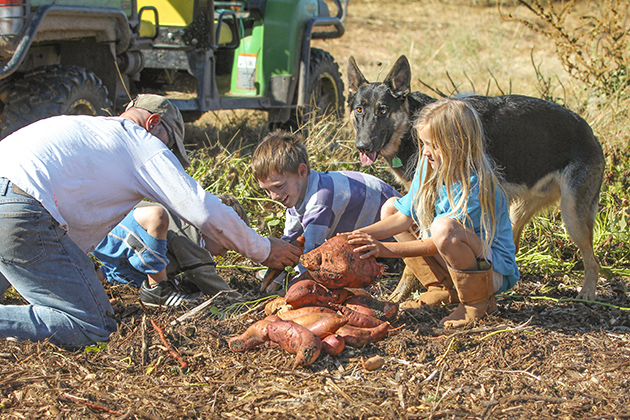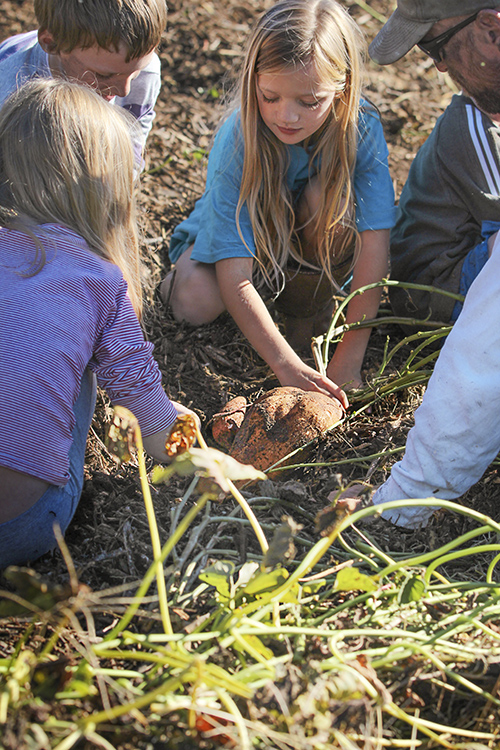 "Hard work always pays off; mere talk puts no bread on the table." (Proverbs 14:27 MSG)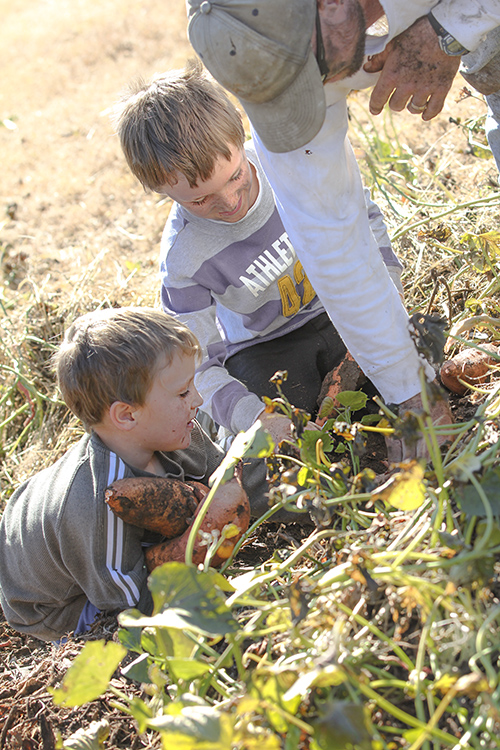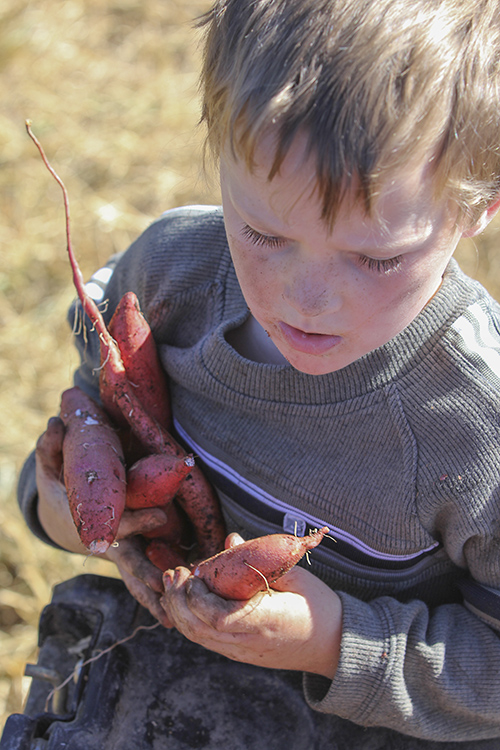 Some of the potatoes were big enough to adopt as pets.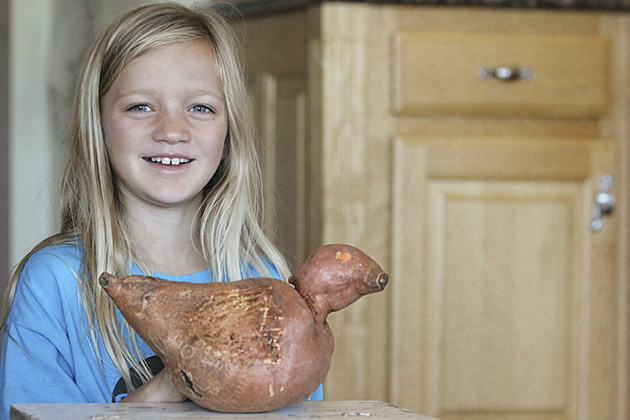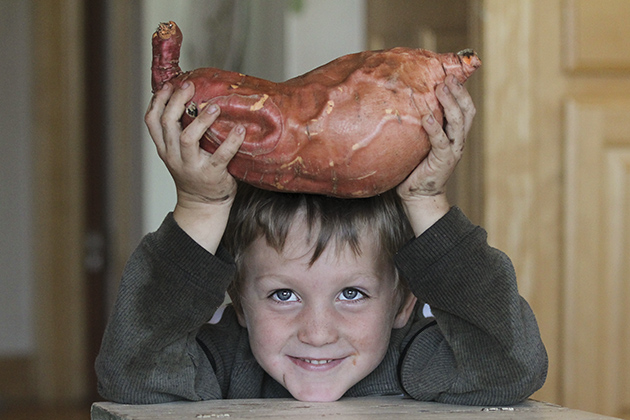 We took pictures so the kids could cherish them in remembrance after we ate them.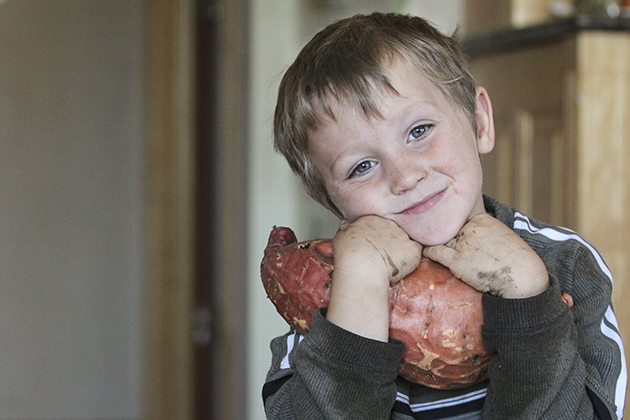 That night our menu was sweet potato fries, with a side of mashed sweet potatoes smothered in butter and brown sugar.

The next day (and several days since then) we've had variations on baked sweet potatoes.

I might need a few new recipes!
"You can barbecue it, boil it, broil it, bake it, saute it. There's sweet potato kabobs, sweet potato creole, sweet potato gumbo. Pan fried, deep fried, stir-fried. There's pineapple sweet potatoes, lemon sweet potatoes, coconut sweet potatoes, pepper sweet potatoes, sweet potato soup, sweet potato stew, sweet potato salad, sweet potato and potatoes, sweet potato burger, sweet potato sandwich.

That — that's about it."*

– Bubba on shrimp, Forrest Gump
*quote modified (the feed store wasn't selling shrimp that day — but God have mercy if they ever do)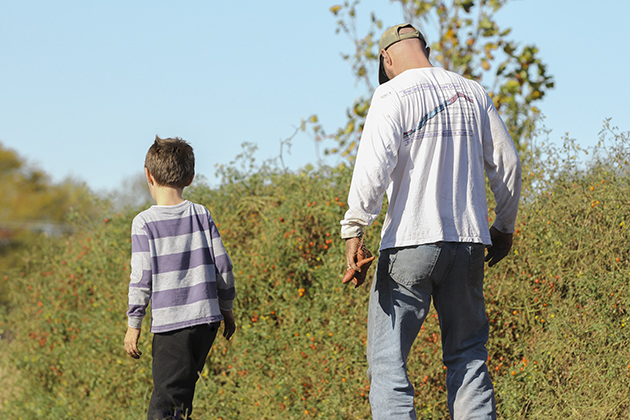 If my oldest has inherited his dad's work ethic (or maybe a strong desire to work alongside his dad)…

the girls have inherited their mom's gift of enjoyment! 😉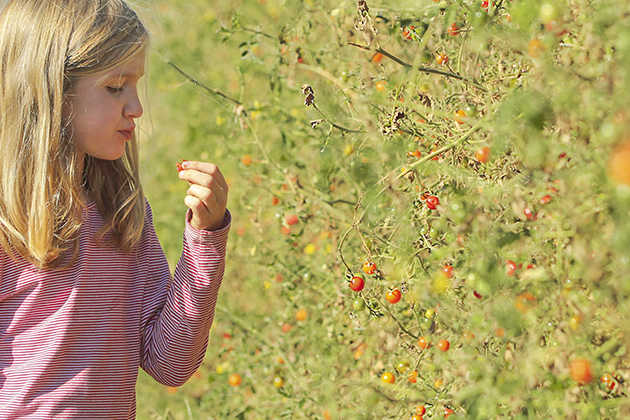 That is a legitimate gift, right?!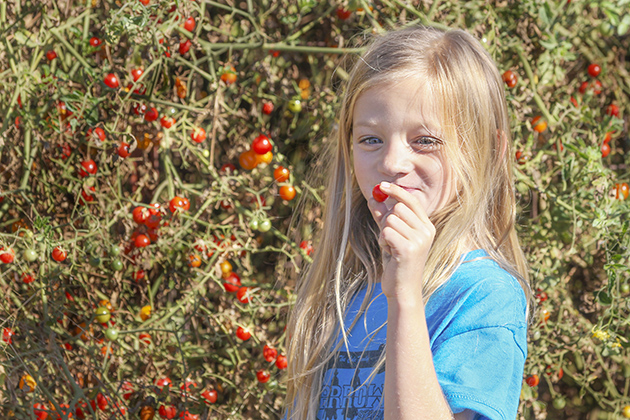 The thing I enjoy most is the time together. Being with family makes all the work worth it.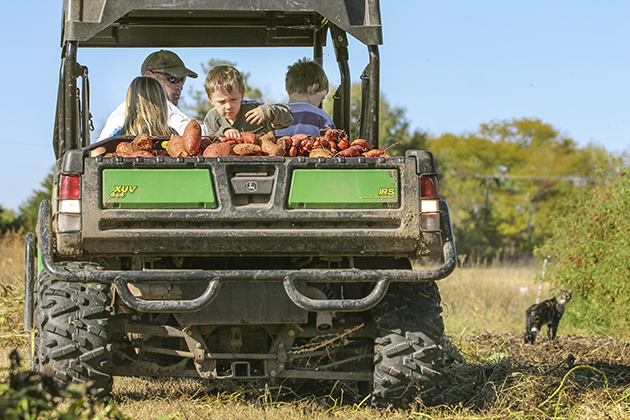 "Work for the food that sticks with you, food that nourishes your lasting life" (John 6:27 MSG)

"Attend to Me and eat what is good … My words will give life" (Isaiah 55:3a VOICE)

"The rain and snow come down from the heavens … producing seed for the farmer and bread for the hungry. It is the same with my word. I send it out, and it always produces fruit." (Isaiah 55:10-11a NLT)

"The seed cast on good earth is the person who hears and takes in the News, and then produces a harvest beyond his wildest dreams." (Matthew 13:23 MSG)
Something happened yesterday morning that made my skin prickle…

Over the years, there have been two key times when I've asked God a Big Question (unless you also count the years I kept asking Him, "Will I ever get to be a mom?").
The Big Questions were:
– God, do You exist? and
– God, how can anyone logically believe that a man rose from the dead?
God was merciful to answer both questions in remarkable, definitive ways, leaving no more doubt — replacing doubt with confidence where I hadn't thought confidence was possible.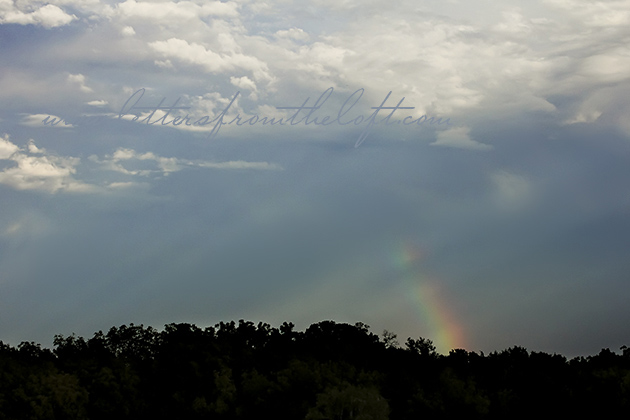 This week, I've been asking a third Big Question that is as painful and scary as the first two were:
– God, why on earth do I exist?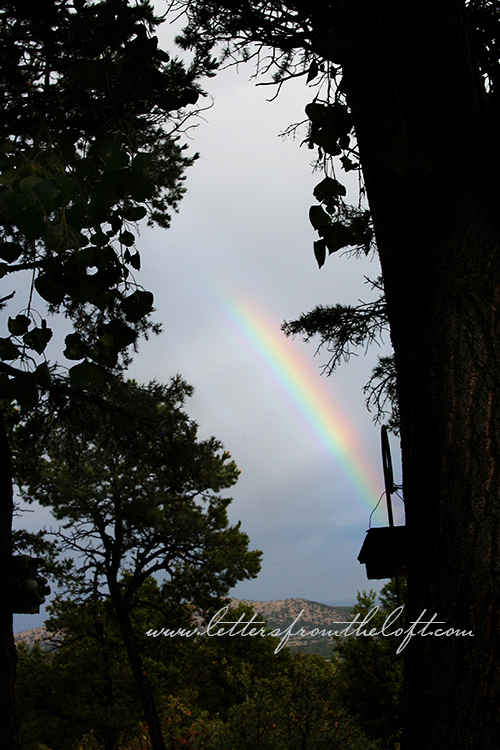 I already know the generic, catechism answer:
"Man's chief end is to glorify God, and to enjoy him for ever."
But that's not what I'm looking for. I want God's personal answer to me — the specific reason He brought me into existence.
At some level, these feel like "wrong" questions to be asking God…
but Job asked them and Jonah asked them and Jeremiah asked them…
and I have no reason to doubt that God will answer me as faithfully and as definitively as He answered my first two questions.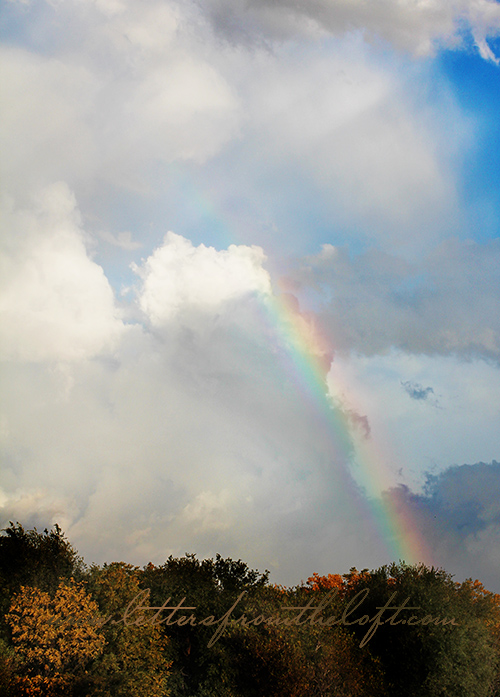 The last several months, God has repeatedly placed in front of me a couple possible directions for the next phase of life — exciting things! I've tried to start heading those directions, and there are roadblocks everywhere… like maybe the direction isn't wrong, but the timing is.
There is a third way God has been leading, and it's the one direction I just don't want to go.
Sadly and ironically, it involves simply being a mom.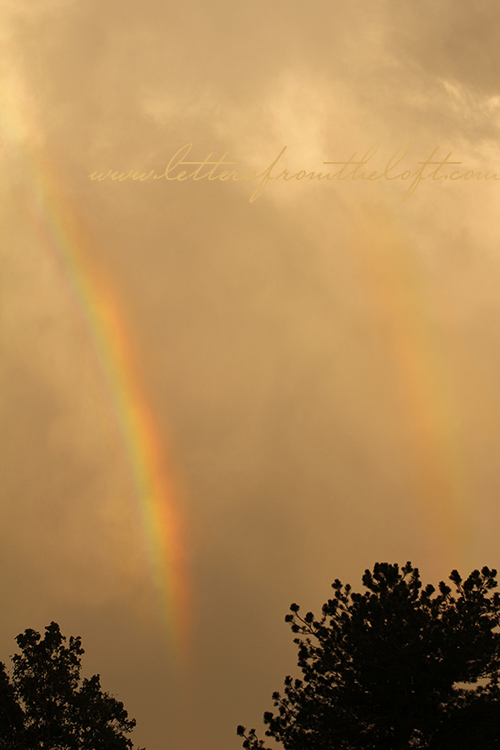 I didn't anticipate how much I would struggle with this "calling," or how a person could end up getting hurt in the natural process of raising kids. Being a mom — a really good, present mom — isn't all that easy.
Also — typical of many moms, I think — I had grossly underestimated the feelings of accomplishment I derived from my previous job.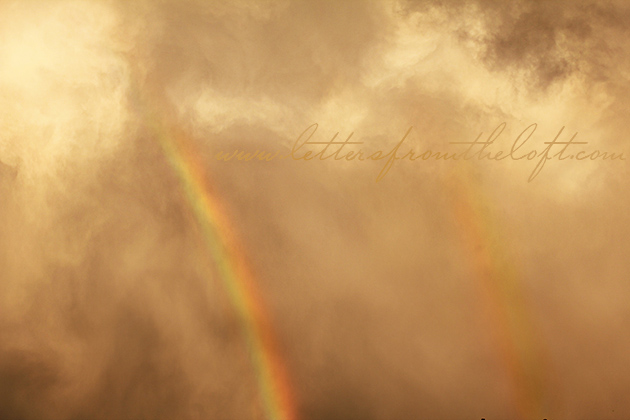 Here's how things used to work, at work:
Someone would hand me the findings of their research…
– I'd write up an intro, a lit review, and some conclusions (while a fun-loving coworker ran stats);
– I'd fine-tune the methods and results;
– find a journal and submit the paper for publication;
– receive it back (marked up with nit-picky edits);
– correct it;
– resubmit it; and
– voila! It's published!
I've just achieved justification of my existence!
Of course that's a very wrong way to look at significance (and I would never have described it that way), but subconsciously it was easy to slip into that mindset — and really hard to find my way back out of it.
On the other hand, here's how motherhood goes (for me, at least):
Someone hands me a wad of clothes that are muddy with creek water…
– I wash them (while everyone else has fun doing whatever else);
– I rewash them (because I forgot to take them out of the washer soon enough);
– I switch them to the dryer;
– someone finds them in the dryer before I get back to putting them away;
– that person has the audacity to wear the newly-cleaned clothes again; and
– a few hours later they are resubmitted to me for washing.
Imagine someone coming along behind you and clicking the "undo" button several times after you've finished a big chunk of edits (and, by the way, there is no "save" button) — and you've just about got how it feels.
I'm not that good at mundane routine anyway, so achieving justification of my existence (or achieving anything tangible) never quite happens.
After eight or nine years, this can become maddening.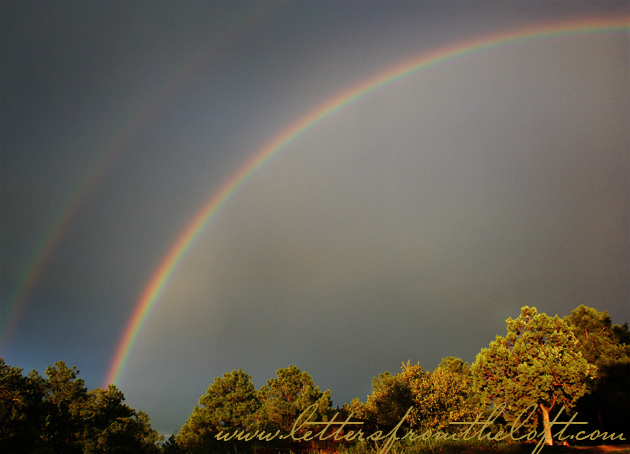 If you've followed my blog long enough to remember the story of my journey to become a mom (on my blog here; password is 4friends&family), you'll know how the double rainbow became a significant sign of motherhood for me.
Apparently there was a double rainbow this past Thursday evening. A couple friends posted pictures on Facebook, with one commenting:
"Most amazing and brightest rainbow I have ever seen."
A little later in the evening, a newer friend (someone I hadn't heard from in a few months) sent me a message:
"I was looking through your blog … Such a beautiful story of a redeeming God and blessing (in His time) beyond belief! … I cannot imagine the struggle of waiting, hoping and heartbreak."
I went back and skimmed those posts again Thursday night, too, remembering my incredible longing to be a mom and feeling amazed again at how God used the double rainbow as a repeated sign — He does hear every smallest thought and prayer!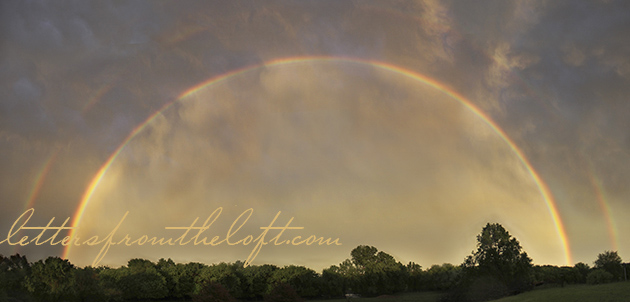 The next morning, as I was leaning over the bathroom sink to brush my teeth, I speculated how long it might take for God to answer my latest Big Question — God, why do I exist?
It had taken God about a minute to answer my first Big Question.
The second Big Question took maybe six months.
By extrapolation, I might expect an answer to the third Big Question within a year!
(I ignored the nagging thought that I had already been seeing an unusual number of double rainbows between the time I had asked God my question (Tuesday) and my Friday morning tooth-brushing session.)
I glanced up for a second, into the mirror —
and GodAlmightyLordBabyJesus! (forgive my unregenerate mind) —
there was a bright rainbow staring back at me in the mirror, hardly two inches in front of my eyes.
In my four-plus years of accumulated experience brushing my teeth in this house, I've never seen a rainbow there before.
The sunlight had come in just right, through the closed shutters, to hit the beveled edge of a mirrored light switch on the opposite wall. The refracted light bounced across to the mirror on my side of the bathroom, and my head came up at just the right angle to see the rainbow as brightly as possible.
(And since I could also see the beveled light switch in the mirror, it was even sort of a double rainbow…)
Not much makes my skin prickle, but this did, at least for a second.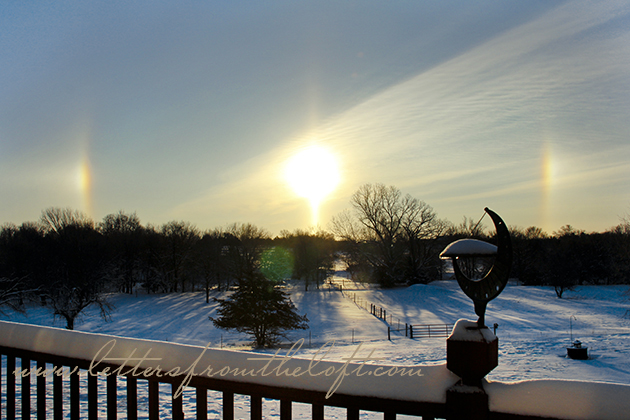 Since Friday morning, another friend has posted another picture of that double rainbow…
And I remembered a sermon I once heard. It was about finding our calling and pursuing it with all we have. This sermon was preached about six hours before I saw the brightest, fullest double rainbow I've ever seen in my life… which was pretty much exactly 38 weeks before my last child's due date (if anyone wants to calculate that).
As cool as those coincidences are…
maybe I'm stubborn or maybe I've been spoiled by God…
but I'm still looking for a clearer answer.
I've felt how it feels to have all doubt removed. This answer leaves all kinds of loose ends flying around untied.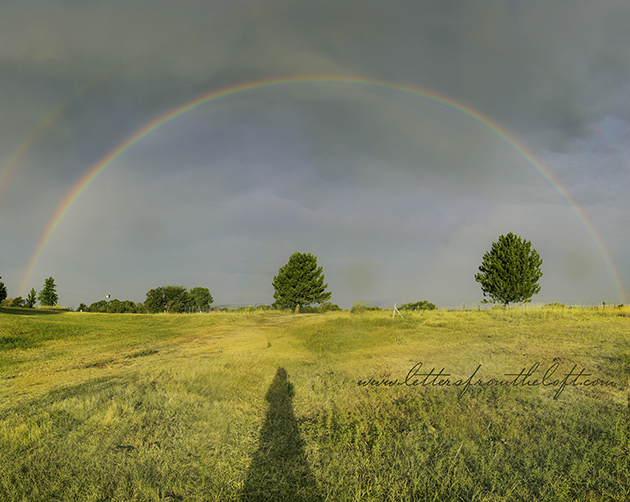 For example, that same sermon also happened a few hours after I had a significant dream that I was brushing the dust off ancient volumes; and the sermon was centered around my all-time favorite, very old poem. I could tell skin-prickly stories of the ways God has followed up on that theme, too.
God is the one who put this whole mess of untied bows there in the first place, so why?
I wonder if God enjoys this — being asked a hard question, knowing He's completely able to answer… and then only giving a little bit of an answer at a time.
Will I keep seeking and asking until I have what I need?
How much confidence do I really have in His ability to provide for all of my needs?
For now, I have enough of an answer to give me some measure of peace. God has heard me; He is at work.
Meanwhile…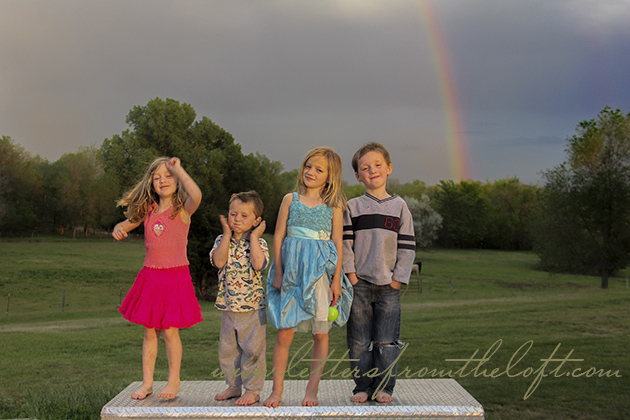 Maybe I will start exploring how it could look…
not in general, and not for anyone else, but for me, specifically…
to become the mom I used to hope I'd be.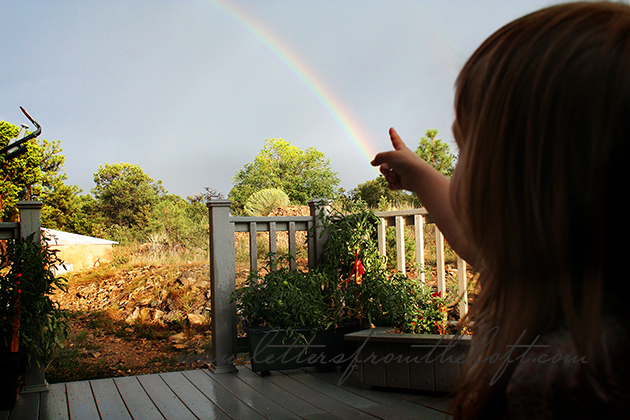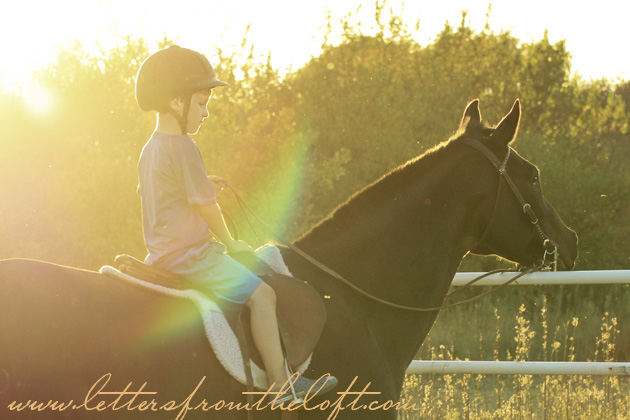 "Call to me and I will answer you and tell you great and unsearchable things you do not know … I will hide my face … Nevertheless, I will bring health and healing … and will rebuild them as they were before. I will cleanse them … forgive all their sins … and they will be in awe and will tremble" (Jeremiah 33:3-9)

"You will seek me and find me when you seek me with all your heart. I will be found by you," declares the LORD" (Jeremiah 29:13-14a)
Scripture art journaling has become my most recent adventure.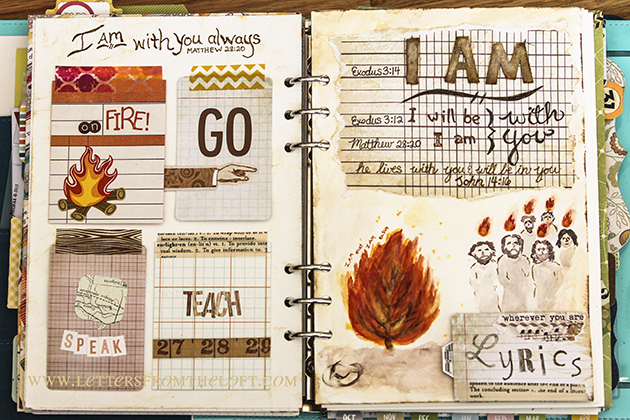 It intrigues me for its possibilities in mixing multiple art forms.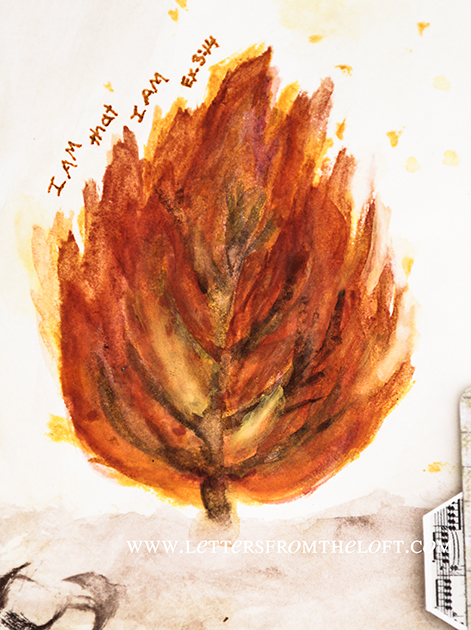 I've never been able to draw or paint well, but I still enjoy trying every once in a while…
even though at one point in this process, I was pretty sure I had just painted a maple leaf next to a group of ghost people with oversized gourds suspended above their heads.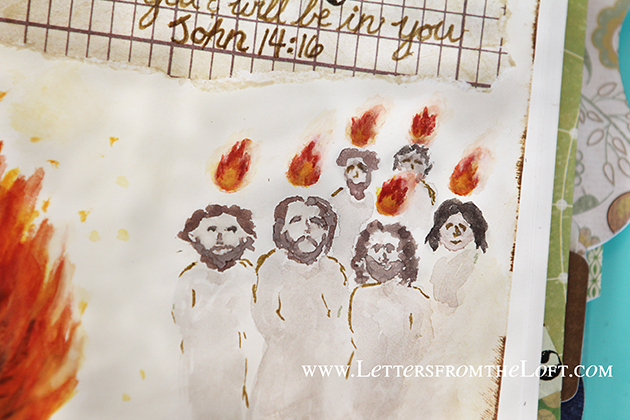 But as long as my youngest child can recognize what it is, that's good enough for me.
The kids like these journal pages; I suppose they have potential as a teaching tool.
What kid doesn't like lift-the-flaps?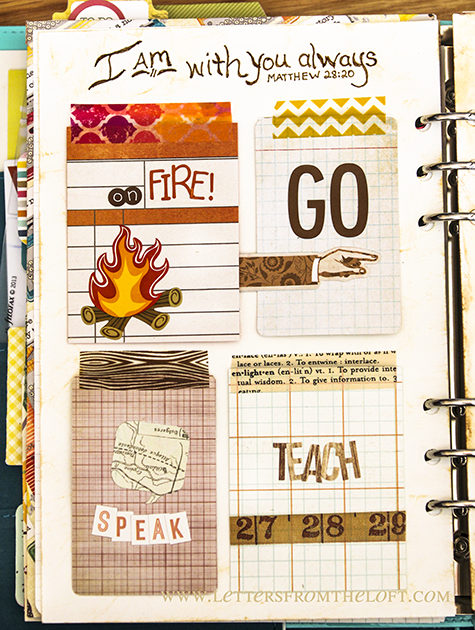 Each of the four cover cards on the left page has two sheets of note paper underneath, attached with washi tape.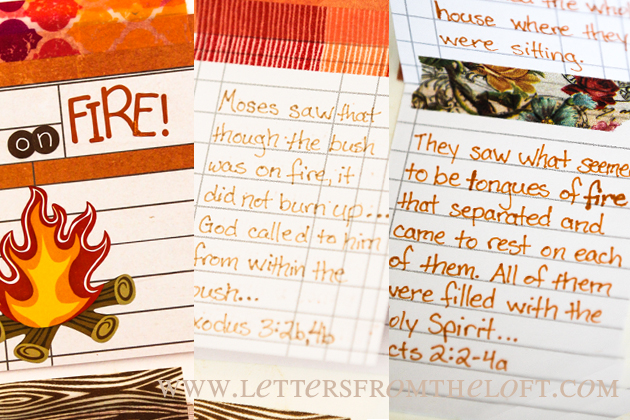 "Moses saw that though the bush was on fire it did not burn up." (Exodus 3:2b)

"[Jesus' disciples] saw what seemed to be tongues of fire that separated and came to rest on each of them." (Acts 2:3)
What gave me the idea to do these specific pages (comparing Moses and the burning bush with the tongues of fire on the disciples' heads) was…
that saying goodbye to people is sad…
but less so when they are leaving to pursue their passion for God and compassion for people, as effectively as possible.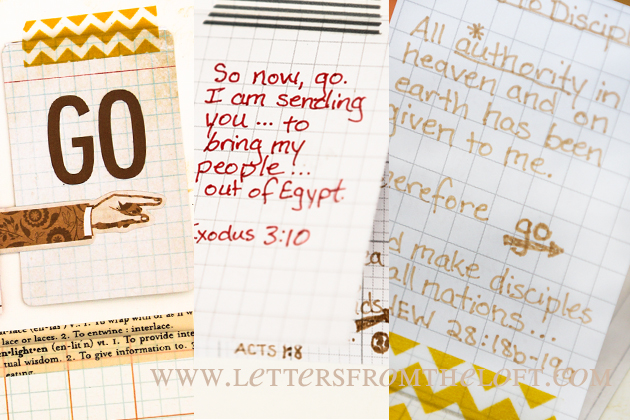 "So now, go. I am sending you to Pharaoh to bring my people the Israelites out of Egypt." (Exodus 3:10)

"Therefore go and make disciples of all nations" (Matthew 28:19a)

"you will be my witnesses … to the ends of the earth." (Acts 1:8b)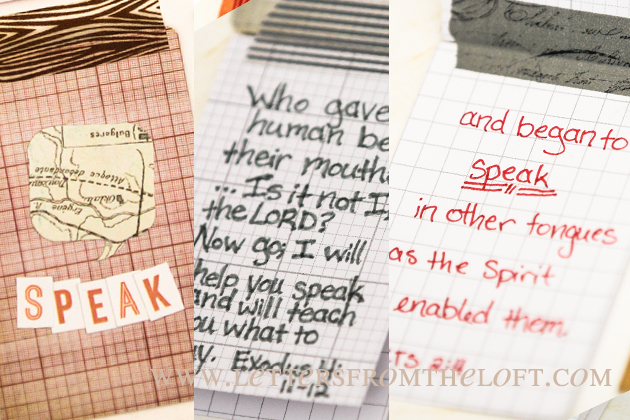 "Who gave human beings their mouths? … Is it not I, the LORD? Now go; I will help you speak and will teach you what to say." (Exodus 4:11b-12)

"[the disciples] began to speak in other tongues as the Spirit enabled them." (Acts 2:4)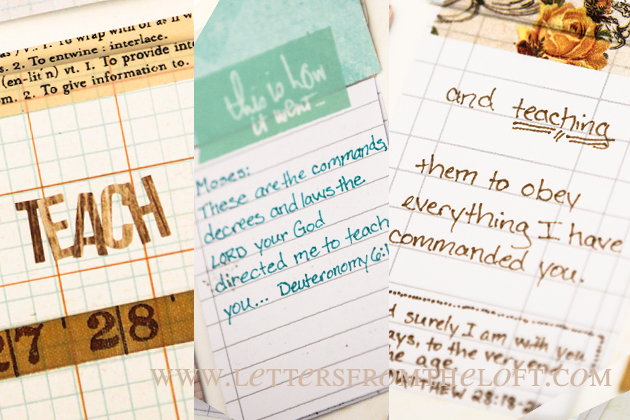 "These are the commands, decrees and laws the LORD your God directed me to teach you to observe" (Deuteronomy 6:1a)

"Therefore go and make disciples … teaching them to obey everything I have commanded you." (Matthew 28:19-20a)
I'm challenging myself to write song lyrics for each concept I record on these pages.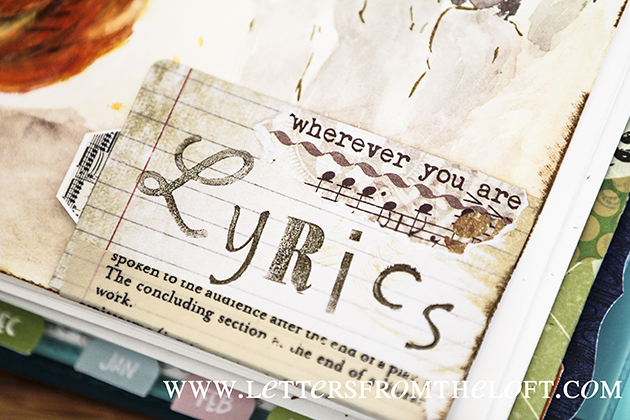 They don't need to be good, polished lyrics! Just something to keep the creativity flowing.
I wrote these pretty quickly, and they're not my favorite — which, ironically, makes me more willing to post them…
at least, tiny photos of them, chicken-scratched on note and staff paper under the "Lyrics" card.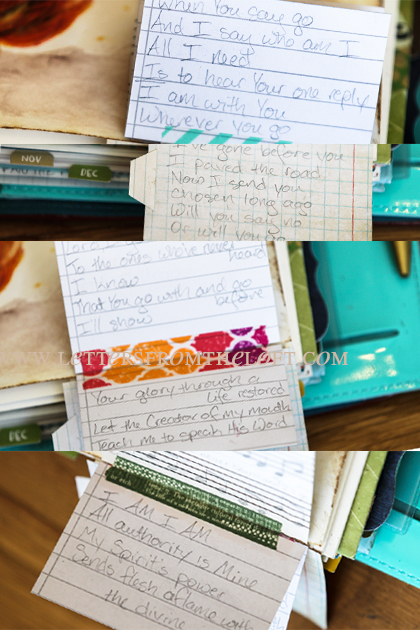 This whole study started with a search for the unchanging nature of God. He is always with us and never leaves, the way people do.
The thing I discovered was…
At some of the key moments when God promised His unchanging presence, the next thing He said was, "Go!" We aren't meant to stagnate comfortably.
But always, through every move and every change, voluntary or not, He is with us.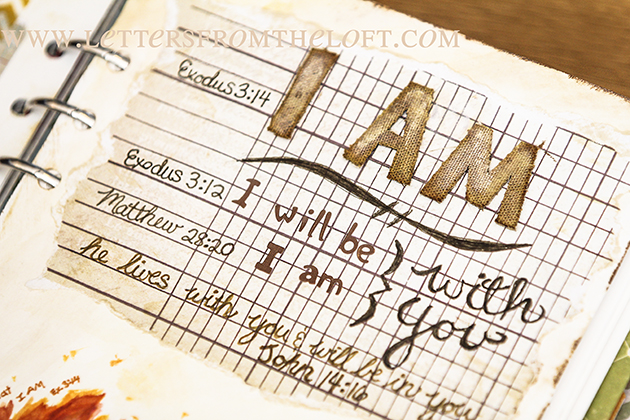 "God said to Moses, 'I AM who I AM. This is what you are to say to the Israelites: "I am has sent me to you."'" (Exodus 3:14)

"But Moses said to God, 'Who am I that I should go…?' And God said, 'I will be with you.'" (Exodus 3:11-12a)

"Therefore go and make disciples … And surely I am with you always, to the very end of the age." (Matthew 28:19-20)
I've been having nightmares recently. Mercifully, I haven't remembered what they're about — but something in my subconscious must be working through a mysterious source of unhappiness.
After last night's nightmare, I fell back to sleep and dreamed about a sailboat with its rigging fixed in place. The ropes ("sheets") that are attached to the free corners ("clews") of the sails were permanently clamped into place, along the edge of the boat.

(Image Source)
The mainsail couldn't be let out to catch the wind just right. Neither could the mainsail be tightened, to prepare for swinging it across the boat, letting the wind fill the opposite side of the sail, so the boat could move ahead at a different angle ("tack").
The little jib sail in front was completely useless for adjusting direction.
(
Image Source
)
Like many other creative types, my ideas tend to come in windstorms. During that time, I make plans for the way the rest of my life is going to go. But when the winds change a little, I feel like I've failed if I have to turn the mainsail about, taking a different angle into the wind.
"Cognitive flexibility" is a psychological term that "refers to the mental ability to adjust thinking or attention in response to changing goals and/or environmental stimuli."
(Source)
I struggle with cognitive flexibility. In fact, it might be my "mysterious source of unhappiness."
"The wind blows all around us as if it has a will of its own; we feel and hear it, but we do not understand where it has come from or where it will end up. Life in the Spirit is as if it were the wind of God." (John 3:8 VOICE)

"the fruit of the Spirit is . . . self-control." (Galatians 5:22-23)
Maybe "flexibility" isn't as antithetical to self-control as it seems; maybe it's the key — and maybe "routines" and "plans" aren't always so synonymous with self-control.
"When you are making your general [creative] resolutions and deciding on your plans of campaign . . .

once a decision is reached and execution is the order of the day, dismiss absolutely all responsibility and care about the outcome.

Unclamp, in a word, your intellectual and practical machinery, and let it run free; and the service it will do you will be twice as good."

(William James, On Vital Reserves: The Energies of Men. The Gospel of Relaxation. 1911. Source.)
In sailing terminology, if a person completely unclamped all the ropes ("sheets"), the boat would be at the mercy of the wind . . .
hence, "three sheets to the wind" to refer to someone who is drunk.
When sailing, the main thing is to watch the sails.
Have they caught the wind well? Time to ease them out a little and enjoy skipping across the waves.
If they've gone slack, "luffing" in the wind, it's time to pull them tight until they find the wind again.
If the wind has taken the boat as far as it should go in one direction, it's completely normal to "come about." — Pull the mainsail tight, swing the boom across the boat, let the opposite side of the sail catch the wind, and ease the sail out again.
Same wind, different angle into the wind.
To borrow from a different sport, "tacking" is like zig-zagging down a mountain on skis. The better the skier gets at switching directions, the more quickly, easily, and bruise-free she makes it down the slope.
In other words, "adjust thinking or attention in response to changing goals and/or environmental stimuli". Exercise cognitive flexibility.
As I was recording my dream this morning, my oldest son came upstairs:
"Mom! I had a dream last night! It was about a maze made out of gingerbread! One person got to the center of the maze, and there was a pole there that held the whole maze up. That person pushed over the pole, and the whole maze crashed down. Did you have a dream, Mom? What was your dream?"
The moral: Whatever else you do, don't mess with the center mast that holds up the sails and keeps them firmly attached to the boat!
"You who try to sail in will be unable, as if your lines are limp, your mast is wobbly, and your sails are furled."
(Isaiah 33:23a VOICE)
"Would all of you throw me down — this leaning wall, this tottering fence? . . . my soul, find rest in God . . . he is my fortress, I will not be shaken . . . God is our refuge." (Psalm 62:3-8)
"Some went out on the sea in ships; they were merchants on the mighty waters . . . he spoke and stirred up a tempest that lifted high the waves. They mounted up to the heavens and went down to the depths; in their peril their courage melted away.
They reeled and staggered like drunkards; they were at their wits' end.
Then they cried out to the LORD in their trouble, and he brought them out of their distress. He stilled the storm to a whisper; the waves of the sea were hushed. They were glad when it grew calm, and he guided them to their desired haven.
Let them give thanks to the LORD for his unfailing love."
(Psalm 107:23-31)
The day after my birthday, I woke up abruptly around 3am:
"Forgive."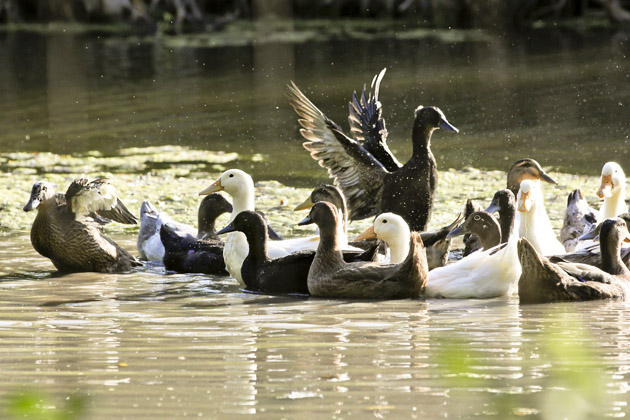 I was hoping to go back to sleep and let these "random synapses" pick a different word. Like, maybe "rest," God? "Rest" is a nice word at 3am.
That didn't happen, so I was left with "forgive" rolling around in my head, at 3am.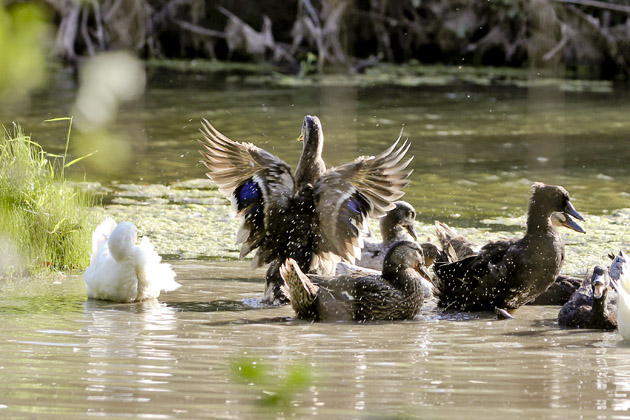 "Let offenses roll off, like water off a duck's back," my husband used to say.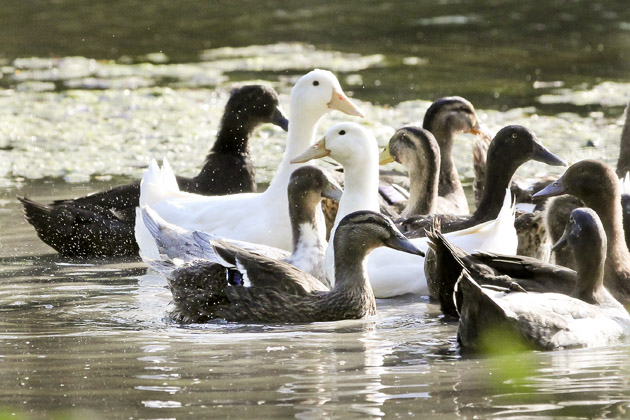 If you've ever watched ducks, you've seen them constantly cleaning their feathers, over and over throughout the day. Every time, they cover their feathers over again with oil.
This keeps water from seeping through the outer feathers, into the soft, inner duck down . . .
which, of course, would weigh the duck down.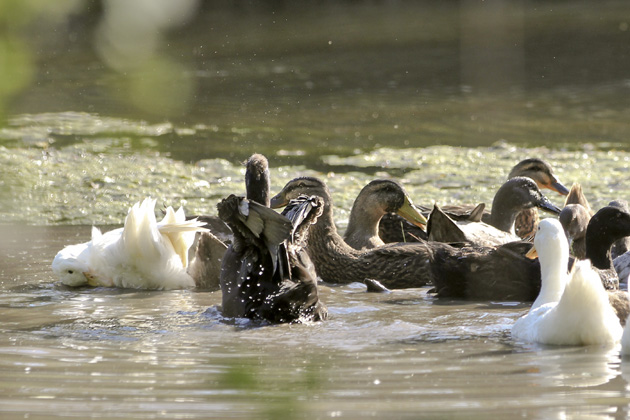 Instead, the water droplets roll right off, because the feathers are coated with oil.
"the . . . oil did not run dry" (1 Kings 17:16)
When I'm struggling to forgive, it's usually because I'm afraid of making that outer layer vulnerable. I'm afraid of exposure to re-injury — that God might want me to open myself back up to whatever "hurt" seeped through before, weighing me down.
I'm afraid that God condemns "self-protection."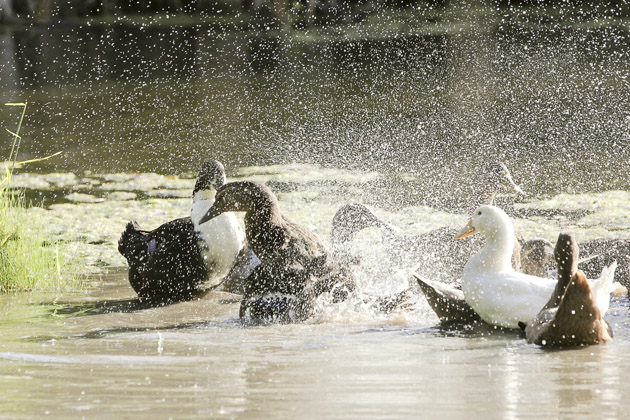 God's ways are reliably different from what I imagine.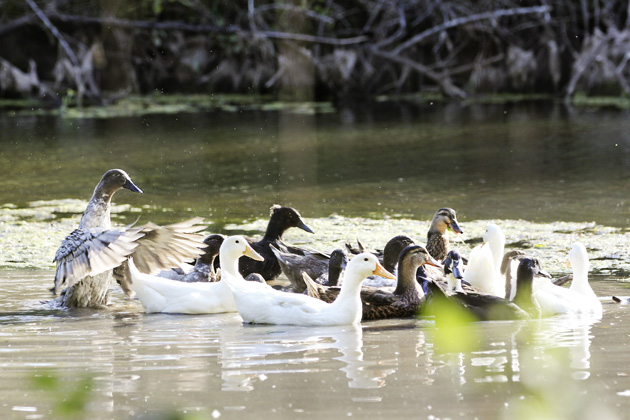 The truth is: Forgiveness (which I think is the opposite of self-protection) is the one thing that does keep me protected from real injury.
I have trouble "getting" this, the same way I struggled to "get" physics (my worst grade ever).
Apparently Noah was good at physics, since he was entrusted with the blueprints for a giant barn that could float.
God told Noah that when the ark was finished, seal it with a covering, to make it watertight.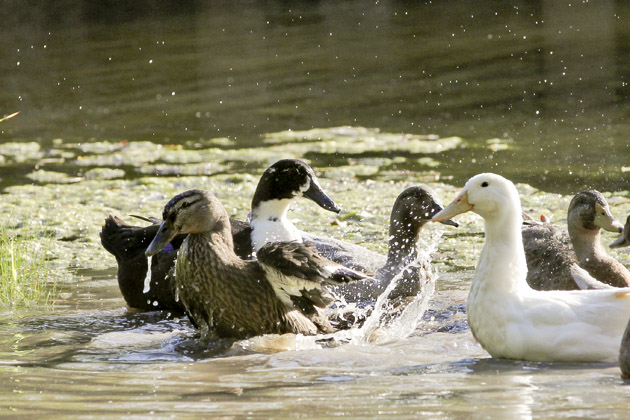 "So make yourself an ark of cypress wood; make rooms in it and coat it with pitch inside and out."

(Genesis 6:14)
Coat = kaphar
– literally: "cover"
– usually translated "atonement"
– as in: "make an atonement" (for sin)
Pitch = kopher (comes from kaphar)
– literally: "covering"
("pitch" is understood to be the covering that Noah used, so NIV translates it that way)
– most often translated "ransom"
– as in: "ransom of a life" (one human life given to save another)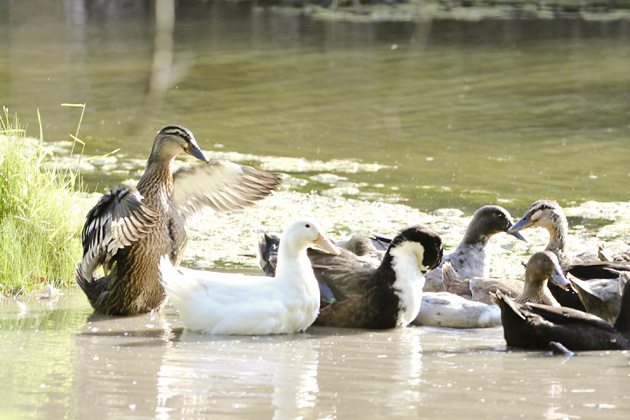 "Coat it with pitch" could be translated "make atonement with the ransom of a life."
God made "atonement" with the "ransom" of His Son's life. He paid the ransom for my life, saving me from death's eternal claim on me. My salvation is as secure and watertight as the ark that carried its passengers to dry land.
Jesus' own blood has poured over me, as the covering and sealant against sin, which threatened to seep through and drown me.
Nothing can keep God from carrying me over the flood, to the safety and promise of solid ground on the other side. Not even my own guilt can seep through and weigh me down — as long as I keep myself covered with belief in God's forgiveness.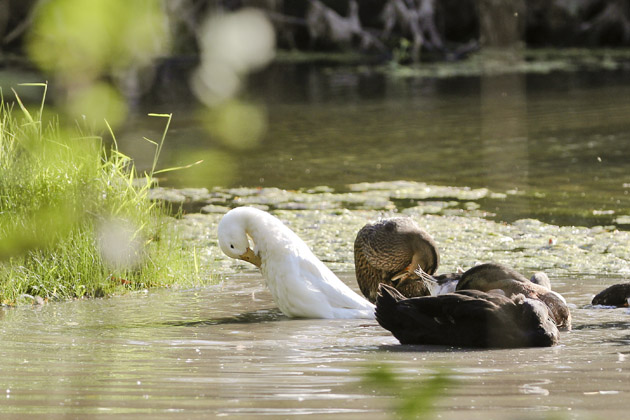 Ducks are nearly obsessive about covering their feathers with oil — the way I need to obsessively remind myself that I'm completely forgiven.
"Do your best to improve your faith. . . . if you don't grow . . . you have forgotten that your past sins are forgiven." (2 Peter 1:5a, 9 CEV)
Once I understand the weight of my sin — if I've experienced nearly drowning in it, followed by the relief of salvation — I'll start seeing other people's sins differently.
They are drowning, sinking to their deaths, until they learn their need for forgiveness.
Which one of us is vulnerable and unprotected? Which one needs help?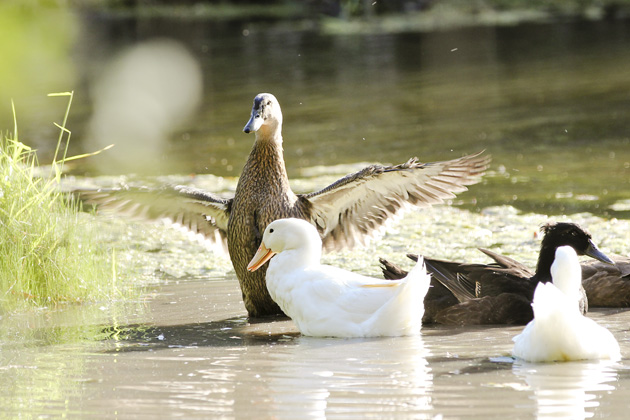 As I keep pouring out forgiveness, I'm the one who is covered, sealed, and protected.
"'[I have] nothing . . . except a small jar of olive oil.'

Elisha said, 'Go around and ask all your neighbors for empty jars. Don't ask for just a few . . . Pour oil into all the jars, and as each is filled, put it to one side.'

. . . she kept pouring. When all the jars were full, she said to her son, 'Bring me another one.'

But he replied, 'There is not a jar left.' Then the oil stopped flowing . . .

[Elisha] said, 'Go, sell the oil and pay your debts. You and your sons can live on what is left.'"

(2 Kings 4:2-7)
How much do I want to have left to live on, after my own debt is paid (by some miracle)?
What I have left will be proportionate to how much I gave.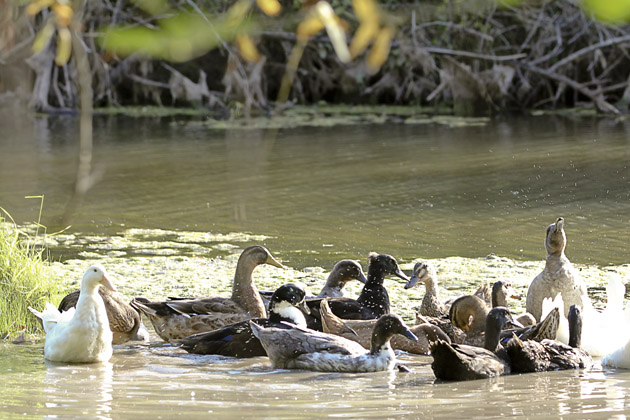 When I pour forgiveness into others, I show I believe that sin leaves the sinner empty. By my actions, I demonstrate my belief that forgiveness was generously poured into me, when I didn't have enough to cover my debt to God.
That belief saves me.
"Jesus said . . . 'The one who believes in me, even though he or she dies, will live. And everyone who lives believing in me does not ultimately die at all.'" (John 11:23-26 MSG)

"When you believed, you were marked in him with a seal, the promised Holy Spirit . . . until the redemption" (Ephesians 1:13b-14a)

"do not grieve the Holy Spirit . . . with whom you were sealed for the day of redemption. . . Be kind and compassionate . . . forgiving each other, just as in Christ God forgave you." (Ephesians 4:30b, 32)
This doesn't mean I'll always allow people to keep sinning against me. It means that my motive shifts away from self-protection and shifts toward concern for others — that they are able to stay afloat. It means helping others get free of dependence on anything else that they imagine will keep them afloat, besides God's forgiveness.
I can only give that kind of "help" if I'm totally dependent on God's forgiveness, for myself.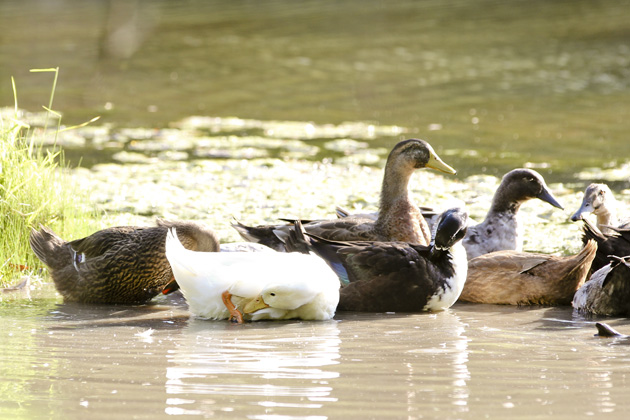 "…in the same way you judge others, you will be judged, and with the measure you use, it will be measured to you.

Why do you look at the speck of sawdust in your brother's eye and pay no attention to the plank in your own eye? How can you say to your brother, 'Let me take the speck out of your eye,' when all the time there is a plank in your own eye? You hypocrite, first take the plank out of your own eye, and then you will see clearly to remove the speck from your brother's eye." (Matthew 7:2-5)
Forgiveness clears my eyes, giving me a different perspective. It frees me both of hypocritical criticism and of fearful self-protection.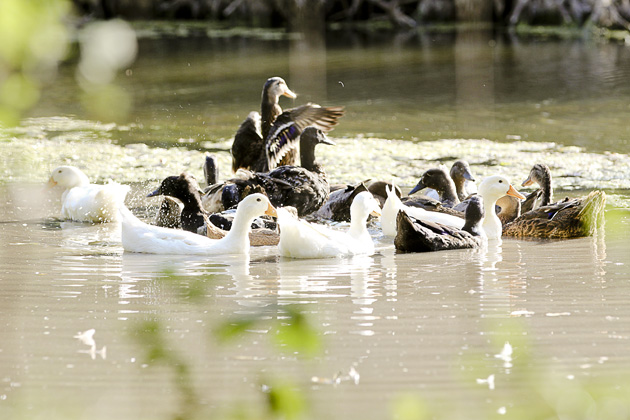 Forgiveness is the only thing that gives me the right to offer anything to anyone else. What I have to offer is the same forgiving grace that saved me.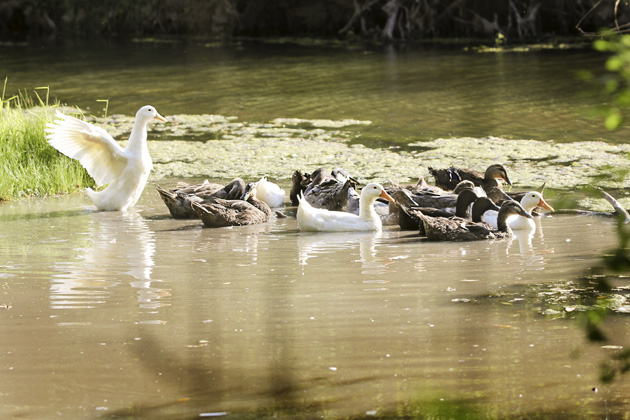 "For it's by God's grace that you have been saved. You receive it through faith. It was not our plan or our effort. It is God's gift, pure and simple." (Ephesians 2:8-9 VOICE)

"Forgive as the Lord forgave you." (Colossians 3:13b)

"Do your best to improve your faith. …if you don't grow… you have forgotten that your past sins are forgiven." (2 Peter 1:5a, 9 CEV)
I loaded the kids into the van early yesterday morning…
Got to my childhood church to attend 8am service.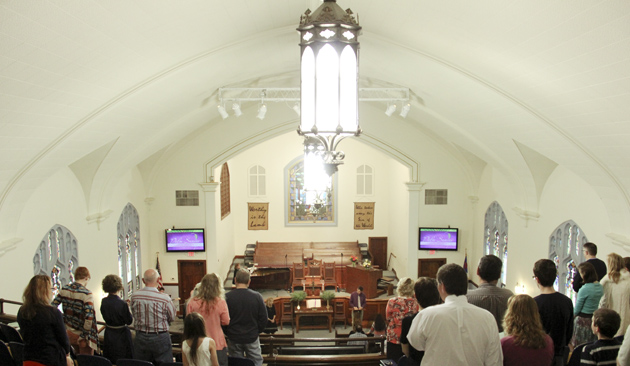 I think I teethed on the backs of the pews below…
Folded myself up in the squeaky balcony chairs…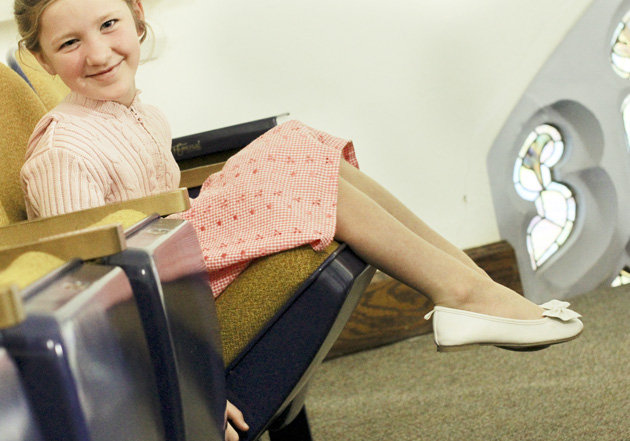 Got married there, too, on beautiful steps that my dad built and gave to the church for weddings.
I attended 8th grade Sunday School in the little room that leads to the bell tower…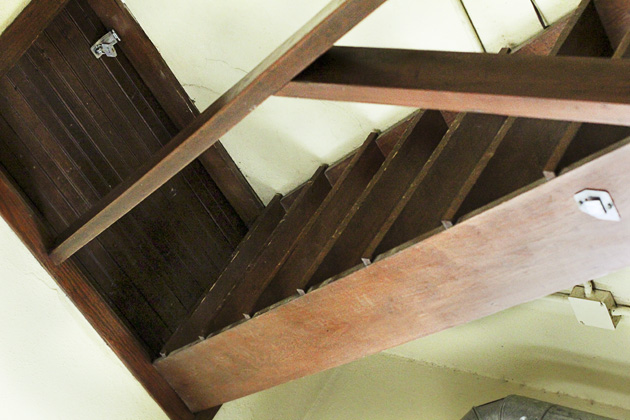 It was all boys in that class, except me. The wise (and probably harried) Sunday School teacher would walk us to Hanson's soda shop on Main Street, to burn off energy.
The door to that little room has been locked sometimes now when I come back. (It didn't used to be locked … Somebody musta got caught!!)
But I know people who know people with keys around here… in case I ever get locked out…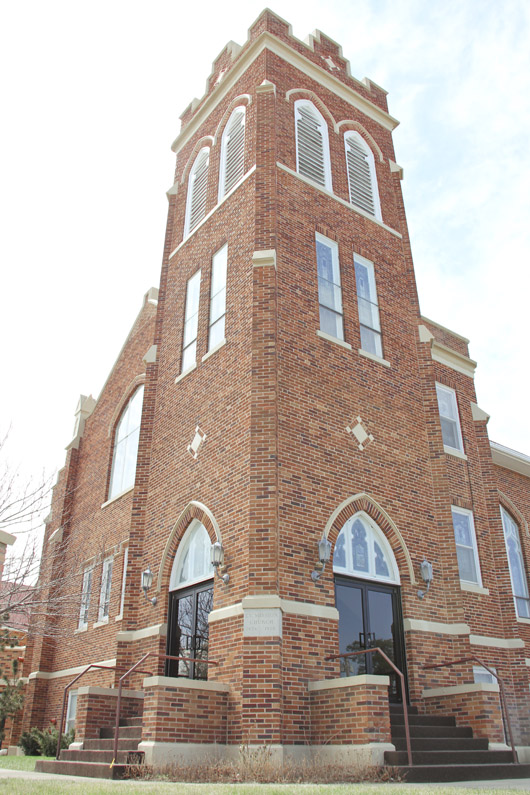 I practiced reading music from the hymnals…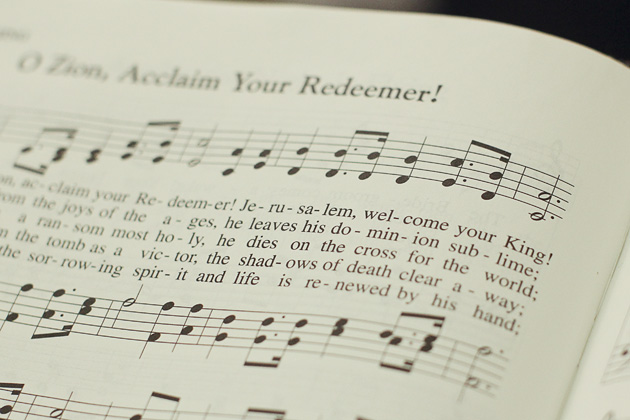 Learned to play keyboard off lead sheets from a guy in youth group…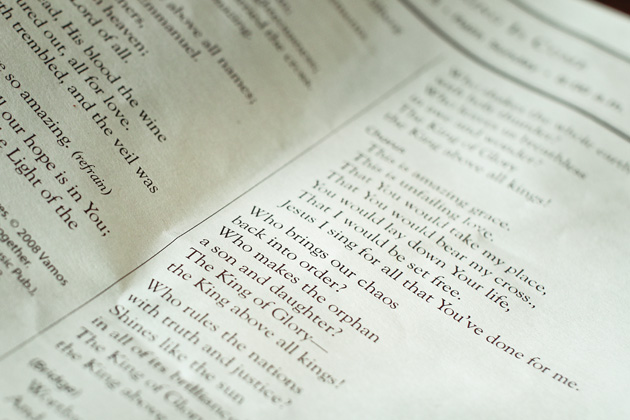 Got comfortable speaking, singing, praying… in front of friendly faces… "aunts" and "grandmas" who wanted me to succeed more than I was afraid to fail…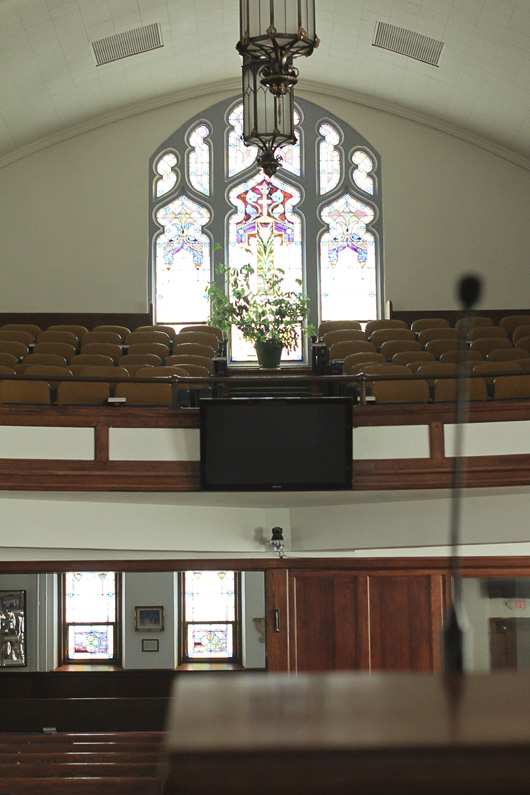 I recited catechism here, shortly after the lead pastor first arrived…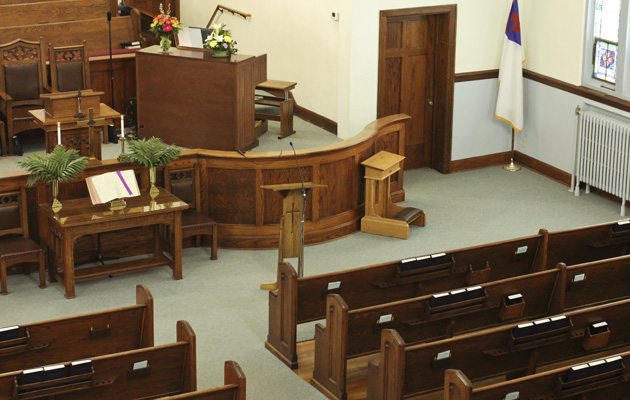 I gave a testimony about the way Abraham just kept following God faithfully, without any huge conversion story, and that's ok…
I had overlooked major pieces of Abraham's story — and I had no idea what was ahead in my own story.
Abraham left home, and eventually so did I.
"Go to a place I will show you," God said to Abraham.
God, where is the place You will show me?
I was surprised and thankful to be here on a Sunday morning when they honored a woman for her 27 years of service to her church. I got to stretch out my hand with the rest of the family to beg God for her healing — the way she has begged God for our healing so many times. (This woman can pray!!)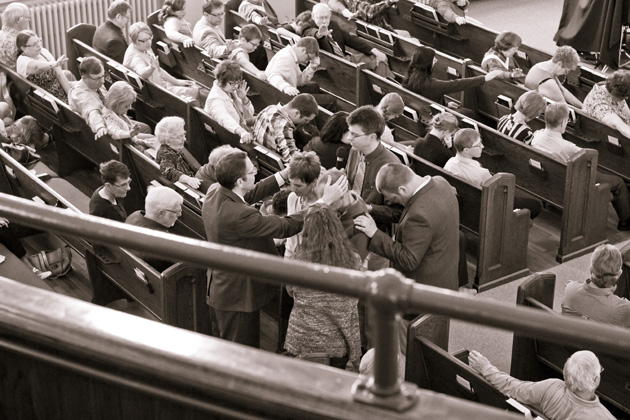 "If you talk to her afterward, just know that, because of her condition, she's not able speak if she gets emotional."
Her speech was affected, but I could understand her just fine. I thanked her for praying me out of some dark times. I took my kids to her — They are tangible answers to her prayers.
She asked me what had brought me there that day. I told her, vaguely, that I just needed to be around the church family that raised me.
She turned to look me square in the eye and said —
clear as could be —
"You can always come home!"
I got emotional and couldn't speak.
The pastor preached about making decisions — a Palm Sunday sermon about the people of Jesus' day trying to decide who He really was.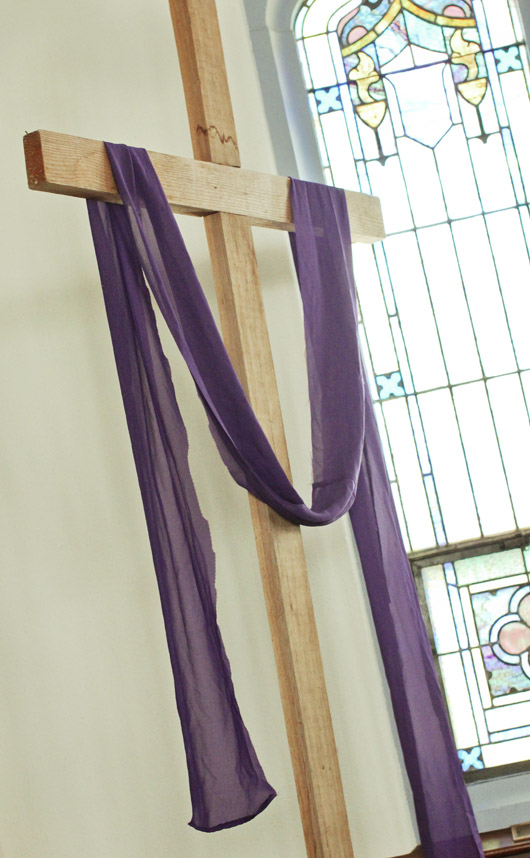 Before you make a decision, you need to get enough information from the right advisers…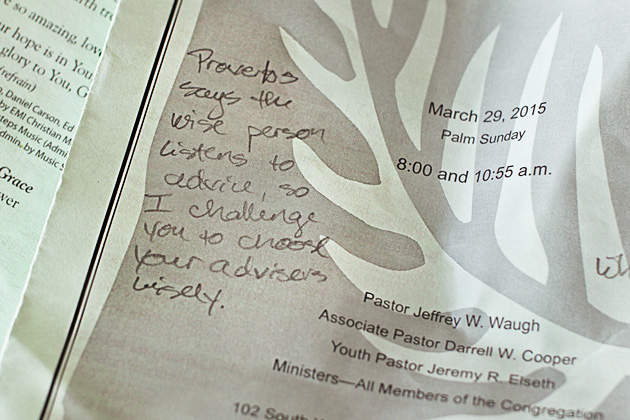 My best advisers are the ones that have the most information about me. When I come limping home, they know which wounds are only superficial (even if they appear troubling) and which ones need real balm.
Advice from my childhood mentor that morning:
You are deeply known and deeply loved.
Return, restore, abide. Keep abiding in Jesus.
From my best friend:
Your lasting significance won't be in anything you've done, but in the relationships you've built. (But if you ever came home, we'd plug you back in where you left off!)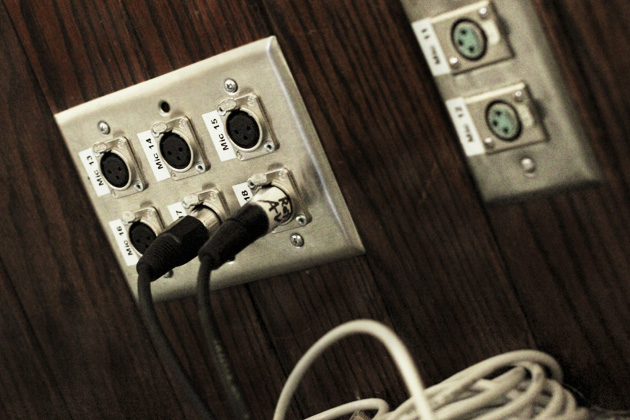 God, where is the place You will show me?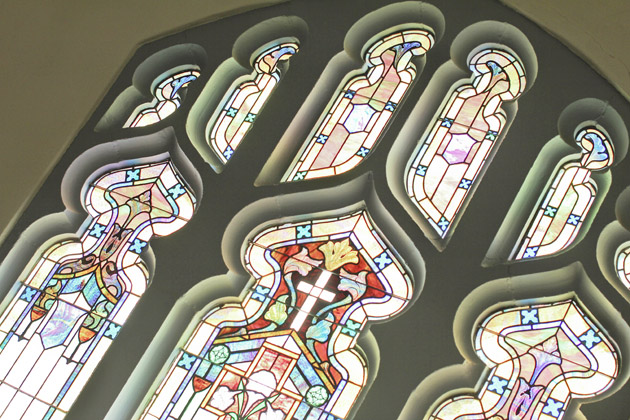 After nine (or so) moves and several bumps and bruises (which still show too much, I think) we moved to our beautiful farm. I told my husband that there is nothing else left on my "big" wish list (kids, a long-term home…)…
Except a ministry — a sense of meaning and purpose that reaches beyond our family.
Is this an ok thing for a wife and mom to want?
Part of Abraham's calling involved owning land.
He was already confident of this, because God had promised it to him.
"…To your descendants I will give this land…"
(Genesis 12:7 NIV)
But there came a point where he offered it up to his nephew.
"…I don't want there to be any animosity between you and me… After all, we're family. A vast land is out there and available to you. It is time for us to go our separate ways. You choose your land. If you choose east, I'll go west. If you choose west, I'll go east — it's your call."
(Genesis 13:8-9 VOICE)
Lot took the best lot, and that was that.
Abraham never actually owned any of the Promised Land before he died. Instead, he left a legacy and pattern of faith for his children.
"…those who have faith are children of Abraham…"
(Galatians 3:7 NIV)

"…'If you were Abraham's children,' said Jesus, 'then you would do what Abraham did… Abraham rejoiced at the thought of seeing my day…'"
(John 8:39, 56)
Abraham buried his wife on a purchased plot in a land that his descendants wouldn't own for another 400+ years. He put roots down in faith, even when he had nothing at all to show for it.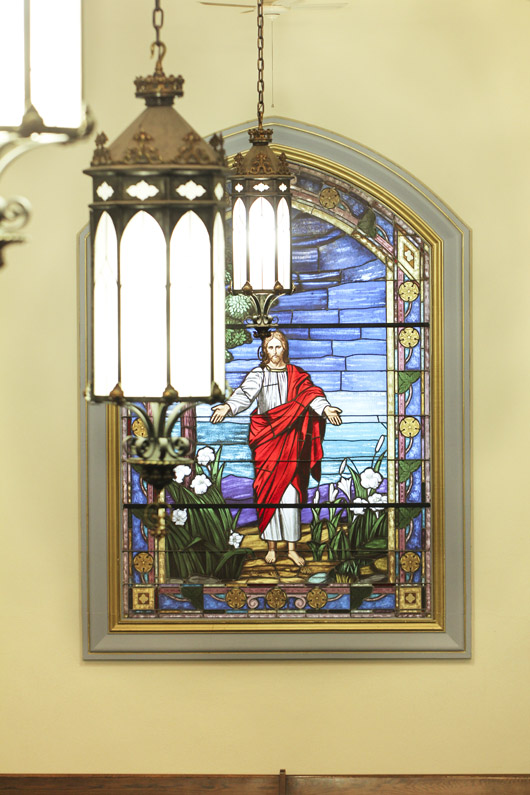 Someday God would remove the obstacles, the walls would fall down, and God would say, "Take what I've promised!" But Abraham never saw that time.
God, I can't see what's ahead!
Is this the time to give up my lot? I have descendants growing up faster than I can breathe out, "Wait…!"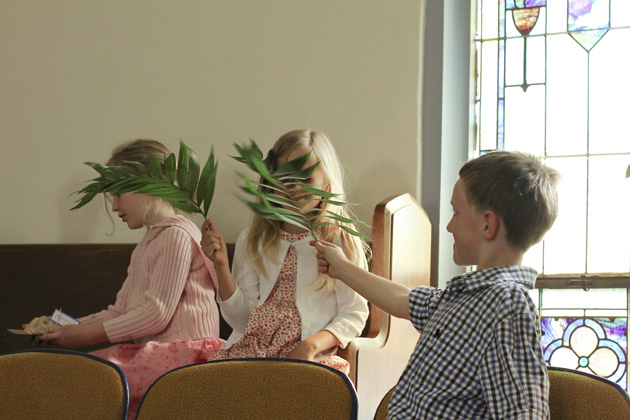 Certain promises feel as unreachable as 400 years into the future…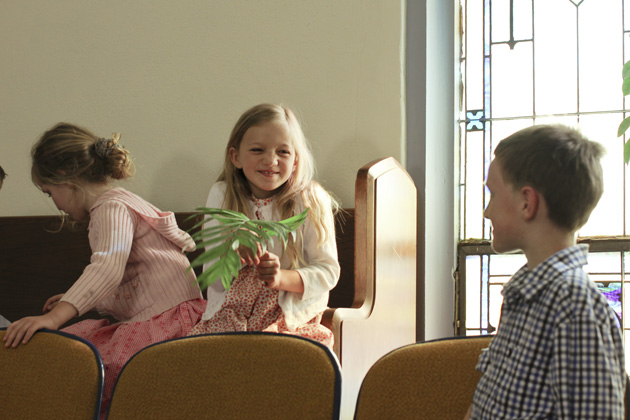 Do I let any "callings" fall dormant?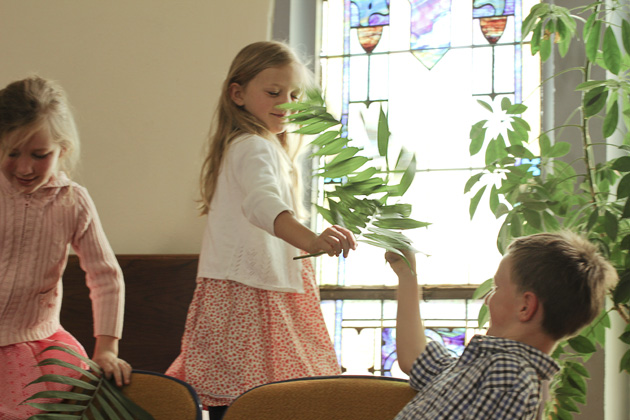 Maybe they are for my children, not for me.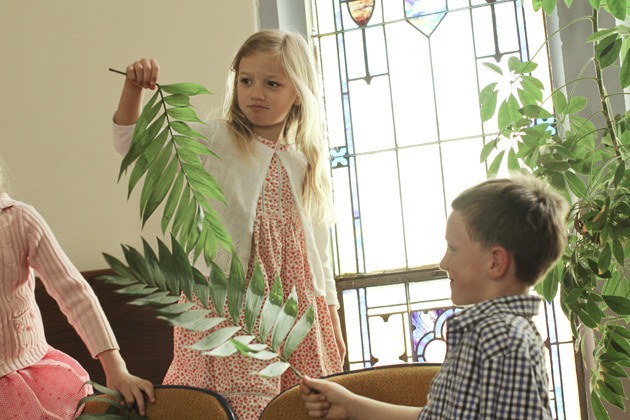 Leaving my childhood church…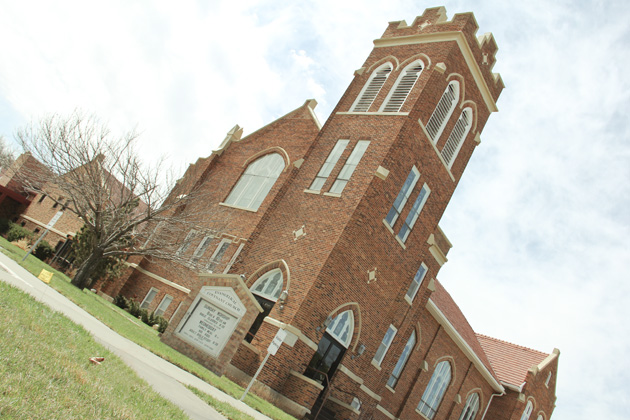 And making a decision where to put down blind roots for the future – for my kids' futures…
In a place where I have no keys…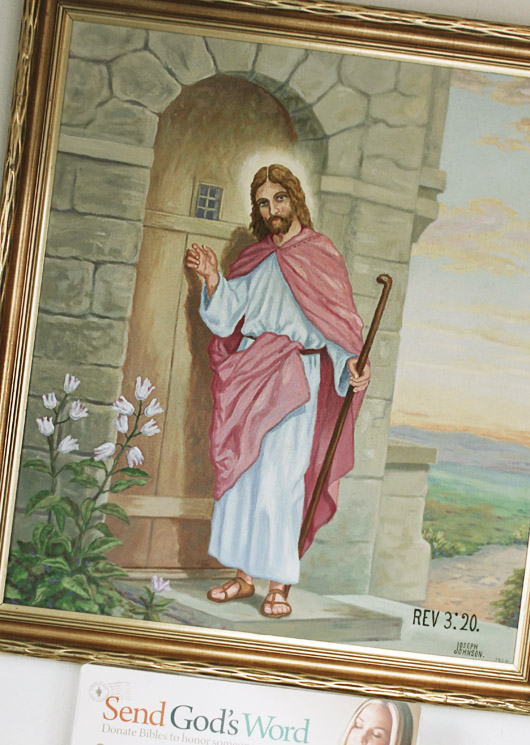 …and where there are no familiar memories, and no time-tested bonds of assurance…
God, show me the place where You want me to be!