Posts
Some days feel like God is pushing me along…
I've been training for a 5K and had hoped to participate in my first one within a few weeks. The training started better than expected! But when school let out, things slowed… to a stop.
Last week, my husband booted me out the door (as tenderly as possible, of course) to go run! Having a mind of my own, and feeling groggy and out of shape, I pushed valiantly through the guilt and proceeded to walk.
There's a stretch of my route that passes by a county lake, hidden by thick trees and marshy grasses. That spot always slows my time, even when I'm running. I find interesting things there — iridescent dragonflies and scenic sunrises that "didn't happen" if they're not captured and shared.
I'm walking along that stretch, thinking — all by myself, in my head (where no one notices) — that I could do better if I'd only push myself…
And guess what I find crawling across my path: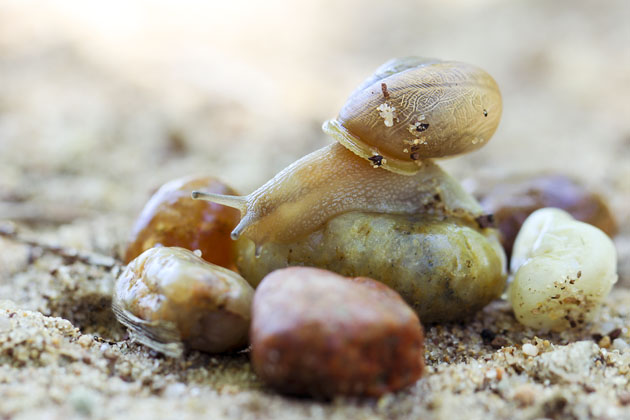 God is reading my thoughts…
Slow, slow, slow.
Anyone who thinks God doesn't have a sense of humor…
(Actually, I can hardly imagine God relates to each person the same way, any more than I relate to each of my kids the same way. Same God, same dependable character, individual relationships.)
I wondered if there were more snails — there weren't. But God kept speaking, verse after verse from His complete Word, which is always available and never coincidental:
"Seek the LORD while he may be found; call on him while he is near." (Isaiah 55:)

"…call on me and come and pray to me, and I will listen to you. You will seek me and find me when you seek me with all your heart. I will be found by you…"(Jeremiah 29:12-14)

"Ask, and it will be given to you; seek, and you will find; knock, and it will be opened to you." (Matthew 7:7)

"I love those who love me, and those who seek me diligently find me." (Proverbs 8:17)
I also remembered the incredible silence of God — seven years of hearing next to nothing "…not a famine of food or a thirst for water, but a famine of hearing the words of the LORD." (Amos 8:11)
Because of everything that happened during that time, my relationship with God drastically deepened and changed. I would never have chosen a season of grief for myself — it was bitter — but God knows, in the most personal way, what I need to grow most.
At the last corner, I turned around, and suddenly snails were crossing the road everywhere!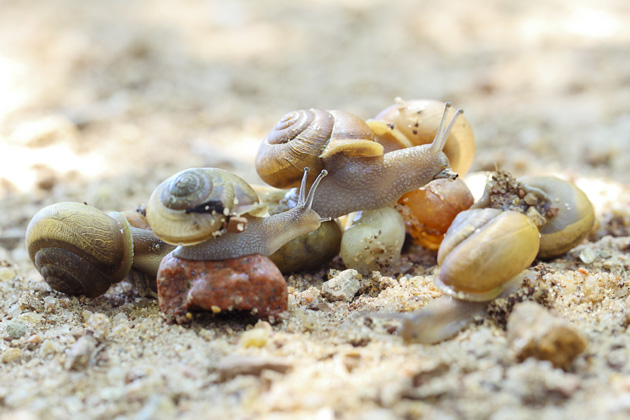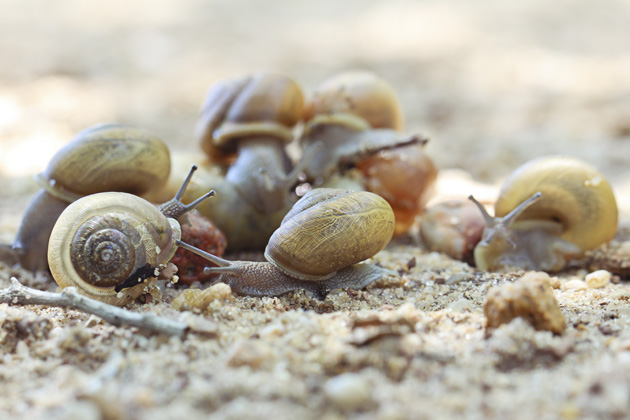 Some were dried up. They were a bit of a distance from water.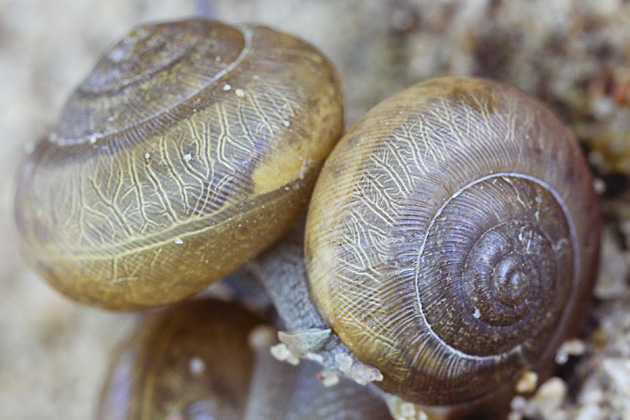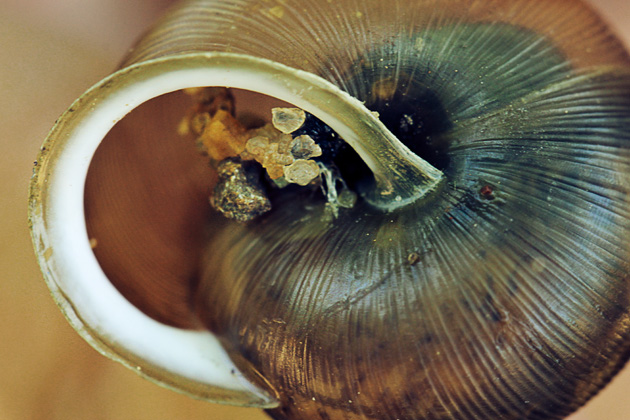 My thoughts, which "no one" ever hears: Don't wander away too long and dry up. Don't neglect the habit of listening, which can be lost, like the habit of running.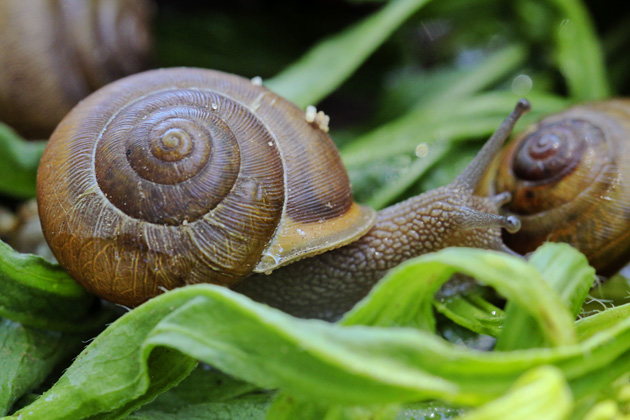 I waved at a neighbor, who laughed at my bouquet of snail-slimed weeds.
(They're for the kids, alright? — That's my excuse for plenty of things.)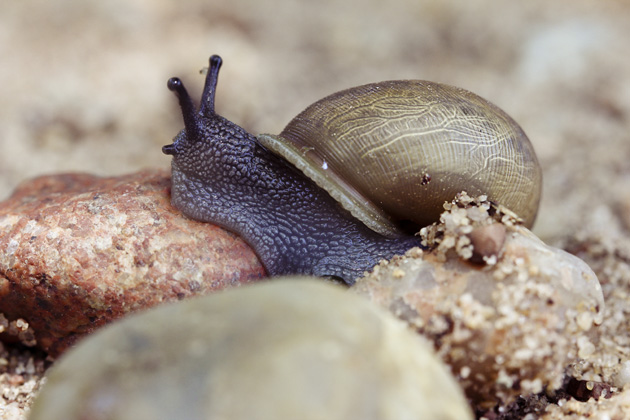 I got past the lake, past the snails, past God's chiding…
as if circumstances can keep God from speaking…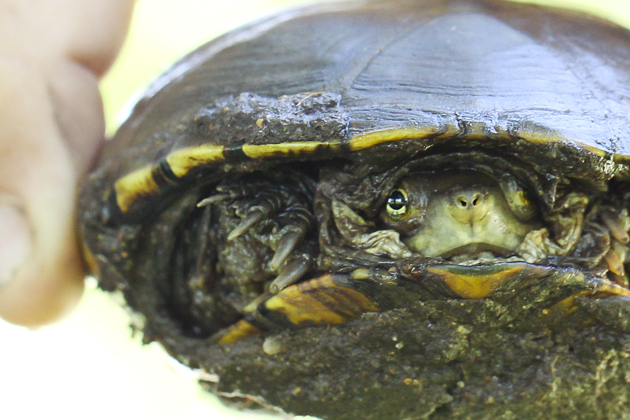 and laughed out loud at this turtle creeping its way across the road!
God's discipline is kind, never intended to push me away, but to pull me closer, to let me know that He is attentive and not ignoring me. Every time, I've found in the end that He has been listening to every detail, even through silence.
It's time to pick up my pace — stop walking, start running.
When I got back to the house, my husband raised an eyebrow at my treasures. "It's for the blog, you know" — my excuse for plenty of things.
***************************************
Coincidentally, right before my walk, he had shown me this youtube video, below.
God does seem silent sometimes, but He expects me to keep seeking, because He likes to show up with unexpected surprises… Will I always want Him enough to keep watching?
(P.S. Right after my walk, as I was in the middle of making quick notes for this post, a friend from NJ — who hadn't seen any running updates from me recently — messaged me to say, "How's the running going?"
Some days feel like God is pushing me along…)
I rediscovered this snapshot of my parents last week.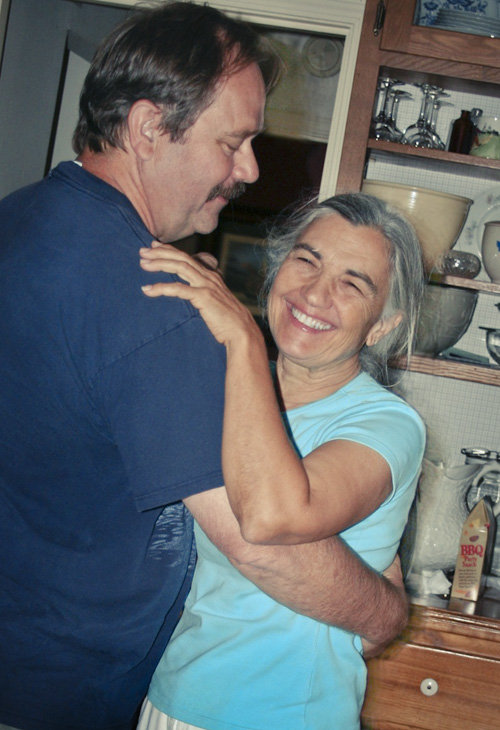 I don't know if I love it more because of my mom's big smile or because my dad made her feel like smiling like that.
Music was playing, which meant my dad had to snatch up a dance partner. Be prepared to twirl across the farmhouse floor, even if you can't dance!
I like this picture, too: my dad playing guitar last Christmas with one of many "wanderers" they've taken in over the years.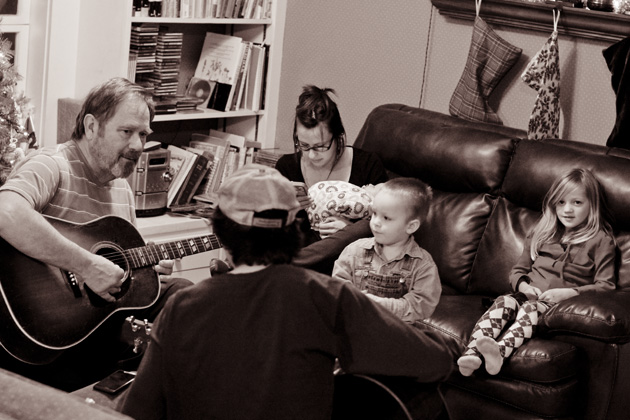 (On the sofa is my sister Annie, holding her baby girl. Next to her is her oldest boy. My oldest daughter is looking at the camera.)
My dad has always lived with a keen awareness that he is also a wanderer, mercifully welcomed in.
It's hard for me to imagine that my dad's earliest memories included an alcoholic father. My dad didn't turn his life over to Jesus until his two-year-old son's life slipped away in a backyard creek in Oregon… unfathomable.
Even after that — because of that — my parents insist that "in all things, God works for the good of those who love Him, who have been called according to His purpose" (Romans 8:28). After a tragic loss that seems like it would cripple me, they honestly thank God for what He did for them.
One time I remember my dad saying, "When you go through times of doubt, hold tight to three things."
In my fuzzy memory, these three things were written in the front of his 1970's-style burned-leather Bible (probably the first Bible he read — which he still reads). But my mom tells me he actually wrote them in a Bible he gave to one of my high school boyfriends. (That is one alternative to threatening dates with a shotgun!)
Three simple things to cling to, in times of doubt:
1. God is real.
2. God is in control, and all this will make sense later.
3. God loves me and will not test me more than I can stand.
Simple… simple enough for me to remember for 20+ years!
But my dad's capacity for profound feeling leaves just as lasting an impression. I remember him rocking in an old spindled chair, eyes closed, lost in my younger sister's piano playing or my older sister's singing. I remember the rush of pride on his face every Fall, watching my brother score touchdown after touchdown — but even more, the obvious catch in his gut every time my brother was hit. I remember his rare sobs, after saying goodbye to a family friend who was moving to circumstances that may not be good for her. I remember him braving exhilarating whitecaps on ill-advised sailing trips, daring the high winds to flip the boat (which they did, sometimes).
On days when I feel trapped with a mop in one hand and a stack of laundry in the other, it's hard for me to believe I inherited that same depth of feeling. But that's my dad, and I get to claim that as part of my identity.
I'd say my kids get to claim it, too.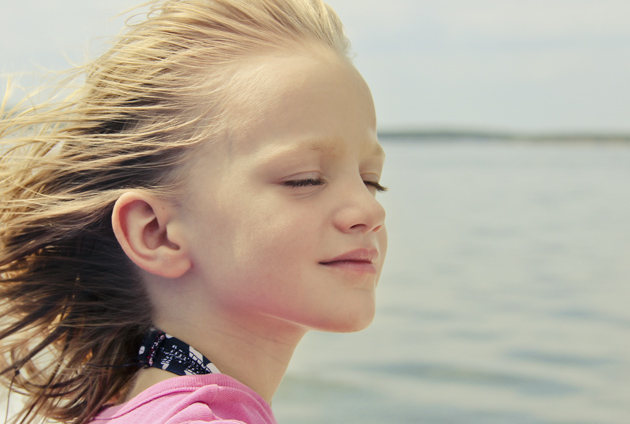 My dad is the first to say he's not perfect. He has made big mistakes. He could have made excuses for himself — especially not having a father who was a great example.
Instead, his life has been proof that a dad can change a legacy.
Over the years, I've observed him habitually soaking up love and forgiveness from his perfect Father, allowing himself to be changed. This is the highest and best thing any of us can do. It's the best possible example any earthly father can give.
"See how great a love the Father has bestowed on us, that we would be called children of God; and such we are…. we will be like Him…" (1 John 3:1-2)

"The Spirit you have received adopts you and welcomes you into God's own family. That's why we call out to Him, 'Abba! Father!' as we would address a loving daddy." (Romans 8:15, The Voice)

"Father to the fatherless… this is God, whose dwelling is holy."
(Psalm 68:5)
Happy Father's Day, Daddy! Thank you for being adopted by the only perfect Father and for encouraging all of us to be adopted, too.
Around St. Patrick's Day, I discovered Loricas — prayers chanted for protection. Literally, "lorica" means "armor" or "breastplate."
St. Patrick had enemies — druid priests — who probably placed curses on him and wanted to kill or enslave him. Hence, the need for protection!
(If you missed it, here was my St. Patrick's post on the Letters From the Loft Facebook page.
My worst enemies are the lies I believe, and I have plenty of chinks in that armor.
Below is a Lorica I wrote for myself — verses for meditation, for my mind's protection.
I didn't set out for this to rhyme, but it sort of loosely emerged that way…
which led to the completely random addition of the line about rum… 🙂
The Lorica of Deborah
Awake, awake, Deborah!
Awake, awake, break out in a song!
(Judges 5:12)
Today:
Let my mistakes be transferred to You.
Let Your clean record be transferred to me.
Let me abide and bear good fruit.
Let Your Word be more treasured than food.
Let me delight and wait calmly;
Let me trust and not worry.
Let me see what You planned for today;
Let me view it as preordained.
Let me know You are Jealous for me.
Let me be disentangled and free.
Let me stop fearing man, who is made.
Let me remember the price You paid.
Let me wear strength and dignity.
Let me reflect love and mercy.
Let my words be gracious and sweet.
Let me build up according to needs.
Let my glory be the radiance of seeking Your face.
Let my husband be respected in the city gates.
Let me wash the feet of the saints.
Let me care for the least in Your name.
Let me follow the One who leads those who have young.
Let the law of kindness rule my tongue.
Let me laugh, prepared for the days to come.
Let me never be drunk with too much rum!
Let me choose work instead of mere talk.
Let the cloud of witnesses approve my walk.
Let my thoughts be captive to You.
Let me be captivated — consumed.
I don't have my Lorica memorized yet, but I've read it countless times, deflecting lies.
(If you're interested in all the Scriptures that go with each line, here they are in a pdf.)
"I will not neglect your word…
My soul is consumed with longing
for your laws at all times…
preserve my life according to your word…
strengthen me according to your word…
do not let me be put to shame."
(Psalm 119:16, 20, 25, 28, 31)
I am so grateful for the spiritual "watchdogs" in our church.
When I returned, after years of being out of church, they helped reground me in biblical beliefs, dispelling quite a bit of painful misunderstanding.
But sometimes — in a dash back to my science writing days — I wish I could adjust their "sensitivity and specificity" a little! It is never fun to have someone doubt your experience of God. Does it stem from fear that if we take God too personally, it may lead to unbiblical revelations?
The (unpolished) poem below was a gut reaction to this. It explores some of God's personal qualities, not necessarily His titles. (For more thoughts on the controversial topic of God's mother-hen qualities, try this post.)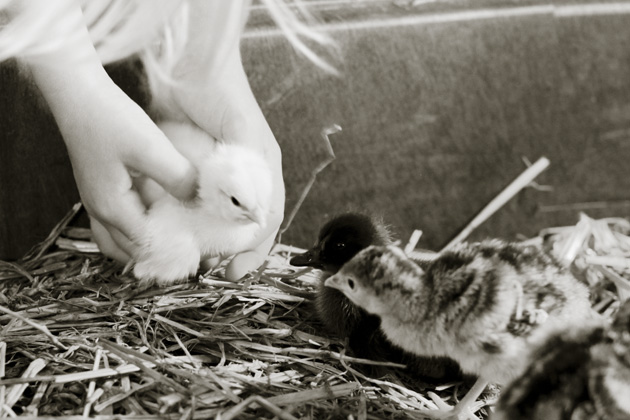 How much of the experience of God can be lost, both by believing wrong things and by dissecting the faith to death? Here's to remembering that God is a living, breathing, interactive Person — unchangeable, but always surprising me.
To the God Who Can Feel
Don't give me a God who can't feel
Who spins Earth into space
In precise orbit like hands of a stopwatch
Then stands by to watch it run down
Give me a God who is Family
A Father, a Brother, a Lover
(Dare I say Mother?)
A hen gathering chicks under a wing
A God who sings over me
Give me a God who can feel
Who relents from His anger
Who pities a struggling child
Who is jealous, desiring His wife
And who grieves at oppression
And knows my depression
Give me the God who can feel
Whose earth bursts with the glory of artistry
Who speaks in poems and song
And calls for music and dancing
and fills human effort with Spirit
He has every right to be Other, Unreachable
But with cold, precise science
He fashioned the eyes
That saw cold, precise Law
Manifest in warm flesh
And sport dust-covered sandals
And party with water-turned-wine
To the God who could ream me
With uncontested authority
But who stooped to scrub toe jam from feet
Who burst the old wine skins
And shattered my boundaries
To Him I bow down,
and hand over my crowns
To the God who can feel:
Your scientific authority,
intellectual superiority,
can rule over me;
You've felt what it's like to be like me.
What does it mean to "wait for the LORD?" Does it mean sitting back and doing nothing?
No one I know personally is waiting for insignificant things from God — I am not waiting for insignificant things from God! They are huge things with eternal significance:
…for someone to leave a physically abusive relationship
…for an infant to make it through one more infection to have a chance at beating cancer
…for someone to end an affair
…for a marriage to pull back together
…for someone to get help with a substance abuse problem
…for specific children in danger to be safe, in caring homes
…for teens to learn to accept love and begin making nondestructive choices
God's intervention is desperately required!
"Oh, that you would rend the heavens and come down,
that the mountains would tremble before you!
…Since ancient times no one has heard,
no ear has perceived,
no eye has seen any God besides you,
who acts on behalf of those who wait for him."
(Isaiah 64:1,4)
The Hebrew language has almost 20 words for "wait" in the Old Testament (NASB).
I only picked one for this post — the most common word that is used for "waiting on the LORD."
What exactly does waiting look like? What does it mean? Is it helpless?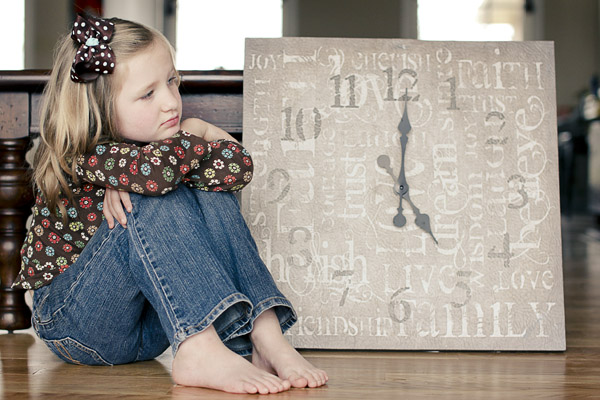 The first time "wait" appears in the Bible, Jacob is blessing his twelve sons. Right after making a disturbing statement that his son Dan will be "a serpent" — that evil and trouble is present — Jacob prays:
"For your salvation I wait, O LORD." (Genesis 49:18)
This word "wait" comes from the Hebrew qavah — "to wait, hope for, look, expect."
The OT makes strong promises for those who qavah for the LORD:
"I waited patiently for the LORD; and He inclined to me and heard my cry." (Psalm 40:1)
"Wait for the LORD, and He will save you." (Proverbs 20:22)
"This is the LORD for whom we have waited; Let us rejoice and be glad in His salvation." (Isaiah 25:9)
"Those who hopefully wait [qavah qavah] for Me will not be put to shame." (Isaiah 49:23)
"Indeed, none of those who wait for You will be ashamed." (Psalm 25:3)
"The LORD is good to those who wait for Him, to the person who seeks Him." (Lamentations 3:25)
Even sometimes when we don't succeed at waiting very hopefully…
"When You did awesome things which we did not expect [qavah], You came down, the mountains quaked at Your presence." (Isaiah 64:3)
Before Jacob's blessing, there is one earlier appearance of qavah in the OT — but it isn't translated "wait."
"Then God said, 'Let the waters below and the heavens be gathered [qavah] into one place, and let the dry land appear'; and it was so." (Genesis 1:9)
qavah can mean "gathering" — especially gathering strength. (It can also mean binding or tying something strongly together.)
"Yet those who wait for the LORD
Will gain new strength;
They will mount up with wings like eagles,
They will run and not get tired,
They will walk and not become weary."
(Isaiah 40:31)

"Wait for the LORD;
Be strong and let your heart take courage;
Yes, wait for the LORD."
(Psalm 27:14)

"O LORD, be gracious to us;
We have waited for You.
Be their strength every morning,
Our salvation also in the time of distress."
(Isaiah 33:2)
"Waiting with steadfast endurance is a great expression of faith. It means enduring patiently in confident hope that God will decisively act for the salvation of his people… Those who wait in true faith are renewed with strength so that they can continue to serve the Lord while looking for his saving work." (qavah, Theological Wordbook of the Old Testament)
"Waiting for the LORD" does not mean sitting back helplessly.
It means to gather strength —
to be energized by the confident expectation that God is going to act.
References: www.blueletterbible.org, Theological Wordbook of the Old Testament
Yesterday I posted about why God flooded the earth, because it's a question that's "out there" right now.
Today I'm posting about the Hebrew words in the Noah story… for the sole reason that I am an irremediable Word Nerd, and if I suppress that too long, it erupts to the surface in a volcanic display, like you are about to see. In a few moments (more…)
The "Noah" movie, featuring Russell Crowe, premiered today! I'm seeing the whole range of responses from Christians, mostly:
– excitement that people might dust off their Bibles, or
– frustration that it may not be a close reflection of the Genesis account.
I tend toward the first camp. At least, I plan to see it.

Wednesday, I posted about whether Noah was a good or righteous man.
Today I'm posting a more disturbing question: Why did God flood the Earth? How could Noah stand by and watch it happen? Was Noah benevolent? Is God benevolent?
Justice is a Good Thing
When I hear about the great flood, I imagine neighbors, school moms, coworkers, etc., dying a horribly tragic and unfair death.
I don't personally know any of the people who lived in Noah's time. But I do know of other types of people…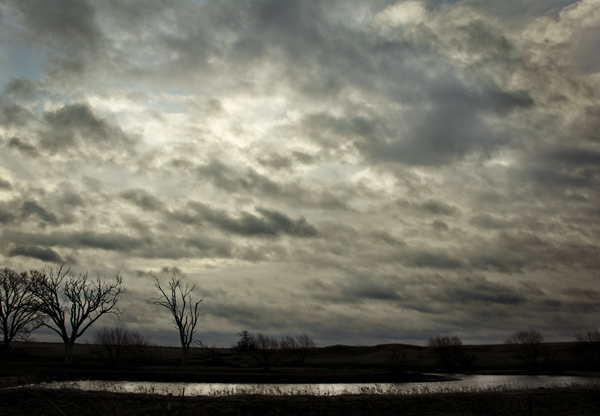 I remember when the news reported that Dennis Rader ("BTK"), the serial killer from the 1970s and '80s, was still around and undetected in our city. I was horrified to read the details of his earliest, torturous murders. I wanted him found immediately, and then I wanted him burned, along with the place he occupied in the world – to remove all trace of him.

I felt the same anger when a little girl was randomly kidnapped and killed in Missouri recently. Nothing could undo the family's incredible loss, but somehow I was still relieved that the killer was quickly brought to justice.

When my husband and I were living in the Southwest, he told me about a teenage girl who was brought in from a reservation. She had such severe injuries that she would never have a chance to live a normal life. She knew who had done this to her, so I asked if the men were in custody. I was in shock when my husband told me that probably nothing would be done at all: "This is common there" – and I wished I could find them myself.

When people hurt others in such horrific ways, we want justice! The desire for justice comes from God. It is part of being made in His image.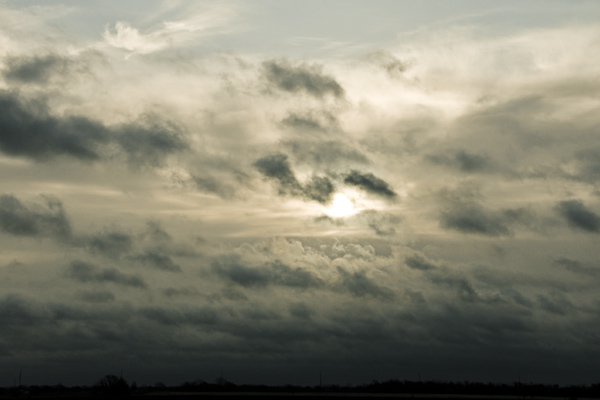 How bad were the people in Noah's time?

The people in Noah's time were "only evil all the time" (Genesis 6:5).
The Old Testament tells of the nations (and later, the Israelites) forcing their children into the fire, to be burned as sacrifices to the gods. There is the story of the horrible violation of a woman, by "some of the wicked men in the city," and they left her on a doorstep to die (Judges 19). All the awful things that happen now were happening then, probably multiplied several times – and it was all the people, all the time.

God saw every detail personally – I can imagine He wanted to vomit, just like I do when I read the news sometimes – and He "regretted that he had made human beings on the earth" (Genesis 6:6). So He found one refreshing family and washed the rest of Earth clean in a flood.
If these people's deaths had been delayed (no one lives forever), they were not going to turn around and change. Noah was described as a "preacher of righteousness" (2 Peter 2:5). But no one listened. It was more merciful to end the whole mess, abruptly. No family members would have to grieve each others' loss, and humanity would have a fresh start.

Are we as bad as the people in Noah's day? Will God destroy us again?
The flood was not fun for God. He gave Noah the sign of a rainbow as a promise that He would never flood the entire Earth again.
"Never again will I curse the ground because of humans, even though every inclination of the human heart is evil from childhood. And never again will I destroy all living creatures, as I have done.

As long as the earth endures,
seedtime and harvest,
cold and heat,
summer and winter,
day and night
will never cease."
(Genesis 8:21-22)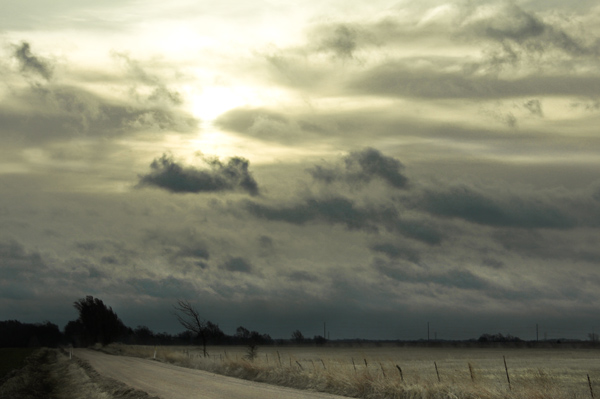 But that doesn't mean the Earth will last forever. It won't!
"…the foundations of the earth and the heavens… will perish…
they will all wear out like a garment."
(Psalm 102:26)
Anyone's life could end at any time. I don't know when I'll die, so this is my personal "end times." The question isn't really whether our society is as bad as Noah's time, but whether I'm "good enough" for God.
My mind is drastically different from the mind of a serial killer. But in the same way, God's mind is drastically different from mine. He is infinitely more healthy. I have thoughts and responses that make Him sick.

"As the heavens are higher than the earth, so are my ways higher than your ways and my thoughts than your thoughts." (Isaiah 55:9)

"All our righteous acts are like filthy rags…" (Isaiah 64:6)

"There is no one who does good, not even one." (Psalm 14:3)
God wants justice for the wrongs that I've done. Instead of destroying me, He sent Jesus to take my death penalty, just like the Old Testament predicted. Like trading cancer cells for healthy cells, Jesus took my sin – and the sins of anyone who trusts Him. He offers me all His righteousness in exchange. Jesus is like our saving ark. We enter by believing and trusting what He did for us, and this makes us good enough for God. I don't have to worry about what will happen after death.
"This is how much God loved the world: He gave his Son, his one and only Son. And this is why: so that no one need be destroyed;

by believing in him, anyone can have a whole and lasting life."
(John 3:16, The Message)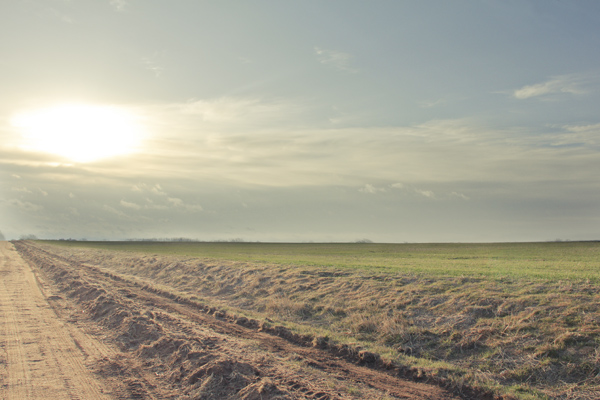 A secure relationship with a loving God – who will never turn away from me – frees me to focus on making life on Earth more refreshing and less evil. The rest of the big "unknowns" are in God's hands. I can explore and ask questions, but I never need to worry about what will happen in the future.

It rained while I wrote yesterday's Noah post – gently, not ferociously.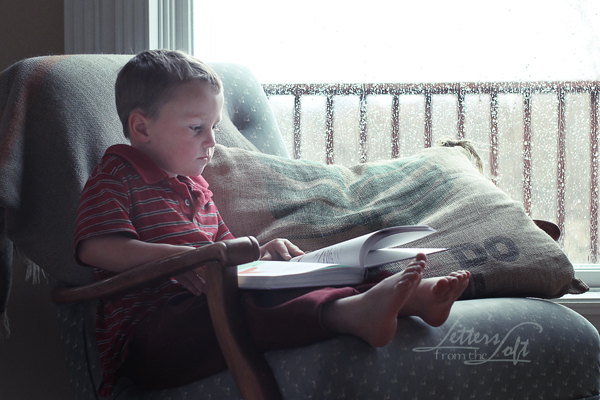 God promised He would never cover the whole Earth with water again. He promises that floods will come – in this world I have trouble, no doubt – but my faith will never be completely overwhelmed. I've entered His shelter through Jesus the Door, and I will be carried safely to the other side of the storm.
"I am the door. If anyone enters by me, he will be saved…" (John 10:9 ESV)

"In this world you will have trouble. But take heart! I have overcome the world." (John 16:33)

"Jesus, the founder and perfecter of our faith…" (Hebrews 12:2)

"…will sustain you to the end, guiltless…" (1 Corinthians 1:8)

"…he who began a good work in you will carry it on to completion until the day of Christ Jesus." (Philippians 1:6)

"…it is God who works in you to will and to act in order to fulfill his good purpose." (Philippians 2:13)

"I will put my Spirit in you and move you to follow my decrees and be careful to keep my laws." (Ezekiel 36:27)

"…he has come to his people… to enable us to serve him…" (Luke 1:68,74-75)

Now may the God of peace… equip you with everything good for doing his will…" (Hebrews 13:20-21)

"To him who is able to keep you from stumbling and to present you before his glorious presence without fault and with great joy— to the only God our Savior be glory, majesty, power and authority…" (Jude 1:24-25)
Russell Crowe's "Noah" premieres this Friday, March 28.
I'm looking foward to seeing it. But when the first trailers came out last year, I was skeptical. In the interviews, Noah was described "not benevolent" and not good.
Crowe's "Noah" tells his son, at one point in the trailer, that he wasn't chosen for being good: "I was chosen because I can get the job done, mate."
This made me go back and check the Genesis story: Was Noah good?
Sort of… The Bible says Noah was chosen because he was "righteous" – just maybe not in the way we think of righteousness.
"Noah found favor in the eyes of the LORD… Noah was a righteous man, blameless among the people of his time, and he walked faithfully with God." (Genesis 6:8-9)
"The LORD then said to Noah, 'Go into the ark, you and your whole family, because I have found you righteous in this generation.'" (Genesis 7:1)
That doesn't necessarily mean he did everything perfectly. His drunken episode after the flood suggests otherwise (Genesis 7:21-25).
A clue to Noah's righteousness can be found in the description of his near descendant Abraham. Abraham also made plenty of mistakes. But the Bible says (more…)