A Dad Can Change a Legacy
I rediscovered this snapshot of my parents last week.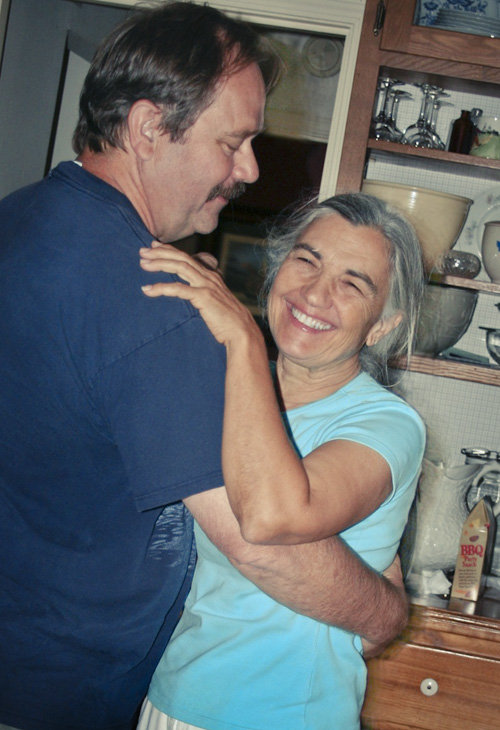 I don't know if I love it more because of my mom's big smile or because my dad made her feel like smiling like that.

Music was playing, which meant my dad had to snatch up a dance partner. Be prepared to twirl across the farmhouse floor, even if you can't dance!

I like this picture, too: my dad playing guitar last Christmas with one of many "wanderers" they've taken in over the years.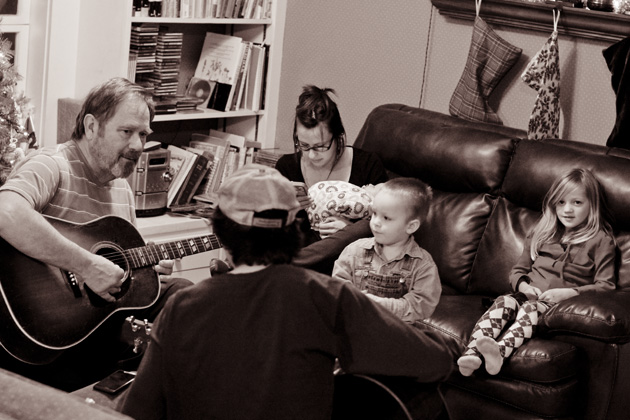 (On the sofa is my sister Annie, holding her baby girl. Next to her is her oldest boy. My oldest daughter is looking at the camera.)

My dad has always lived with a keen awareness that he is also a wanderer, mercifully welcomed in.

It's hard for me to imagine that my dad's earliest memories included an alcoholic father. My dad didn't turn his life over to Jesus until his two-year-old son's life slipped away in a backyard creek in Oregon… unfathomable.
Even after that — because of that — my parents insist that "in all things, God works for the good of those who love Him, who have been called according to His purpose" (Romans 8:28). After a tragic loss that seems like it would cripple me, they honestly thank God for what He did for them.

One time I remember my dad saying, "When you go through times of doubt, hold tight to three things."
In my fuzzy memory, these three things were written in the front of his 1970's-style burned-leather Bible (probably the first Bible he read — which he still reads). But my mom tells me he actually wrote them in a Bible he gave to one of my high school boyfriends. (That is one alternative to threatening dates with a shotgun!)

Three simple things to cling to, in times of doubt:

1. God is real.
2. God is in control, and all this will make sense later.
3. God loves me and will not test me more than I can stand.

Simple… simple enough for me to remember for 20+ years!
But my dad's capacity for profound feeling leaves just as lasting an impression. I remember him rocking in an old spindled chair, eyes closed, lost in my younger sister's piano playing or my older sister's singing. I remember the rush of pride on his face every Fall, watching my brother score touchdown after touchdown — but even more, the obvious catch in his gut every time my brother was hit. I remember his rare sobs, after saying goodbye to a family friend who was moving to circumstances that may not be good for her. I remember him braving exhilarating whitecaps on ill-advised sailing trips, daring the high winds to flip the boat (which they did, sometimes).
On days when I feel trapped with a mop in one hand and a stack of laundry in the other, it's hard for me to believe I inherited that same depth of feeling. But that's my dad, and I get to claim that as part of my identity.

I'd say my kids get to claim it, too.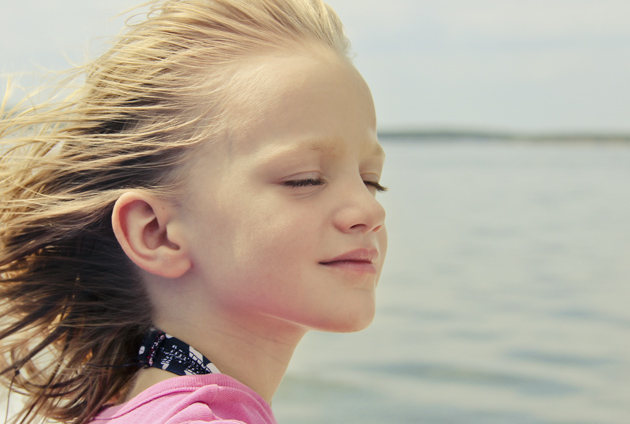 My dad is the first to say he's not perfect. He has made big mistakes. He could have made excuses for himself — especially not having a father who was a great example.
Instead, his life has been proof that a dad can change a legacy.
Over the years, I've observed him habitually soaking up love and forgiveness from his perfect Father, allowing himself to be changed. This is the highest and best thing any of us can do. It's the best possible example any earthly father can give.

"See how great a love the Father has bestowed on us, that we would be called children of God; and such we are…. we will be like Him…" (1 John 3:1-2)

"The Spirit you have received adopts you and welcomes you into God's own family. That's why we call out to Him, 'Abba! Father!' as we would address a loving daddy." (Romans 8:15, The Voice)

"Father to the fatherless… this is God, whose dwelling is holy."
(Psalm 68:5)

Happy Father's Day, Daddy! Thank you for being adopted by the only perfect Father and for encouraging all of us to be adopted, too.