Planting Fall Mums (While Cooking Stuffed Pasta Shells)
The last few days I've occasionally felt a slight chill in the air!
Maybe I'm just imagining it. Either way, it seems to me like sufficient reason for planting fall mums.
A couple evenings ago, I started up some stuffed pasta shells, in my new quest to have sit-down family dinners more often.
I boiled the shells, browned the onion and ground beef, mixed a pack of cream cheese into the meat, filled the shells, and poured taco sauce over them. (The stuffed pasta shell recipe is from Betty Crocker's Cooking Basics cookbook.) I sprayed two 9×9 pans, arranged the shells in them, covered the pans with aluminum foil, and put it all in a 350 degree oven for 20 minutes.
And then I went outside to plant mums.
My cooking stories are always so predictable…
A few days ago, I had let the kids pick mums at the store. I let them have two each. It is remarkable to me how they remembered whose flowers were whose. This also goes for matchbox cars, sippy cups, crackers, and much, much more.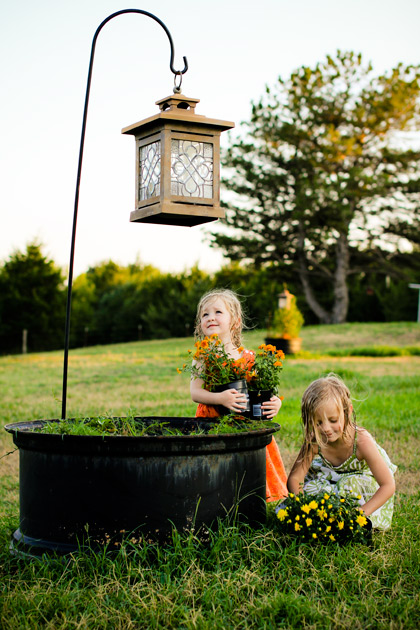 (My son was inside changing clothes because they had just been running through the sprinkler to beat the heat. But I'm sure it's still cool enough to plant fall flowers…)
The former owners of our house put a couple of barrel planters in the back yard – with candle holders above them! I'm in the market for a couple of replacement citronella pillar candles.
The planters got a little weedy since we've been here.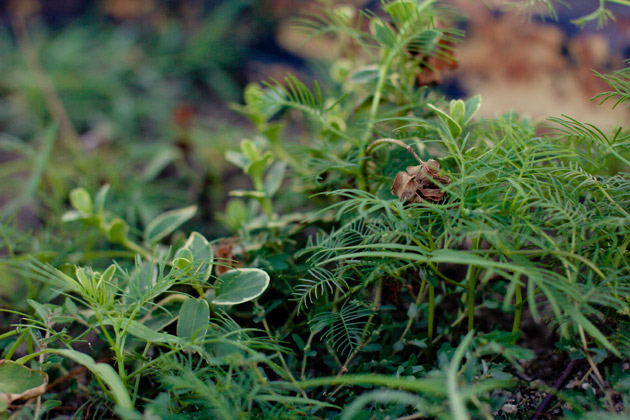 Each time we've moved (six times total in the last twelve years), there's always the same question:
Which plants did the former owners plant purposefully, and which plants shouldn't be planted there? It doesn't matter, because it's my yard now, but I'd hate to miss something that would have had beautiful flowers in the spring.
The kids each put one mum in the first planter.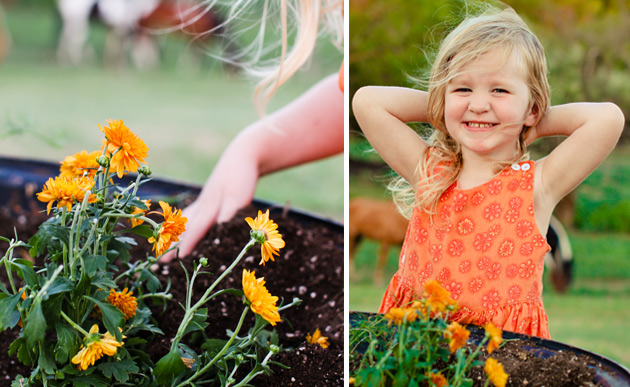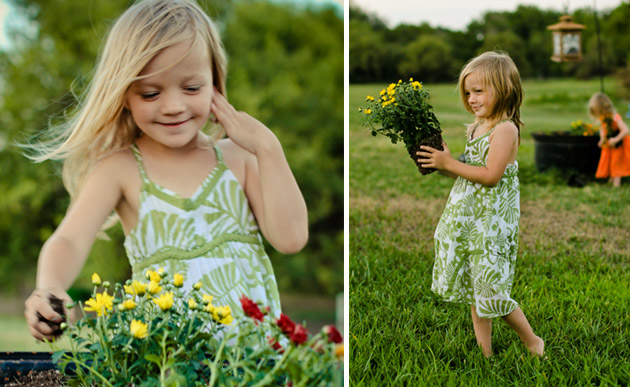 Could someone please tell my serious older daughter to stop looking so grown up already? I'd be much obliged.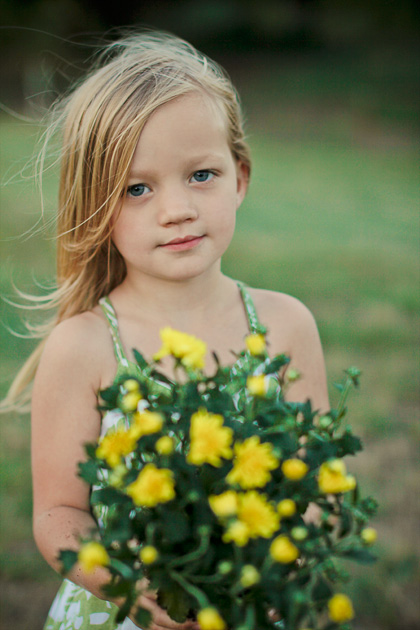 Somewhere in this process, precisely twenty minutes after I put the shells in the oven, I pulled them back out of the oven. Success!
Then I crumbled corn chips over shells, sprinkled Colby-Jack cheese on top of that, and put them back in the oven for another ten minutes.
Then I went back outside to finish planting mums.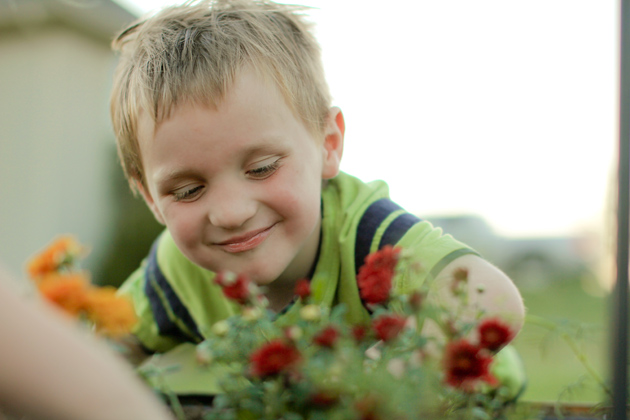 With the first planter done, the kids and I moved to the second one.
This one was a lot more weedy.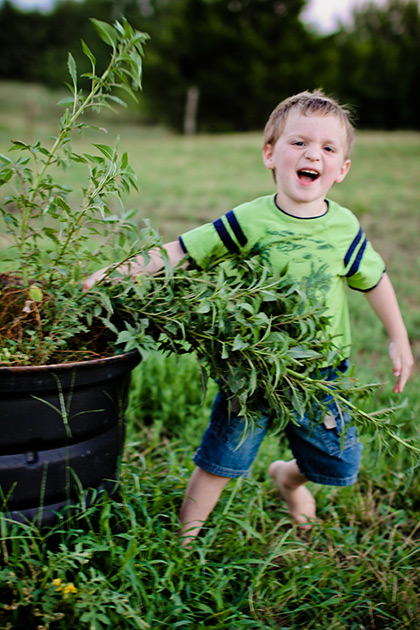 My son pulled and tugged at that weed. I pulled and tugged at that weed. My son stood behind me and pulled on me. My daughter stood behind my son and pulled on him. Her little sister stood behind her and pulled on her. Then the baby…
Ok, not really. We ended up putting the three remaining mums with the others in the first planter. When my husband chainsaws the trees out of the second planter for us, we'll add six mums to it.
My daughter munched some leftover pasta shells while reviewing our evening's work.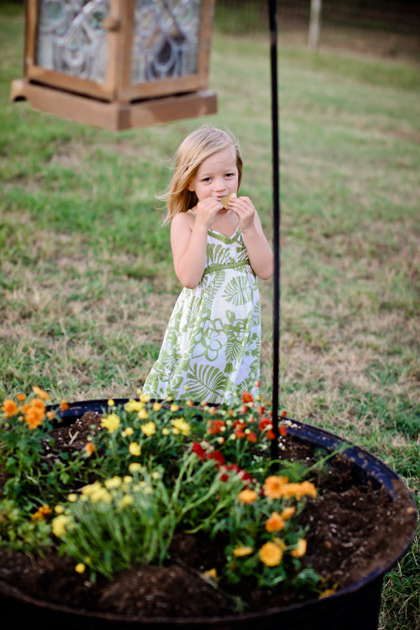 Oh, the pasta!!!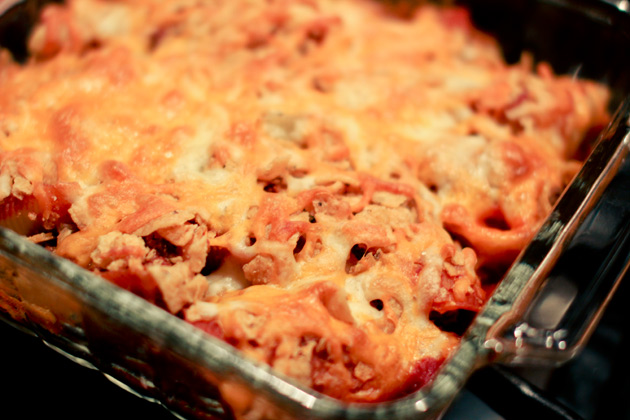 Thank goodness my husband likes his pasta a little on the crunchy side. He and I were made for each other.
I scraped the cheese (and unfortunately, some of the corn chips) off the top and melted some more cheese over the shells. I added a little chopped green onion and voilà!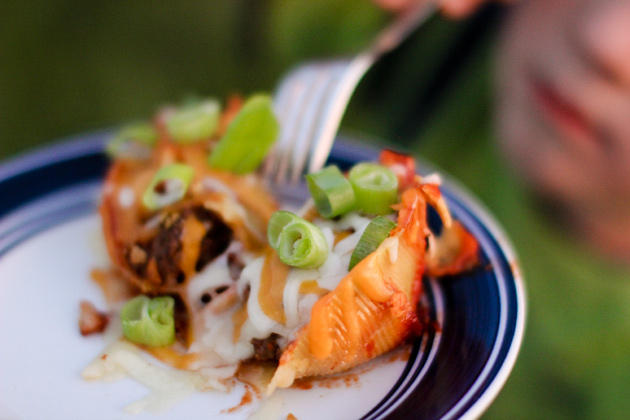 We had a nice family dinner outside. My son was a little confused about whether the actual pasta shells were meant to be eaten. After we got that straightened out, he decided they were excellent finger food…
Thank goodness for an alfresco dinner.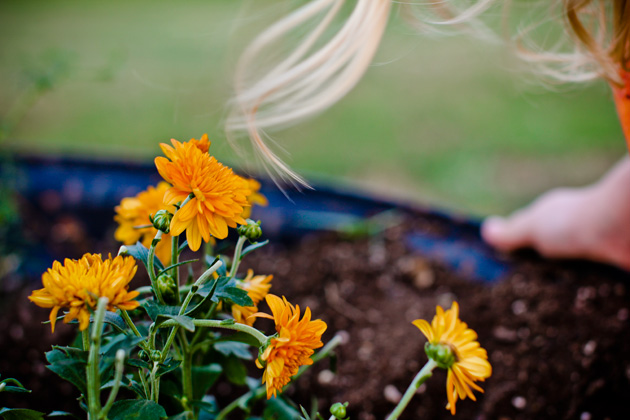 I hope you have a lovely Wednesday!