First Father-Son "Construction" Project
In the aftermath of the Christmas chaos, I found my oldest boy sitting on a chair, cheeks wet with tears.
"I wanted Daddy to build something with me," he moaned.
This kid has been mechanically inclined ever since he was a baby at nap time, when he removed most of the screws from his crib. Like a high-energy dog who eats shoes if he doesn't get enough exercise, my son disassembles doorknobs, flashlights, and faucets if left to his own devices.
For Christmas, he received a Real Construction set – nothing expensive, just something with kid-friendly tools and foam "kid wood."
Christmas break has never brought a real break from work in our family. My husband's job doesn't allow it. We open presents some other day than the 25th, and that's fine with us. We're not worried about the date.
For me – and apparently, for my son – what matters is that the time together happens.
A couple more days passed, with more tears shed, and then a chunk of time cleared up for the father-son building project.
A father who loves his son is one of the sweetest things in the world.
They chose the picture of the tank on the front of the box as their aim. The instructions were lacking, but that didn't stop them. The weapon of mass destruction gradually came together, and peace began to return to our home.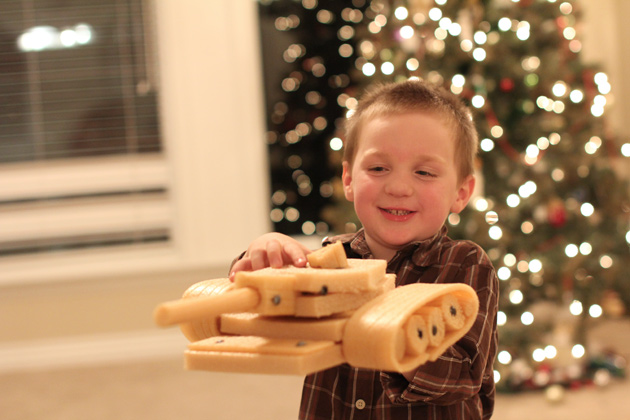 I see my son's happy face, and I wonder… What if someday I have to send him off to someplace dangerous?
It is an echo of the Divine Plan that our son is meant to be sent out from us someday.
I'm hoarding up all of this time, attending to his miniature disappointments, hoping that when he's all raised up, he'll want to come back sometimes to tinker in the wood shop with his dad.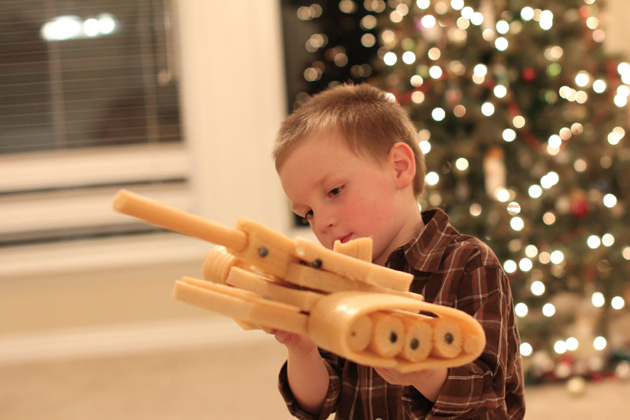 For now, all he knows is that he's never allowed to leave home!
He will turn the hearts of the fathers to their children, and the hearts of the children to their fathers. Malachi 4:6